Frazier River - Big River
First published in Country Music International, July 1996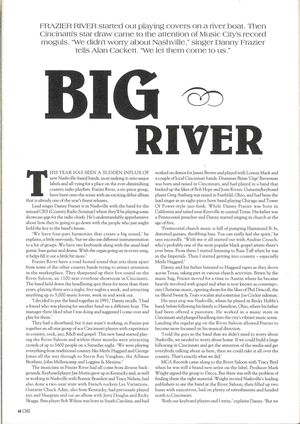 Frazier River started out playing covers on a river boat. Then Cincinnati's star draw came to the attention of Music City's record moguls. "We didn't worry about Nashville," singer Danny Frazier tells Alan Cackett. "We let them come to us."
This year has seen a sudden influx of new Nashville-based bands, most making it onto major labels and all vying for a place on the ever-diminishing country radio playlists. Frazier River, a six-piece group, have burst onto the scene with an exciting debut album that is already one of the year's finest releases.
Lead singer Danny Frazier is in Nashville with the band for the annual CRS (Country Radio Seminar) where they'll be playing some showcase gigs for the radio chiefs. He's understandably apprehensive about how they're going to go down with the people who just might hold the key to the band's future.
"We have four-part harmonies that create a big sound," he explains, a little nervously, "but we also use different instrumentation to a lot of groups. We have two keyboards along with the usual lead guitar, bass guitar and drums. With the organ going on in every song, it helps fill it out a little bit more."
Frazier River have a road-honed sound that sets them apart from some of the other country bands trying to attract attention in the marketplace. They sharpened up their live sound on the River Saloon, an 1100-seat riverboat showroom in Cincinnati. The band held down the headlining spot there for more than three years, playing three sets a night, five nights a week, and attracting anything up to 5,000 music lovers, week in and week out.
"I decided to put the band together in 1991," Danny recalls. "I had a friend who was playing for another band on a different boat. The manager there liked what I was doing and suggested I come over and play for them."
They had a showband, but it just wasn't working, so Frazier put together an all-star group of ace Cincinnati players with experience in country, rock, jazz, r&b and gospel. This new band started playing the River Saloon and within three months were attracting crowds of up to 1600 people on a Saturday night. "We were playing everything from traditional country like Merle Haggard and George Jones all the way through to Stevie Ray Vaughan, the Allman Brothers, John Mellencamp and Loggins & Messina."
The musicians in Frazier River had all come from diverse backgrounds. Keyboard player Jim Morris grew up in Kentucky and, as well as working in Nashville with Bonnie Bramlett and Tracy Nelson, had also done a two-year stint with French rockers Les Variations. Guitarist Chuck Adair, also from Kentucky, had previously played jazz and bluegrass and cut an album with Jerry Douglas and Ricky Skaggs. Bass player Bob Wilson was born in South Carolina and had worked on demos for James Brown and played with Lonnie Mack and a couple of local Cincinnati bands. Drummer Brian 'Gigs' Baverman was born and raised in Cincinnati and had played in a band that backed up the likes of Bob Hope and Joan Rivers. Guitarist/keyboard player Greg Amburg was raised in Fairfield, Ohio, and had been the lead singer in an eight-piece horn band playing Chicago and Tower Of Power-style jazz-funk. While Danny Frazier was born in California and raised near Kerrville in central Texas. His father was a Pentecostal preacher and Danny started singing in church at the age five.
"Pentecostal church music is full of pumping Hammond B-3s, distorted guitars, throbbing bass. You can really feel the spirit," he says excitedly. "With me it all started out with Andrae Crouch, who's probably one of the most popular black gospel artists there's ever been. From there I started listening to Russ Taff when he was in the Imperials. Then I started getting into country—especially Merle Haggard."
Danny and his father listened to Haggard tapes as they drove across Texas, taking part in various church activities. Bitten by the music bug, Frazier moved for a time to Austin where he became heavily involved with gospel and what is now known as contemporary Christian music, opening shows for the likes of Phil Driscoll, the ex-Blood Sweat & Tears vocalist and sometime Joe Cocker sideman.
His next stop was Nashville, where he played in Becky Hobbs' band, before following his family to Hamilton, Ohio, where his father had been offered a pastorate. He worked in a music store in Cincinnati and plunged headlong into the city's vibrant music scene. Landing the regular gig on the River Saloon allowed Frazier to become more focussed on his musical direction.
"I told the guys in the band that we didn't need to worry about Nashville, we needed to worry about home. If we could build a large following in Cincinnati and get the attention of the media and get everybody talking about us here, then we could take it all over the country. That's exactly what we did."
MCA Records came along to the River Saloon with Tracy Byrd when he was still a brand new artist on the label. Producer Mark Wright signed the group to Decca. But there was still the problem of finding them the right material. Wright invited Nashville's leading publishers to see the band at the River Saloon, then filled up two buses with executives, laid on plenty of refreshments and headed north to Cincinnati.
"Both our keyboard players and I write," explains Danny. "But we didn't even try and write anything f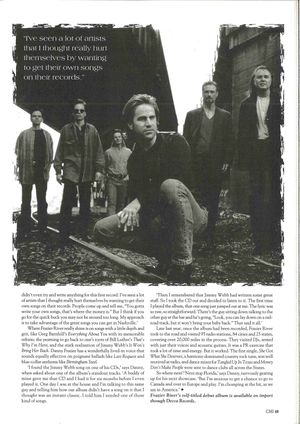 or this first record. I've seen a lot of artists that I thought really hurt themselves by wanting to get their own songs on their records. People come up and tell me, 'You gotta write your own songs, that's where the money is.' But I think if you go for the quick buck you may not be around too long. My approach is to take advantage of the great songs you can get in Nashville."
Where Frazier River really shine is on songs with a little depth and grit, like Greg Barnhill's Everything About You with its memorable refrain; the yearning to go back to one's roots of Bill Luther's That's Why I'm Here; and the stark realisation of Jimmy Webb's It Won't Bring Her Back. Danny Frazier has a wonderfully lived-in voice that sounds equally effective on poignant ballads like Last Request and blue-collar anthems like Birmingham Steel.
"I found the Jimmy Webb song on one of his CDs," says Danny, when asked about one of the album's standout tracks. "A buddy of mine gave me that CD and I had it for six months before I even played it. One day I was at the house and I'm talking to this same guy and telling him how our album didn't have a song on it that I thought was an instant classic. I told him I needed one of those kind of songs."
"Then I remembered that Jimmy Webb had written some great stuff. So I took the CD out and decided to listen to it. The first time I played the album, that one song just jumped out at me. The lyric was so raw, so straightforward. There's the guy sitting down talking to the other guy at the bar and he's going, 'Look, you can lay down on a railroad track, but it won't bring your baby back.' That said it all."
Late last year, once the album had been recorded, Frazier River took to the road and visited 95 radio stations, 84 cities and 25 states, covering over 20,000 miles in the process. They visited DJs, armed with just their voices and acoustic guitars. It was a PR exercise that took a lot of time and energy. But it worked. The first single, She Got What She Deserves, a harmony-dominated country rock tune, was well received at radio, and dance mixes for Tangled Up In Texas and Money Don't Make People were sent to dance clubs all across the States.
So where next? "Next stop Florida," says Danny, nervously gearing up for his next showcase. "But I'm anxious to get a chance to go to Canada and over to Europe and play. I'm chomping at the bit, as we say in America."