Frank Yonco - A stalwart of the British country scene
First published in Country Music People, January 1977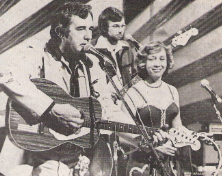 Manchester's Frank Yonco has been a major force on the English country scene for more than a dozen years now. He formed his first band, The Texan Drifters, back in 1963. The only other act that has been involved professionally in English country music for that length of time is The Hillsiders from Liverpool.
Throughout the s1960s, Frank, with his various bands, toured all over Britain and often to various other countries like Turkey, Spain, Italy, Germany, Japan and Vietnam. Most of these foreign tours were to accompany a wide entourage of American stars like Roger Miller, Red Sovine, Wanda Jackson, Tex Williams, Sheb Wooley and Lefty Frizzell.
Working with these major American stars taught Frank one very important fact—you needn't be the world's greatest singer, what really matters is the ability to entertain. Give the audience a slick, polished and professional show, and you have them in the palm of your hand.
With this knowledge he embarked on lengthy tours of Britain, but in the 1960s the British public were not always ready for country music. There is certainly little elation when the hall is empty and you've got to load the van before you can climb in for the 200 mile trip to the next stop.
The high of playing and being well received is what makes a band go on, but for Frank Yonco & The Everglades, like so many of Britain's professional country bands of the 1960s, it was usually only a question of time before the periods of depression grew longer than the periods of optimism.
Luckily Frank Yonco had a very sure sense of handling the band's affairs in a business-like manner. He was able to secure lucrative cabaret work in large cities to break up the gruelling and despairing tours. Ranging from Johnny Cash to Merle Haggard material with a sprinkling of truck driving songs, soft ballads and humorous ditties, Frank Yonco and his show set out to entertain any audience in a way which transcended country music.
Frank believes in treating the public with respect. There's no going on stage in an old pair of denims, dirty shoes and unshaven, like many of today's acts. He feels an obligation to the audience and steps out to put on a show. I can assure you that he is one of Britain's best country music entertainers.
The girl singer has long been an integral part of American country music, but in Britain we have been slow to realise this. Frank Yonco added Miss Kit Connor to his show in 1967. an exuberant lady who sings quite beautifully and also adds comedy touches, she has been neglected by both the country music fans and the press when it comes to discussing British girl singers. Yet she is the forerunner of British girl country singers, and one of the best around.
Throughout 1974 and 1975 Frank Yonco based his activities in Cornwall away from the focal points of British country music. Many had mistakenly thought that the band had split and Frank had retired from country music. The apring of 1976 showed otherwise as he took to the road again, this time touring with American star Johnny Bond.
Once again he showed that when it came down to actually entertaining an audience there are few in Britain to equal him. Ranging from newer tunes like
There's A Song On The Jukebox
to the older
Jackson
, featuring Kit Connor, Frank also threw in some accurate impersonations of Johnny Cash, Waylon Jennings, Charley Pride, Hank Snow and Ray Price.
During his lengthy career Frank Yonco has recorded four albums, the first being for Lucky back in 1968, then a 'live' album for Decca in 1972, a privately produced album, IF YOU DON'T LIKE HANK WILLIAMS in 1975 and their latest offering, DRINKING BEER AND SINGING A COUNTRY SONG for Sweet Folk and Country.
This is one that shows off Frank Yonco and The Everglades at their best. Included are several well-known songs like
Ladies Love Outlaws
, which they featured on television's New Faces in May, and
Stand By Your Man
performed by Kit Connors. Also they introduced many new British songs like
Baltimore
written by John Bryant, the nostalgic
Long Way From Texas Tonight
and Frank's own
Red Rocks And White Water
, a descriptive song about Cornwall.
Frank Yonco is currently sporting one of the best band's he;s ever had, and that's saying quite a lot. Individually each member is more than competent instrumentally, and the group's sound is tight and cohesive. Now that Frank is taking the band back on the road regularly once again, British country fans can sample the same kind of professionalism and showmanship that marks the top American country acts.