Frank Ifield - Frankie Says
First Published in Country Music International, November 1997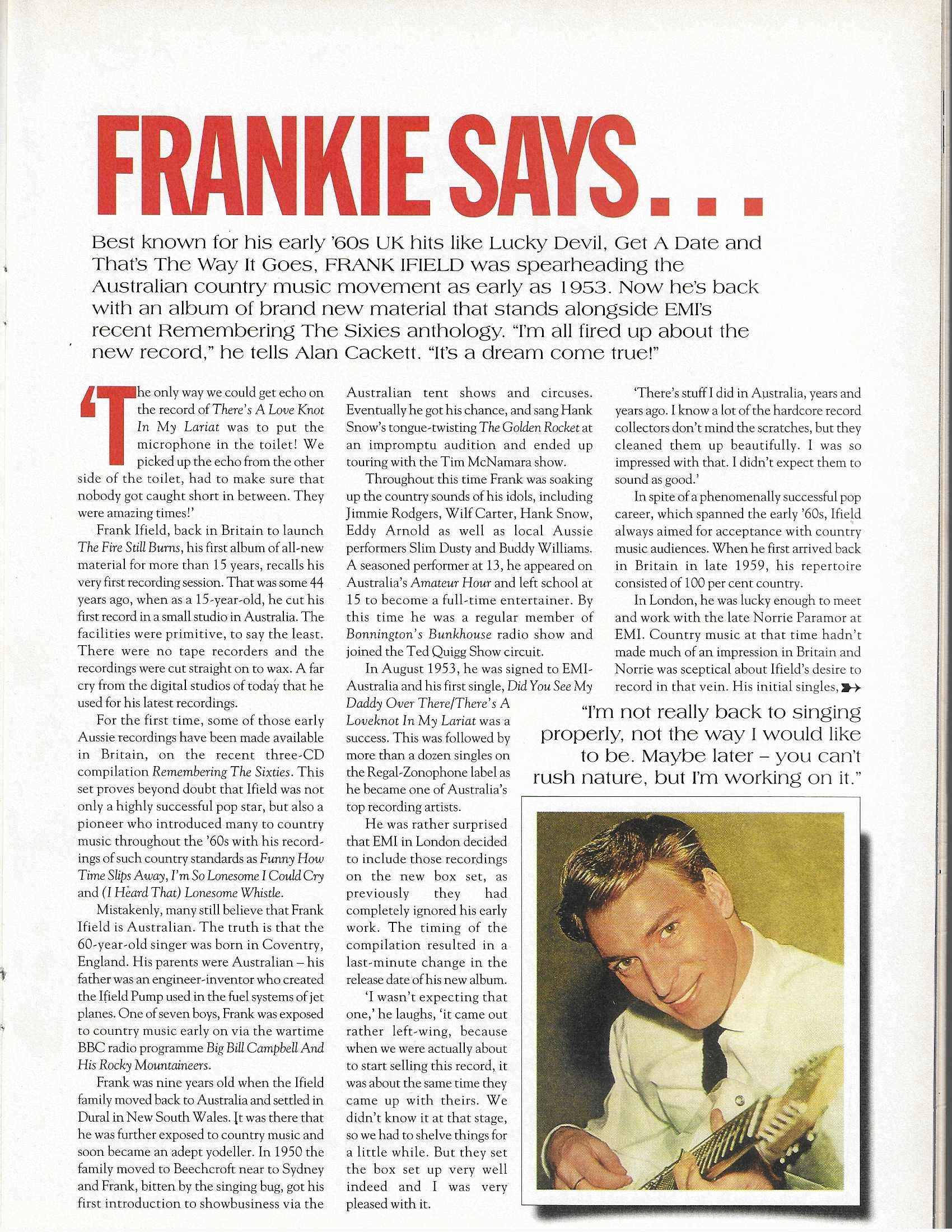 Best known for his early 1960s UK hits like Lucky Devil, Get A Date and That's The Way It Goes, Frank Ifield was spearheading the Australian country music movement as early as 1953. Now he's back with an album of brand new material, l that stands alongside EMI's recent Remembering The Sixties anthology. "I'm all fired up about the new record," he tells Alan Cackett. "It's a dream come true!"
"The only way we could get echo on the record of There's A Love Knot In My Lariat was to put the microphone in the toilet! We picked up the echo from the other side of the toilet, had to make sure that nobody caught short in between. They were amazing times!"
Frank Ifield, back in Britain to launch THE FIRE STILL BURNS, his first album of all-new material for more than 15 years, recalls his very first recording session. That was some 44 years ago, when as a 15-year-old, he cut his first record in a small studio in Australia. The facilities were primitive, to say the least. There were no tape recorders and the recording were cut straight on to wax. A far cry from the digital studios of today that he used for his last recordings.
For the first time, some of those early Aussie recordings have been available in Britain, on the recent three-CD compilation REMEMBERING THE SIXTIES. This set proves beyond doubt that Ifield was not only a highly successful pop star, but also a pioneer, who introduced many to country music throughout the 1960s with his recordings of such country standards as Funny How Time Slips Away, I'm So Lonesome I Could Cry and (I Heard That) Lonesome Whistle.
Mistakenly, many still believe that Frank Ifield is Australian. The truth is that the 60-year-old singer was born in Coventry, England. His parents were Australian – his father was an engineer-inventor who created the Ifield Pump used in the fuel systems of jet planes. One of seven boys, Frank was exposed to country music early on via the wartime BBC radio programme Big Bell Campbell And His Rocky Mountaineers.
Frank was nine years old when the Ifield family moved back to Australia and settled in Dural in New South Wales. It was there that he was further exposed to country music and soon became an adept yodeller. In 1950 the family moved to Beechcroft near to Sydney and Frank, bitten by the singing bug, got his first introduction to showbusiness via the Australian tent shows and circuses. Eventually he got his chance and sang Hank Snow's tongue-twisting The Golden Rocket at an impromptu audition and ended up touring with the Tim McNamara show.
Throughout this time Frank was soaking up the country sounds of his idols, including Jimmie Rodgers, Wilf Carter, Hank Snow, Eddy Arnold as well as local Aussie performers Slim Dusty and Buddy Williams. A seasoned performer at 13, he appeared on Australia's Amateur Hour and left school at 15 to become a full-time entertainer. By this time, he was a regular member of Bonnington's Bunkhouse radio show and joined the Ted Quigg Show circuit.
In August 1953, he was signed to EMI-Australia and his first single, Did You See My Daddy Over There/There's A Loveknot In My Lariat was a success. This was followed by more than a dozen singles on the Regal-Zonophone label as he became one of Australia's top recording artists.
He was rather surprised that EMI in London decided to include those recordings on the new box set, as previously they had completely ignored his early work. The timing of the compilation resulted in a last-minute change in the release date of his new album.
"I wasn't expecting that one," he laughs, "it came out rather left-wing, because when we were actually about to start selling this record, it was about the same time they came up with theirs. We didn't know it at that stage, so we had to shelve things for a little while. But they set the box set up very well indeed and I was very pleased with it."
"There's stuff I did in Australia, years and years ago. I know a lot of the hardcore record collectors don't mind the scratches, but they cleaned them up beautifully. I was so impressed with that. I didn't expect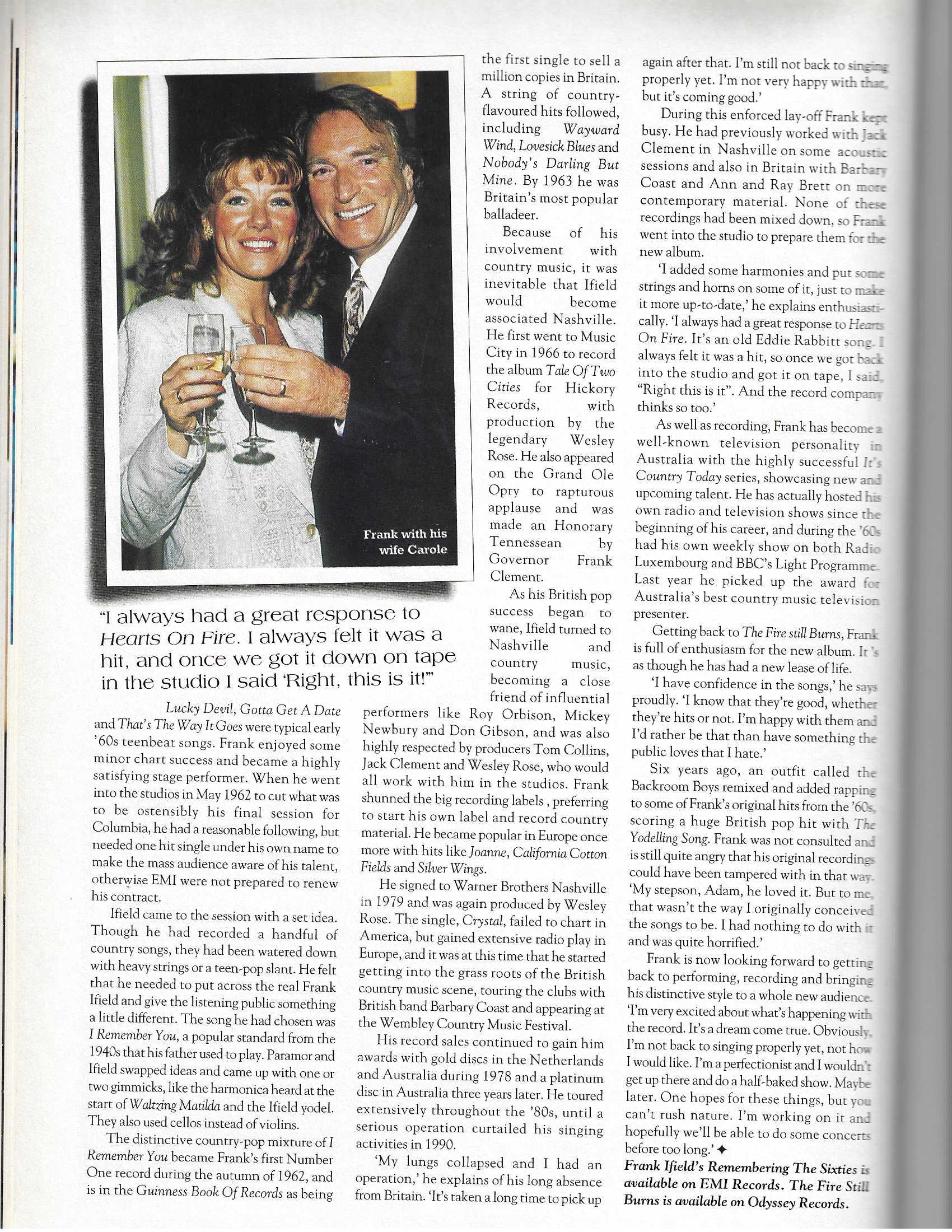 them to sound as good."
In spite of a phenomenally successful pop career, which spanned the early 1960s, Ifield always aimed for acceptance with country music audiences. When he first arrived back in Britain in late 1959, his repertoire consisted of 100 per cent country.
In London, he was lucky enough to meet and work with the late Norrie Paramor at EMI. Country music at that time hadn't made much of an impression in Britain and Norrie was sceptical about Ifield's desire to record in that vein. His initial singles, Lucky Deal, Gotta Get A Date and That's The Way It Goes were typical early 1960s teenbeat songs. Frank enjoyed some minor chart success and became a highly satisfying stage performer. When he went into the studios in May 1962 to cut what was to be ostensibly his final session for Columbia, he had a reasonable following, but needed one hit single under his own name to make the mass audience aware of his talent, otherwise EMI were not prepared to renew his contract.
Ifield came to the session with a set idea. Though he had recorded a handful of country songs, they had been watered down with heavy strings or a teen-pop slant. He felt that he needed to put across the real Frank Ifield and give the listening public something a little different. The song he had chosen was I Remember You, a popular standard from the 1940s that his father used to play. Paramor and Ifield swapped ideas and came up with one or two gimmicks, like the harmonica heard at the start of Waltzing Matilda and the Ifield yodel. They also used cellos instead of violins.
The distinctive country-pop mixture of I Remember You became Frank's first number one record during the autumn of 1962 and is in the Guinness Book Of Records as being the first single to sell a million copies in Britain. A string of country-flavoured hits followed, including Wayward Wind, Lovesick Blues and Nobody's Darling But Mine. By 1963 he was Britain's most popular balladeer.
Because of his involvement with country music, it was inevitable that Ifield would become associated with Nashville. He first went to Music Row in 1966 to record the album TALE OF TWO CITIES for Hickory Records, with production by the legendary Wesley Rose. He also appeared on the Grand Ole Opry to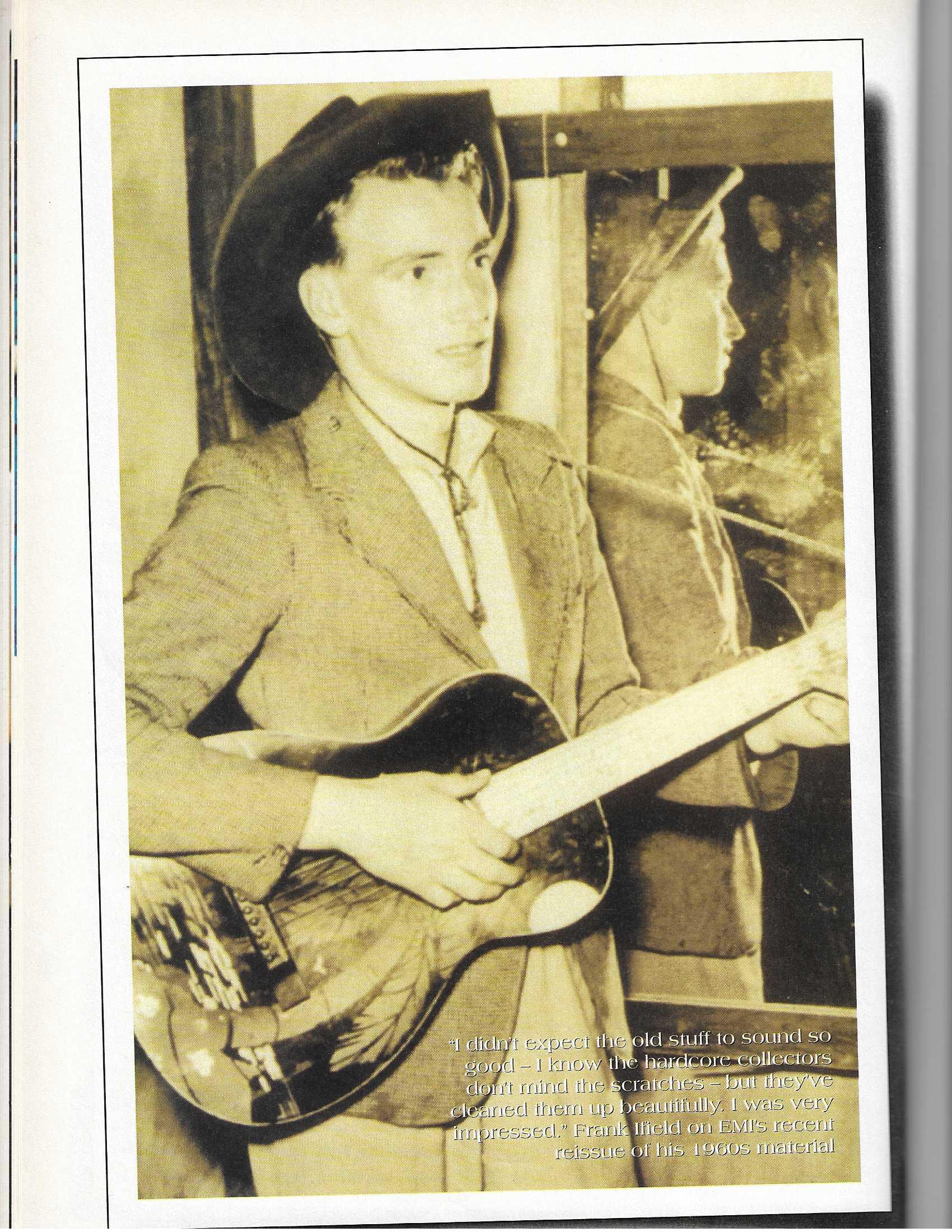 rapturous applause and was made an Honorary Tennessean by Governor Frank Clement.
As his British pop success began to wane, Ifield turned to Nashville and country music, becoming a close friend of influential performers like Roy Orbison, Mickey Newbury and Don Gibson, and was also highly respected by producers Tom Collins, Jack Clement and Wesley Rose, who would all work with him in the studios. Frank shunned the big recording labels, preferring to start his own label and record country material. He became popular in Europe once more with hits like Joanne, California Cotton Fields and Silver Wings.
He signed to Warner Brothers Nashville in 1979 and was again produced by Wesley Rose. The single, Crystal, failed to chart in America, but gained extensive radio play in Europe, and it was at this time that he started getting into the grass roots of the British country music scene, touring the clubs with British band Barbary Coast and appearing at the Wembley Country Music Festival.
His record sales continued to gain him awards with gold discs in the Netherlands and Australia during 1978 and platinum disc in Australia three years later. He toured extensively throughout the 1980s, until a serious operation curtailed his singing activities in 1990.
"My lungs collapsed and I had an operation," he explains of his long absence from Britain. "It's taken a long time to pick up again after that. I'm still not back to singing properly yet. I'm not very happy with that, but it's coming good."
During this enforced lay-off Frank kept busy. He had previously worked with Jack Clement in Nashville on some acoustic sessions and also in Britain with Barbary Coast and Ann and Ray Brett on more contemporary material. None of these recordings have been mixed down, so Frank went into the studio to prepare them for the new album.
"I added some harmonies and put some strings and horns on some of it, just to make it more up-to-date," he explains enthusiastically. "I always had a great response to Hearts On Fire. It's an old Eddie Rabbitt song. I always felt it was a hit, so once we got back into the studio and got it on tape, I said: 'Right this is it.' And the record company thinks so too."
As well as recording, Frank has become a well-known television personality in Australia with the highly successful It's Country Today series, showcasing new and upcoming talent. He has actually hosted his own radio and television shows since the beginning of his career, and during the 1960s had his own weekly show on both Radio Luxembourg and BBC's Light Programme. Last year he picked up the award for Australia's best country television presenter.
Getting back to THE FIRE STILL BURNS, Frank is full of enthusiasm for the new album. It's as though he has had a new lease of life.
"I have confidence in the songs," he says proudly. "I know that they're good, whether they're hits or not. I'm happy with them and I'd rather be that than have something the public loves and I hate."
Six years ago, an outfit called the Backroom Boys remixed and added rapping to some of Frank's original hits from the 1960s, scoring a huge British pop hit with The Yodelling Song. Frank was not consulted and is still quite angry that his original recordings could have been tampered with in that way. "My stepson, Adam, he loved it. But to me, that wasn't the way I originally conceived the songs to be. I had nothing to do with it and was quite horrified."
Frank is now looking forward to getting back to performing, recording and bringing his distinctive style to a whole new audience. "I'm very excited about what's happening with the record. It's a dream come true. Obviously, I'm not back to singing properly yet, not how I would like. I'm a perfectionist and I wouldn't get up there and do a half-baked show. Maybe later. One hopes for these things, but you can't rush nature. I'm working on it and hopefully we're able to do some concerts before too long."