First Published in Country Music International – October 1996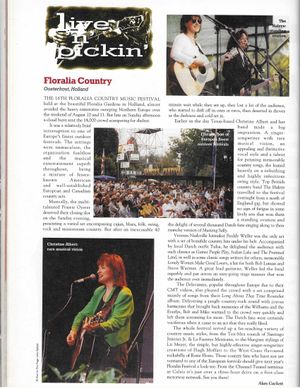 The 16th Floralia Country Music Festival held at the beautiful Floralia Gardens in Holland, almost avoided the heavy rainstorm sweeping Northern Europe over the weekend of August 10 and 11. But late Sunday afternoon a cloud burst sent the 14,000 crowd scampering for shelter.
It was a relatively brief interruption of one of Europe's finest outdoor festivals. The settings immaculate, the organisation faultless and the musical entertainment superb throughout, being a mixture of lesser-known American and well-established European and Canadian country acts.
Musically, the multi-talented Prairie Oyster deserved their closing slot on the Sunday evening, presenting a varied set encompassing Cajun, blues, folk, swing, rock and mainstream country. But after an inexcusable 40-minute wait while they set up, they lost a lot of the audience, who started to drift off in ones or twos, then deserted in droves as the darkness and cold set in.
Earlier in the day Texas-based Christine Albert and her band made a big impression. A singer-songwriter with rare musical vision, an appealing and distinctive vocal style and a talent for penning memorable country songs, she leaned heavily on a refreshing and highly infectious swing style. Top British country band The Haleys travelled to the festival overnight from a north of England gig, but showed no sign of fatigue in some lively sets that won them a standing ovation and the delight of several thousand Dutch fans singing along to their raunchy version of Mustang Sally.
Veteran Nashville hitmaker Freddy Weller was the only act with a set of bonafide country hits under his belt. Accompanied by local Dutch outfit Tusla, he delighted the audience with such classics as Games People Play, Indian Lake and The Promised Land, as well as some classic songs written by others, memorably Lonely Women Make Good Lovers, a hit for both Bob Luman and Steve Wariner. A great lead guitarist, Weller led the band superbly and put across an easy-going stage manner that won the audience over immediately.
The Delevantes, popular throughout Europe due to their CMT videos, also pleased the crowd with a set of comprised mainly of songs from their LONG ABOUT THAT TIME Rounder album. Delivering a jangly country-rock sound with joyous harmonies brought back memories of the Wilburns and the Everlys, Bob and Mike warmed to the crowd very quickly and left them screaming for more. The Dutch fans were certainly vociferous when it came to an act that they really liked.
The whole festival served up a far-reaching variety of country music styles, from the Tex-Mex sounds of Santiago Jimenez Jr. & La Fuentye Mexicana, to the bluegrass stylings of Liz Meyer, the simple, but highly effective singer-songwriter creations of Hugh Moffatt to the West Coast flavoured rockabilly of Rosie Flores. Those country fans who have not yet ventured to any of the European festivals should give next year's Floralia Festival a look-see. From the Channel Tunnel terminus at Calais it's just over a three-hour drive on a first-class motorway network. See you there!