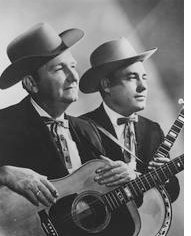 Lester Flatt and Earl Scruggs pioneered a particular type of bluegrass music under Bill Monroe's leadership—especially Scruggs' three-finger banjo technique - and thus helped to popularise bluegrass immensely. They took the music to the masses, initially with The Ballad Of Jed Clampett, the popular down-home theme tune to The Beverly Hillbillies television series. And then a little later came Foggy Mountain Breakdown, which was used extensively in the Bonnie & Clyde movie. With their own band, the Foggy Mountain Boys, they became a household name and a symbol of the exciting, syncopated bluegrass styling. Scruggs banjo was always very much to the fore, as they promoted a harder, more driving music than that of Monroe's, but with Flatt's vocals providing a softer, mellowness.

Both came from musical families. Lester Raymond Flatt was born on June 19, 1914 in Overton County, Tennessee. His parents both played the banjo (in the old frailing style), and Lester practised on both guitar and banjo. He also sang in the church choir. Earl Eugene Scruggs was born on June 6. 1924 in Cleveland County, North Carolina, an area east of the Appalachians which was already using a three-finger style on the five-string banjo. The style was not new anyway, although the strict universal style
then involved either two-finger picking or simply brushing or frailing the strings, a three-finger style had been used by Uncle Dave Macon and Charlie Poole, and Earl himself had heard such banjoists as Snuffy Jenkins use it locally. But Scruggs evolved a newer style, syncopated and rhythmic, blending in his three-finger banjo to make the bluegrass style sound fresh and alive.

Lester became a textile worker but still listened to a lot of hillbilly music while also continuing to play instruments. His wife could also play guitar and sing. He was a fan of Bill and Charlie Monroe who were heard frequently on Carolina radio stations before the Second World War. Living in Covington, Virginia, Lester formed a band, the Harmonizers, performing regularly on a Roanoke radio station. Four years later, in 1943, he and his wife were working with Charlie Monroe. That was followed by a stint on a Carolina radio station when he received an invitation from Bill Monroe to join him on the Grand Ole Opry.

Earl was playing with the Carolina Wildcats in 1939 while also holding down a daytime job in the textile mills. Working with Lost John Miller on WSM in Nashville, he was also hired by Bill Monroe to join his Blue Grass Boys. It proved to be a meeting of like souls. Scruggs was given full rein by Monroe to develop his fluid banjo technique. Monroe even put the names of Flatt & Scruggs on some of his records. This precision and teamwork, which characterised Monroe's sound, was soon attracting many new fans to what was then an exciting, new blend of mountain music.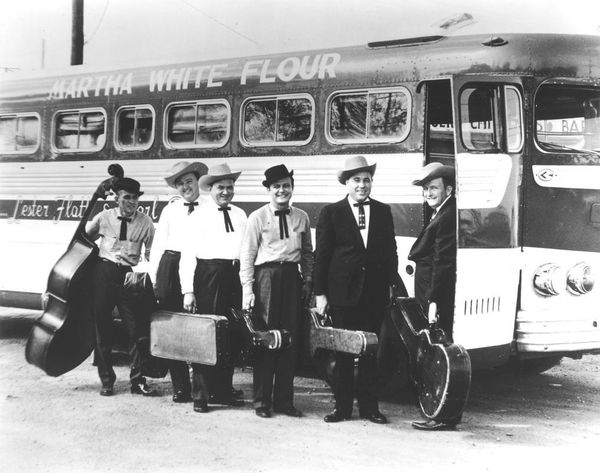 In 1948, Flatt and Scruggs resigned from the Bluegrass Boys, moved to Hickory, North Carolina, recruited ex-Monroe men Jim Shumate and Cedric Rainwater, along with Mac Wiseman, and formed the Foggy Mountain Boys. Signed to Mercury Records, the following year they released Foggy Mountain Breakdown, which remained one of their most consistently popular numbers and was included in the 1969 film, Bonnie & Clyde. In 1951, Flatt & Scruggs switched record labels, signing with Columbia Records. By this point, the band now featured mandolinst/vocalist Curly Seckler, fiddler Paul Warren, and bassist Jake Tullock. Where the careers of other bluegrass and hard country acts stalled in the early and mid-1950s, the Foggy Mountain Boys flourished. One of their first singles for Columbia, 'Tis Sweet To Be Remembered, reached the country top 10 in 1952 and in 1953, the Martha White Flour company sponsored a regular radio show for the group on WSM in Nashville which ran for years and years. In 1955 they were also hosting their own syndicated TV show and also became members of the Grand Old Opry. The following year, they added a Dobro player called Buck Graves to the line-up.

Scrugg's finger-picking artistry can be heard in full effect on the intricate mechanisms of Earl's Breakdown and the sweet lyricism of Before I Met You. Legends have a way of making whatever they do look easy, and as frenetic as the music could be, Scruggs always played with such Zen like calm it was almost as if he wasn't playing at all. Lester Flatt was a vastly underrated guitarist, singer and songwriter. A charming, unpretentious man, Flatt composed songs that were sturdy and simple, yet resonated with the warmth and purity of his sterling character. Typical was Cabin On The Hill a hauntingly beautiful tune that showcased his tremendous lead singing and Scrugg's restrained banjo work.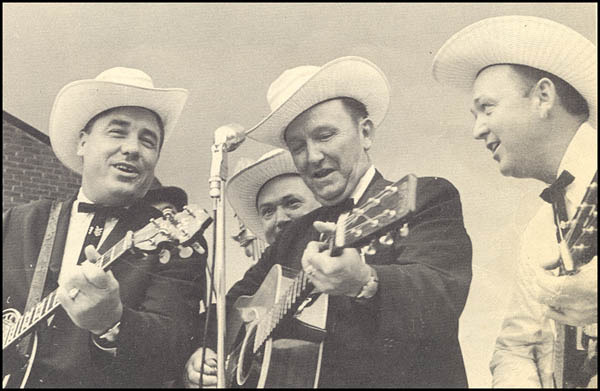 The 1960s folk revival helped broaden their appeal even further. 'Scruggs picking' was already being used in instrument tutor terminology. Mike Seeger released a Folkways album, American Banjo Scruggs' Style. Further recognition came in the shape of The Beverly Hillbillies. The theme tune, The Ballad Of Jed Clampett, became a country number one in December 1962. They were now selling vast quantities of albums. Towards the end of the 1960s, mainly driven by Earl and his wife Louise, they began experimenting with new folk songs, and using drums, electric instruments and gospel-style harmonies in an effort to build on a younger audience.

Some of their older fans were unhappy about these changes and were quite vociferous in their criticism. In 1969 they split over artistic differences. Lester returned to a more traditional sound and made reunion albums with his old buddy Mac Wiseman. He also formed the Nashville Grass, composed mainly of the Foggy Mountain Boys. Earl defiantly went off in new directions with his Earl Scruggs Revue, utilising his own sons and later Dobro player Josh Graves in a unit which could also appeal to young rock audiences. Earl also played a major role in getting together the old stars for the 1971 Nitty Gritty Dirt Band album, WILL THE CIRCLE BE UNBROKEN. Lester Flatt died on May 11, 1979. Earl Scruggs continued to perform into the late 1980s and both he and Lester were elected to the Country Music Hall Of Fame in 1985. Scruggs' sons, Randy and Gary have made their mark as songwriters, producers and multi-instrumentalists in country music. On February 10, 2008, Scruggs was awarded the Lifetime Achievement Award at the 50th Annual Grammy Awards. The careers of both Flatt & Scruggs, and later Earl Scruggs, had been managed by Earl's wife, Louise Scruggs, who he had married in 1948. He often mentioned in interviews that without the guidance and management acumen of his wife, he would never have achieved the success that he did. After a long illness, Louise died in Nashville on February 2, 2006, just weeks shy of her 79th birthday. This was a major loss for Earl, and though he continued to play and occasionally perform he was no longer the dynamic musician and person that he had once been.

Earl Scruggs the man credited with having revolutionised the banjo in music died on March 28, 2012 of natural causes at a Nashville hospital. He was 88.


Recommended Listening

Flatt & Scruggs 1948-1959 (Bear Family 1992)
Flatt & Scruggs 1959-63 (Bear Family 1992)
Flatt & Scruggs 1964-1969 Bear Family 1993)
The Mercury Sessions Vols. 1 & 2 (Rounder 1985)
Foggy Mountain Jamboree (Columbia/Legacy CK 92801 2005)
Foggy Mountain Gospel (Columbia/Legacy C2K 92574 2005)
Earl Scruggs Revue (Demon 1999)
Flatt On Victor (Bear Family 2000)