Faron Young - "I'm Gonna Live Some Before I Die"
First Published in Country Music International, July 1997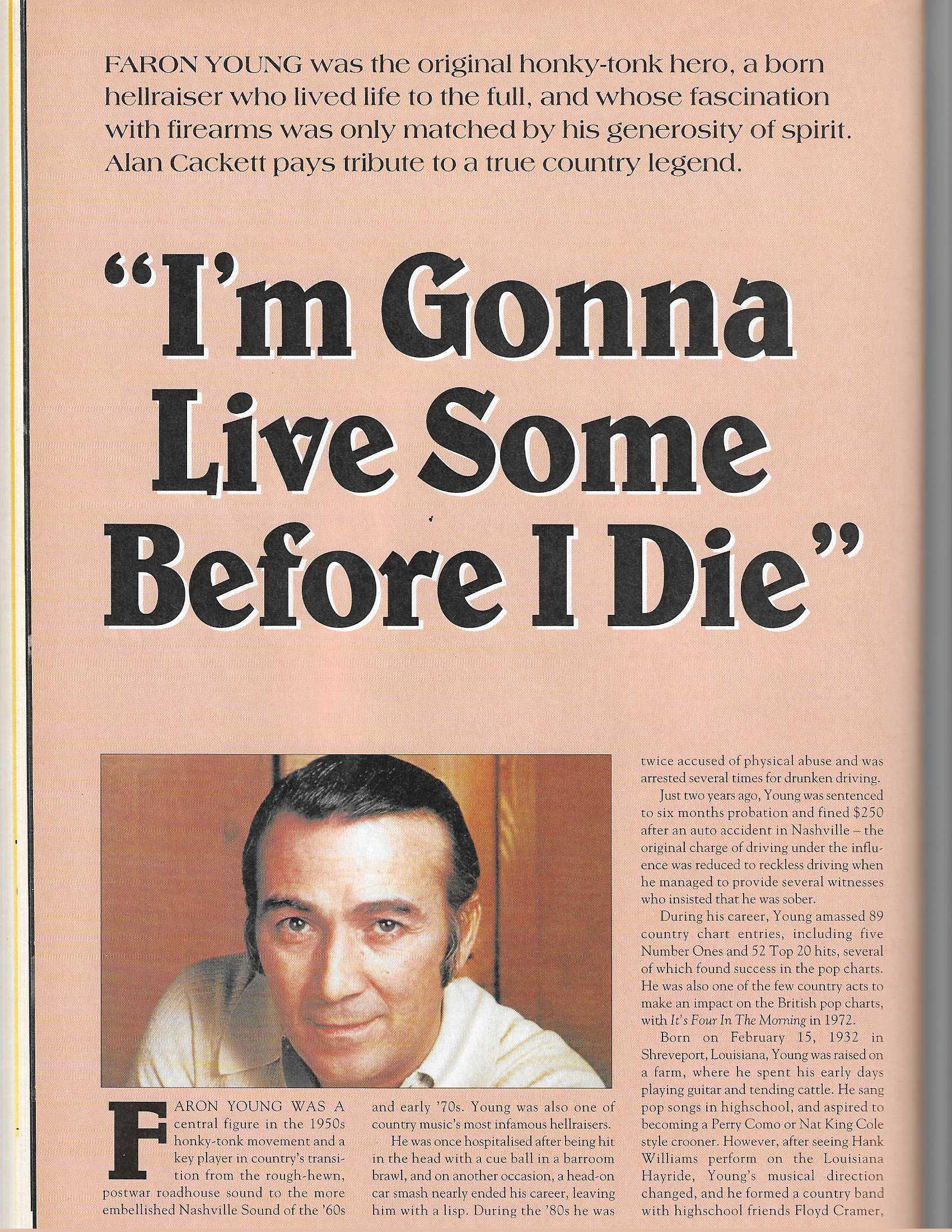 Faron Young was the original honky-tonk hero, a born hellraiser who lived life to the full, and whose fascination with firearms was only matched by his generosity of spirit. Alan Cackett pays tribute to a true country legend.
Faron Young was a central figure in the 1950s honky-tonk movement and a key player in country's transition from the rough-hewn, postwar roadhouse sound to the more embellished Nashville sound of the 1960s and early 1970s. Young was also one of country music's most infamous hellraisers.
He was once hospitalised after being hit in the head with a cue ball in a bathroom brawl, and on another occasion, a head-on car smash nearly ended his career, leaving him with a lisp. During the 1980s he was twice accused of physical abuse and was arrested several times for drunken driving.
Just two years ago, Young was sentenced to six months probation and fined $250 after an auto accident in Nashville—the original charge of driving under the influence was reduced to reckless driving when he managed to provide several witnesses who insisted he was sober.
During his career, Young amassed 89 country chart entries, including five number ones and 52 top 20 hits, several of which found success in the pop charts. He was also one of the few country acts to make an impact on the British pop charts, with It's Four In The Morning in 1972.
Born on February 15, 1932 in Shreveport, Louisiana, Young was raised on a farm, where he spent his early days playing guitar and tending cattle. He sang pop songs in high school, and aspired to becoming a Perry Como or Nat King Cole style crooner. However, after seeing Hank Williams perform inat the Louisiana Hayride, Young's musical direction changed, and he formed a country band with high school friends Floyd Cramer, Merle Kilgore and Jimmy Day.
The boys played local hoedowns and honky-tonks at weekends while attending school during the week, but before long, Young took the band for a tryout at the Hayride, the springboard for artists such as Hank Williams, Elvis and Jim Reeves.
Young was just 17 when he made his Hayride debut, and within a year he was a cast regular with his own early-morning show. Initially known as the Hillbilly Heartthrob, he gained further exposure working as a featured vocalist with the Webb Pierce Band, before making his debut recording in 1951 with Tillman Franks & His Rainbow Boys for Gotham Records.
Having originally taken his inspiration from Hank Williams, it was not long before Young fell in with the Williams crowd. He landed a lucrative record deal with Capitol, and made his first trip to Nashville, aged 19, to appear on the Grand Ole Opry. On the long trip from Louisiana, he was accompanied by his girlfriend, Billie Jean, who was a casual acquaintance of Hank Williams' from his Shreveport days.
One night at the Opry, Billie Jean was sitting in the front row when Williams was on stage. After the show,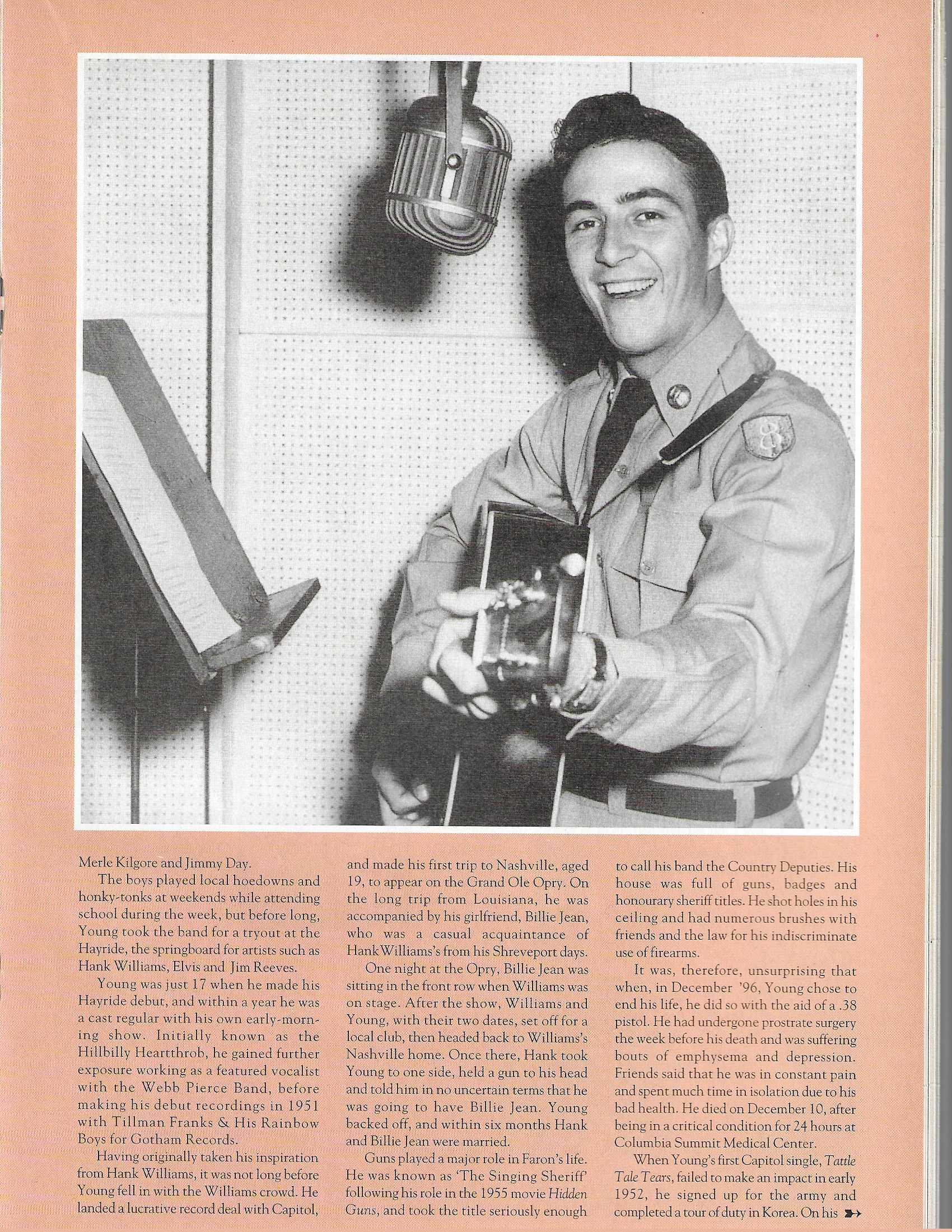 Williams and Young, with their two dates, set off for a local club, then headed back to Williams' Nashville home. Once there, Hank took Young to one side, held a gun to his head and told him in no uncertain terms that he was going to have Billie Jean. Young backed off, and within six months Hank and Billie Jean were married.
Guns played a major role in Faron's life. He was known as the 'The Singing Sheriff' following his role in the 1955 movie Hidden Guns, and took the title seriously enough to call his band the Country Deputies. His house was full of guns, badges and honorary sheriff titles. He shot holes in his ceiling and had numerous brushes with friends and the law for his indiscriminate use of firearms.
It was, therefore, unsurprising that when, in December 1996, Young chose to end his life, he did so with the aid of a .38 pistol. He had undergone prostrate surgery the week before his death and was suffering bouts of emphysema and depression. Friends said that he was in constant pain and spent much time in isolation due to his bad health. He died on December 10, after being in a critical condition for 24 hours at Columbia Summit Medical Center.
When Young's first Capitol single, Tattle Tale Tears, failed to make an impact in early 1952, he signed up for the army and completed a tour of duty in Korea. On his return to the States, he was invited to join the Opry, a move that served to kickstart his career. At the start of 1953, just ten days after the death of his idol, Hank Williams, Goin' Steady became Young's first chart entry, reaching number two, the first in a string of hits that lasted well into the 1970s.
He enjoyed his first number one with honky-tonker Live Fast, Love Hard, Die Young in 1955, the year he was demobbed. He then made the move to Nashville, where he began in earnest to build his reputation as a fast-living hellraiser, recording numerous records that seemed to perfectly reflect his chosen lifestyle: I Can't Wait (For The Sun To Go Down), If You Ain't Lovin' (You Ain't Livin'), I've Got Five Dollars And It's A Saturday Night and I'm Gonna Live Some Before I Die.
Hank Williams' music may have been Young's original inspiration, but it did not stop there. Young pursued the Williams lifestyle to the full, and despite his marriage at 21, he had many well-publicised on-the-road flings, the most notable with Patsy Cline.
Young's colourful language was legendary and though highly regarded as a performer, it was one of the reasons Capitol Records declined to record a Faron Young live album in 1957.
During this period, Young was aware of the potential rock'n'roll held for advancing his career, and he made some attempts to alter his style accordingly. Songs like Goin' Steady, Just Married and In The Chapel In The Moonlight, all suggest that he could easily have become a teen pop idol, but despite the smooth, string-laden The Shrine Of St. Cecilia edging its way into the pop Top 100 in early 1957, his attempts at up-tempo rock'n'roll were less successful and he quickly reverted to his country roots. "I've always stuck pretty close to my style, the fiddles, steel guitar and piano sound," he said in the mid-1970s. "I never did go with a funky guitar or big orchestra. I think if I was to have changed a helluva lot I'd really have got some repercussions."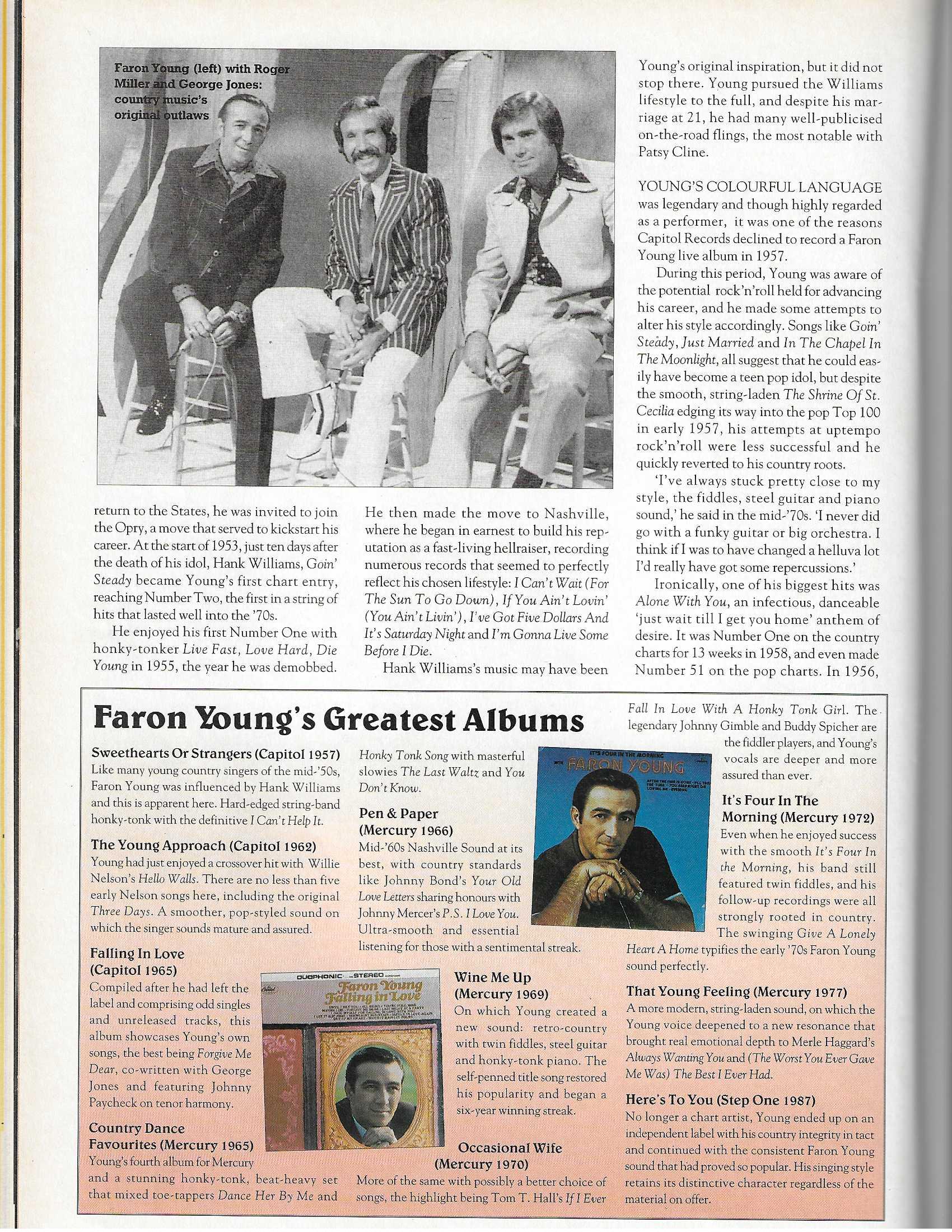 Ironically, one of his biggest hits was Alone With You, an infectious, danceable 'just wait till I get home' anthem of desire. It was number one on the country charts for 13 weeks in 1958, and even made number 51 on the pop charts. In 1956 Young was the first to find success with Don Gibson's Sweet Dreams, a much-recorded song that has since been a hit for Gibson, Patsy Cline, Emmylou Harris and Reba McEntire. But it was Young's cut of Sweet Dreams that helped Gibson win the attention of record label chiefs in Nashville.
Young was always happy to encourage up and coming musicians. He was instrumental in getting Johnny Cash on to the Opry, and he hired a struggling Roger Miller as drummer with the Country Deputies, even though Miller couldn't play drums. Young was also one of the first to record Miller's songs. Others who benefited from Young's generous streak were Roy Drusky, whose Alone With You and Country Girl Young turned into major hits; Johnny Paycheck, who Young, hired as a guitarist with the Country Deputies, and Kris Kristofferson, who Young commissioned to panel his Music Row offices. When not out on the road Young would hang out with the Willie Nelson/Roger Miller crowd at Tootsie's Orchid Lounge, the Boar's Nest and the Professional Club, where they drank, popped pills and wrote songs.
Although Opry stars frequented Tootsie's, it was the songwriting fraternity that brought the bar its fame. Tootsie's was the place where young wannabes gathered and found their inspiration: Harlan Howard, Roger Miller, Hank Cochran, Willie Nelson, Tom T. Hall and Kris Kristofferson could all be found there.
On one occasion, a broke and desperate Willie Nelson found Young in Tootsie's and offered to sell him the rights to Hello Walls. Young told him, 'Son I don't want to buy that song from you. You know one day you're gonna get a big cheque on it.' He gave Nelson the $500 he needed and told him to hang on to the song.
At his next session, Young recorded Hello Walls, and it went on to top the country charts for nine weeks in 1961, as well as becoming Young's highest charting single on the pop charts at number 12. Some months later, Nelson received his first royalty cheque for $3,000
Between 1964 and 1968 Young hit a quiet period, only scoring four country top ten entries. "After we had
the big hit with Hello Walls, naturally you try to do that again. I went through a period of trying to get another big pop hit and I couldn't. I wasn't selling country and I wasn't selling pop either. In the end I thought, 'What the hell am I doing. I'm a country singer, I'd better get back to where I belong.' So I picked up a couple of fiddlers and started doing country music again."
That was in 1969 and he immediately hit paydirt with up-tempo honky-tonker Wine Me Up, which spent two weeks at number two on the country charts. For the next five years he was rarely out of the top ten, scoring his fifth chart-topper with It's Four In The Morning in 1972. The record even gained extensive radio play in Britain and climbed to number three on the pop charts. Sadly, by the late 1970s, the chart action had pretty much dried up—the market and the audience changed and Young's career dwindled. He spent a couple of years on the MCA label, but ended his career on the independent Step One Records. Despite the lack of hits, Young did continue to tour and, unlike so many of the veteran acts, maintained his tour bus and full band long after it had ceased to be financially viable. "I could make more money touring solo," he said at the time, "go out on the road and play with local groups who don't know your material. But you're cheating your fans because you sound like hell. I carry my first class band and treat my fans for supporting me all these years."
Young finally quit performing in 1995, a year before his death, but he left behind a legacy of great recordings and undoubtedly said it best himself: "I'm gonna live fast, love hard, die young and leave a beautiful memory."