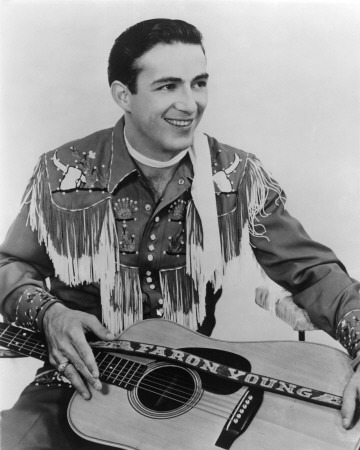 A central figure in the 1950s honky-tonk movement and a key player in the transition from country music's rough-hewn, post-war roadhouse sound to the more embellished Nashville Sound of the 1960s and early 1970s, Faron Young was one of country music's most infamous hellraisers. He lived a life characterised by episodes of violence and open-hearted generosity. Stories of his drinking, fighting and female trouble are legendary. During an illustrious and sometimes stormy career he amassed 89 country chart entries: five number ones, 19 top fives, 17 top 10s and 16 top 20s. Not to mention several that crossed over to the pop charts, and was one of a handful of American country acts to make an impact on the British pop charts with It's Four In The Morning in 1972.

Born in Shreveport, Louisiana, on February 25, 1932, he was known in his early days as the 'Hillbilly Heartthrob' and the 'Singing Sheriff.' He was one of the most popular honky-tonkers to appear in the wake of Hank Williams' death, partially because he was able to smooth out some of the grittiest elements in his music and make it more palatable for non-country listeners. Faron's early career was spent on the famed Louisiana Hayride, where he became firm friends with Webb Pierce. The pair toured throughout the south, singing as a duo in various nightclubs and honky-tonks. In 1951, Pierce set up for Faron to record Hi-Tone Poppa and Hot Rod Shotgun Boogie No. 2, two songs Webb had written for the independent label Gotham. After hearing the singles, Capitol Records decided to buy Faron's contract away from Gotham in 1952 and so began a ten-year association and a long run of hit singles.

At first, he balanced honky-tonk with pop vocal phrasing and flourishes. That combination of grit and polish resulted in such Top 10 country hits as If You Ain't Lovin', Live Fast, Love Hard, Die Young, Sweet Dreams, Alone With You and Country Girl. In addition to recording, he began appearing in films, starting with 1955's Hidden Guns. Over the next few years, he was in no less than ten films, including Daniel Boone, Road to Nashville, Stampede, A Gun and a Gavel, That's Country and Raiders of Old California.

For several years in the early 1960s he got heavily involved in the famed 'Nashville Sound.' Gone were the western suits to be replaced by tuxedos. For a time he even dropped the fiddles so that he wasn't out of step with what was happening in country. He enjoyed huge pop-crossover success with Hello Walls an early Willie Nelson song in 1961. Two years later, after a ten year tenure with Capitol Records, Faron moved over to the Mercury label—he was in the midst of a hit-making run, but he was unhappy with the way that Capitol were promoting his records. At the time he was criticised by hard-core country fans for selling out to pop influences. In retrospect, those die-hard country pundits (very much like today's detractors of all modern country music), were in fact way off the mark. Teaming up with producer Jerry Kennedy, Faron recorded some of his most artistic, daring and pure country recordings of his whole career at Mercury. Western swing inspired numbers such as Wine Me Up, Occasional Wife, If I Ever Fall In Love (With A Honky Tonk Girl), Step Aside and Leavin' And Sayin' Goodbye, are classic fiddle-and-steel dominated honky-tonkers. Even the slightly-pop-flavoured Walk Tall (covered in the UK by Val Doonican), Your Time's Comin' (an oft-overlooked Kristofferson song), and the sweeter balladry of It's Four In The Morning and This Little Girl Of Mine, contain more than enough country feeling to warrant a nod of approval.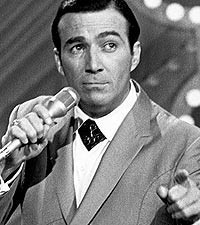 He left the Grand Ole Opry in 1965, deciding that it was more profitable for him to tour as a solo artist instead of being restricted to the Opry. He also began to explore a number of different business ventures, including a Nashville-based racetrack and helping to run the country music publication Music City News, which he had co-founded in 1963. During the late 1970s, his hits gradually began to fade away. In 1979, he left Mercury for MCA, but none of his singles for the new label reached the Top 40. For most of the 1980s, Young performed concerts, maintained his business interests and appeared on television—in short, he was acting like the country music elder statesman that he was. In 1988, he briefly returned to recording, signing with the independent Step One Records. After that brief burst of activity, he retreated to semi-retirement, occasionally making concert appearances, but was then stricken with emphysema. Depressed by his poor health, he shot himself on December 9, 1996 and passed away the next day.
He was a generous man and helped many people in Nashville when he didn't have to. And he was a consummate performer who knew his way around a good song. Throughout his career Faron Young developed a reputation for finding promising new songwriters. He was one of the first to record songs by Don Gibson (Sweet Dreams), Roy Drusky (Alone With You), Willie Nelson (Hello Walls), and Kris Kristofferson (Your Time's Comin'). His acclaimed Country Deputies included such then-unknowns as Roger Miller, Willie Nelson and Darrell McCall. Something of a party animal, he was a leader of the now-legendary crowd that once haunted Tootsie's Orchid Lounge on Lower Broadway and included such drinking buddies as Harlan Howard, Hank Cochran, Willie Nelson and Kris Kristofferson.

A tough, nail-spitting firebrand, Faron Young typified the old days of Nashville before the image-makers moved in to take the heart and soul out of the music. Though he was under-appreciated toward the end of his career, he should be hailed as one the true saviours of country music during those Nashville Sound and Countrypolitan days of the 1960s and 1970s. In fact, it would be true to say that both in his recordings, and his constant touring with his excellent Country Deputies band, he did more to uphold the country tradition than the higher-profiled Ray Price or even Conway Twitty.

Recommended listening

Greatest Hits Vol. I, II & III (Step One 1989)
Faron Young - The Capitol Years (Bear Family box set 1992)
Faron Young: Live Fast, Love Hard, Original Capitol Recordings 1952-62 (Country Music Foundation 1995)
Walk Tall: The Mercury Hit Singles 1963-1975 (Westside 2006)
Country Standards (EMI Gold 2003)
Hi-Tone Poppa (Bear Family 2006)
Here's Faron Young/Occasional Wife (Hux Records 2009)