First Published in Country Music International, October 1995
The girl next door from Star, Mississippi (population: l ,500) has come a long
way. She may have a new record in the stores, but the last two years have
been both the best and the worst of times. "I haven't always had a charmed
life," she protests. "I had to survive."
In less than two years Faith Hill has made the transition from being a Music Row receptionist to a genuine country superstar. Her first album, TAKE ME AS I AM, went platinum, and she took to the road as an opening act for such major stars as Reba McEntire, Alan Jackson and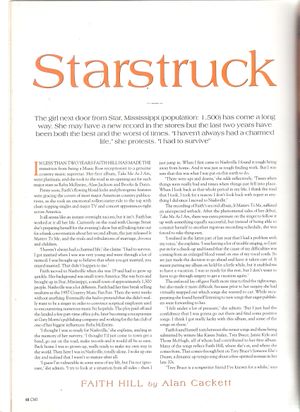 Brooks & Dunn. 
Pretty soon, Faith's flowing blond locks and photogenic features were gracing the covers of most major American country publications, as she took an emotional rollercoaster ride to the top with chart-topping singles and major TV and concert appearances right across America. 
It seems like an instant overnight success, but it isn't. Faith has worked at it all her life. Currently on the road with George Strai,t she's preparing herself for the evening's show but still taking time out for a frank conversation about her second album, the just-released IT MATTERS TO ME, and the trials and tribulations of marriage, divorce and children. 
"I haven't always had a charmed life," she claims  "I had to survive. I got married when I was very young and went through a lot of turmoil. I was brought up to believe that when you got married, you stayed married. That didn't happen to me."
Faith moved to Nashville when she was 19 and had to grow up quickly. Her background was small-town America. She was born and brought up in Star, Mississippi, a small town of approximately 1,500 people. Nashville was a lot different. Faith had her first break selling teeshirts at the 1987 Country Music Fan Fair. Then she went weeks without anything. Eventually she had to pretend that she didn't really want to be a singer in order to convince sceptical employers used to encountering numerous music biz hopefuls. The ploy paid off and she landed a few part-time office jobs, later becoming a receptionist at Gary Morris' publishing company and working for the fan club of one of her biggest influences: Reba McEntire.
"I thought I was so ready for Nashville," she explains, smiling at the memory of her naivety. "I thought I'd just come to town and get a band, go out on the road, make records and it would all be so easy. Back home I was so grown-up, really ready to make my own way in the world. Then here I was in Nashville, totally alone. I woke up one day and realised that I wasn't so mature after all."
"I guess I'm vulnerable in some areas of my life, but I'm not ignorant," she admits.  "I try to look at a situation from all sides- then I just jump in. When I first came to Nashville I found it tough being away from home. And it was tough finding work.  But I was sure this was what I was put on this earth to do."
"There were ups and downs," she adds reflectively. "Times when things were really bad and times when things just fell into place. When I look back at that whole period in my life, I think the road that I took, I took for a reason. I don't look back with regret at anything I did since moving to Nashville."
The recording of Faith's second album, IT MATTERS TO ME, suffered an unexpected setback. After the phenomenal sales of her debut, TAKE ME AS I AM, there was extra pressure on the singer to follow it up with something equally successful, but instead of being able to commit herself to another rigorous recording schedule, she was forced to take things easy.
"I realised in the latter part of last year that I had a problem with my voice," she explains. "I was having a lot of trouble singing, so I just put in for a check-up and found that the cause of my difficulties was coming from an enlarged blood vessel on one of my vocal cords. So we just made the decision to go ahead and have it taken care of. It meant putting my album on hold for a while, but it enabled me to have a vacation. I was so ready for a rest, but I don't want to have to go through surgery to get a vacation again."
The enforced lay-off gave Faith more time to find the right songs, but also made it more difficult, because prior to her surgery she had virtually mapped out which songs she wanted to cut. While recuperating she found herself listening to new songs that eager publishers were forwarding to her.
"I felt under a lot of pressure," she admits. "But I just had the confidence that I was gonna go out there and find some positive songs. I think I got really lucky with this album, and some of the songs on there."
Faith found herself torn between the newer songs and those being submitted by writers like Karen Staley, Trey Bruce, Jamie Kyle and Thom McHugh, all of whom had contributed to her first album. Many of the songs reflect Faith Hill, where she's at, and where she comes from. That comes through best on Trey Bruce's Someone Else's Dream, a dynamic up-tempo song about a free-spirited woman in her late 20s.
"Trey Bruce is a songwriter friend I've known for a while," says Faith. "I've got real close to him, so he's tried extra hard to get songs on this second album. Karen Staley, another writer from the first album, is also on there. She wrote my new single, Let's Go To Vegas, which is out now. She's also on the road with me singing background vocals."
In a few short years Faith has built up some good friendships in Nashville. As well as keeping in close touch with her songwriting friends, she also touches base with singers like Larry Stewart, who duetted with her on the first album, her idol Reba McEntire, Alan Jackson, who she has worked with on the road, and Shelby Lynne, who is her duet partner on the gospel song Keep Walkin' On.
"I'm a big fan of Shelby's singing and I just wanted her to sing on this album with me," Faith explains. "I didn't really know in what capacity, or what type of song I wanted to do with her. Then, during the course of the album, I decided that I wanted to close out this record with a gospel tune. Then Karen came to me and said: 'I've got this song that I recorded on my album years ago that you and Shelby can probably really sing to pieces.' When I heard it, I loved it. I contacted Shelby and she wanted to do it."
Karen Staley recorded Keep Walkin' On for her little-known WILDEST DREAMS album on MCA, some six years ago.  One of Nashville's finest songwriters, Karen has penned many big hits down through the years and worked on the road with Reba McEntire before teaming up with Faith. 
You get the feeling that Faith Hill needs people around her. Before she moved to    Nashville she had her family and friends from school to lean on, and, even today, she still relies on her family to keep her feet on the ground. Faith's down-to-earth honesty is a little unusual for a major artist. Success doesn't seem to have spoiled her. The girl-next-door image has not been carefully cultured—it's the natural Faith Hill. Unlike many of the modem day country music superstars, Faith has not been coached in how to be a star. She still has control over what she wears, how she does her hair and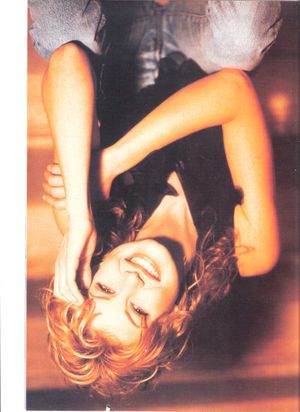 what she says. But she readily admits to having made some wrong decisions; the biggest being her first marriage.
"I was really young when I got married the first time. I was only 19 and I think I was still trying to find myself as a person," she reflects ruefully. "I don't think I was mature enough to deal with the marriage, especially a marriage that I had been rushed into. This time around I really want to be sure. It was real hard to go through a divorce. I'd always had this thing that I was never going to have to
go through a divorce, but always have the perfect marriage. But the fact is, it just wasn't realistic enough for me."
At the time of the release of her debut album, Faith was still coping with her divorce. Now it's time for that all important second album, and her mind is very much on her forthcoming marriage to record producer Scott Hendricks. The problem for both of them is when to fit the wedding into their hectic schedules.
"I don't know when we're gonna do it," she laughs. "But I'm sure we'll work something out. It's good because we don't actually have any problems working together in the studio. He knows how far to push me, and he knows when it's time to stop and go grab a hamburger."
Faith wants to live as normal a life as possible for a person constantly caught in the public eye. "I want to have kids real bad," she suddenly says excitedly. "I can't wait to have children. I'm gonna do my best to make it work, because I've always wanted a family alongside my career. I also want as much of a normal life for my children as I had when I was growing up. It's going to be tough, but I just know that I'm going to make it work."
Faith is one of the new young female stars who is able to relate to a female country audience. She is achieving this through her astute choice of song material. Though she is quick to point out that she hasn't always experienced some of the situations portrayed in the songs, she feels that she is able to put the lyrics across with understanding and sensitivity. A good exampl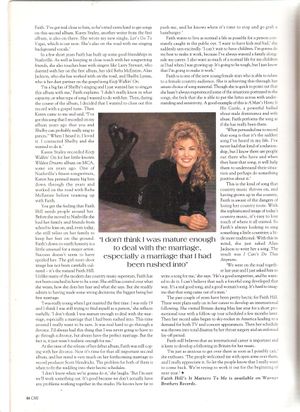 e of this is A Man's Home Is
His Castle, a powerful ballad about male dominance and wife abuse. Faith performs the song as if she has really been there.
"What persuaded me to record that song is that it's the saddest song I've heard in my life. I've never had that kind of a relationship, but I know there are people out there who have and when they hear that song, it will help them to understand their situation and perhaps do something positive about it."
This is the kind of song that country music thrives on, and having grown up in the country, Faith is aware of the dangers of losing her country roots. With the sophisticated image of today's country music, it's easy to lose touch of where it all started. So Faith's always looking to sing something a little countrier; a little more traditional. With this in mind, she just asked Alan Jackson to write her a song. The
result was I Can't Do That Anymore.
"We were on the road together last year and I just asked him to write a song for me," she says. "He's a good songwriter, and he wanted to do it. I can't believe that such a forceful song developed that way. It's a real good song, and a good woman's song. It's hard to imagine that that song came out of a man."
The past couple of years have been pretty hectic for Faith Hill. There were plans early on in her career to develop an international following. She visited Britain during May last year for a short promotional tour with a follow-up tour scheduled a few months later. Then her record sales began to sky-rocket in America leading to a demand for both TV and concert appearances. Then her schedule was thrown into total disarray by her throat surgery and an enforced lay-off period.
Faith still believes that an international career is important and is keen to develop a following in Britain for her music.
"I'm just as anxious to get over there as soon as I possibly can," she enthuses.  "The people welcomed me with open arms over there, and I really appreciate it.  So let the people know that I really want to come back. We're trying to work it out for the beginning of next year."