Emory Gordy Jr - The Nashville Cats
First Published in Country Music International, December 1997
Emory Gordy Jr used to play bass for Elvis and Emmylou, is a respected Music City producer and senior vice-president of A&R at Rising Tide Records, and he's married to Patty Loveless. Some guys have all the luck ...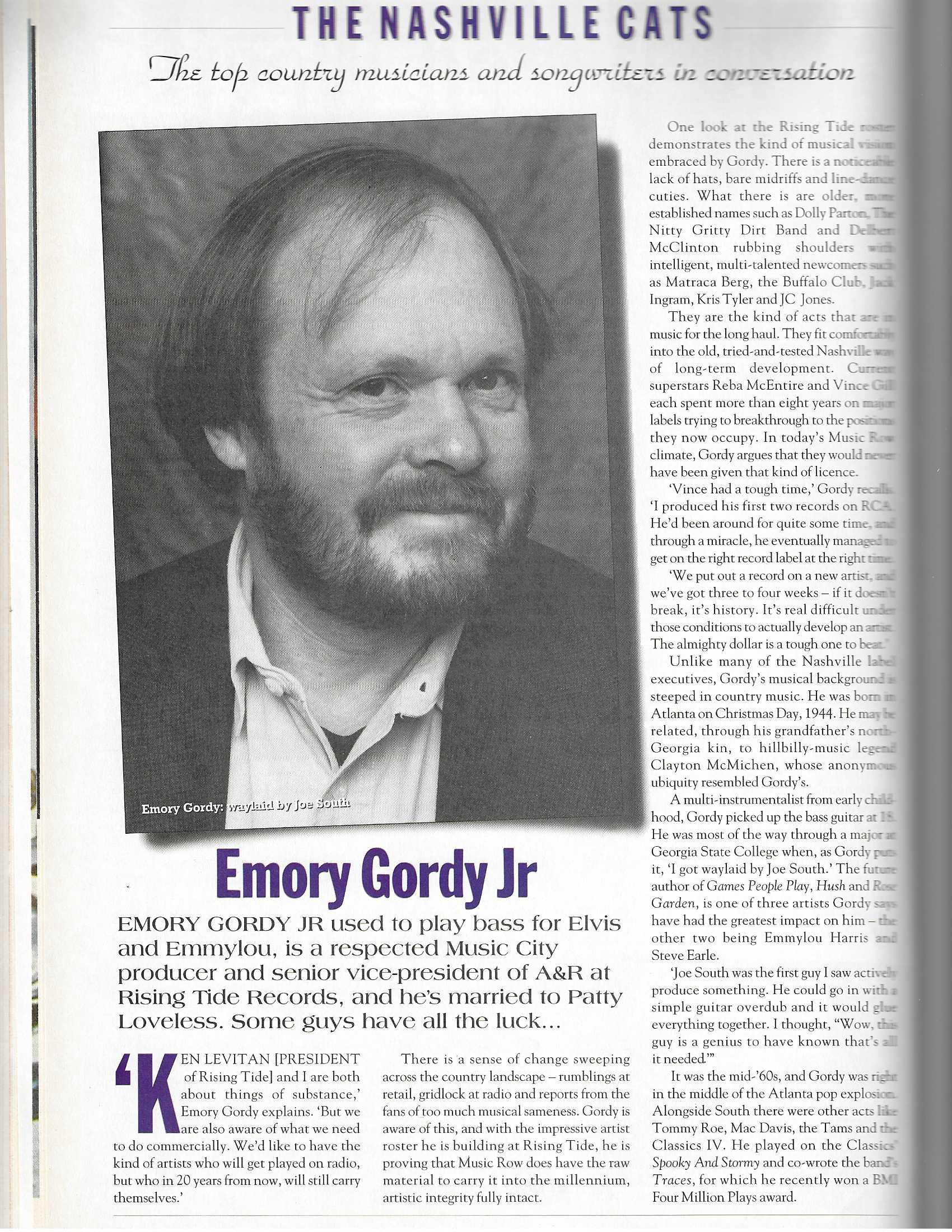 "Ken Levitan (President of Rising Tide) and I are both about things of substance," Emory Gordy explains. "But we are also aware of what we need to do commercially. We'd like to have the kind of artists who will get played on radio, but who in 20 years from now, will still carry themselves."
There is a sense of change sweeping across the country landscape—rumblings at retail, gridlock at radio and reports from the fans of too much musical sameness. Gordy is aware of this, and with the impressive artist roster he is building at Rising Tide, he is proving that Music Row does have the raw material to carry it into the millennium, artistic integrity fully intact.
One look at the Rising Tide roster demonstrates the kind of musical vision embraced by Gordy. There is a noticeable lack of hats, bare midriffs and line-dance cuties. What there is are older, more established names such as Dolly Parton, the Nitty Gritty Dirt Band and Delbert McClinton rubbing shoulders with intelligent, multi-talented newcomers such as Matraca Berg, the Buffalo Club, Jack Ingram, Kris Tyler and JC Jones.
They are the kind of acts that are in music for the long haul. They fit comfortably into the old, tried-and-tested Nashville way of long-term development. Current superstars Reba McEntire and Vince Gill each spent more than eight years on major labels trying to breakthrough to the positions they now occupy. In today's Music Row climate, Gordy argues that they would never have been given that kind of license.
"Vince had a tough time," Gordy recalls. "I produced his first two records on RCA. He'd been around for quite some time, and through a miracle, he eventually managed to get on the right record label at the right time."
"We put out a record on a new artist, and we've got three to four weeks—if it doesn't break, it's history. It's real difficult under those conditions to actually develop an artist. The almighty dollar is a tough one to beat."
Unlike many of the Nashville label executives, Gordy's musical background is steeped in country music. He was born in Atlanta on Christmas Day, 1944. He may be related, through his grandfather's north-Georgia kin, to hillbilly-music legend Clayton McMichen, whose anonymous ubiquity resembled Gordy's.
A multi-instrumentalist from early childhood, Gordy picked up the bass guitar at 18. He was most of the way through a major at Georgia State College when, as Gordy put it, "I got waylaid by Joe South." The future author of Games People Play, Hush and Rose Garden is one of three artists that Gordy says have had the greatest impact on him—the other two being Emmylou Harris and Steve Earle.
"Joe South was the first guy I saw actively produce something. He could go in with a simple guitar overdub and it would glue everything together. I thought: 'Wow, this guy is a genius to have known that's all it needed.'"
It was mid-1960s, and Gordy was right in the middle of the Atlanta pop explosion. Alongside South there were other acts like Tommy Roe, Mac Davis, the Tams and the Classic IV. He played on the Classics' Spooky And Stormy and co-wrote the band's Traces, for which he recently won a BMI Four Million Plays award.
By the end of the 1960s he felt he had exhausted the Atlanta music scene and moved to California to expand his horizons. He was soon touring and recording with Neil Diamond, Elvis Presley and country-rock pioneer Gram Parsons, working alongside such legends as guitarist James Burton, drummer Ronnie Tutt and pianist Glen D Hardin.
The whole group played on Parsons' RETURN OF THE GRIEVOUS ANGEL album. Gordy barely noticed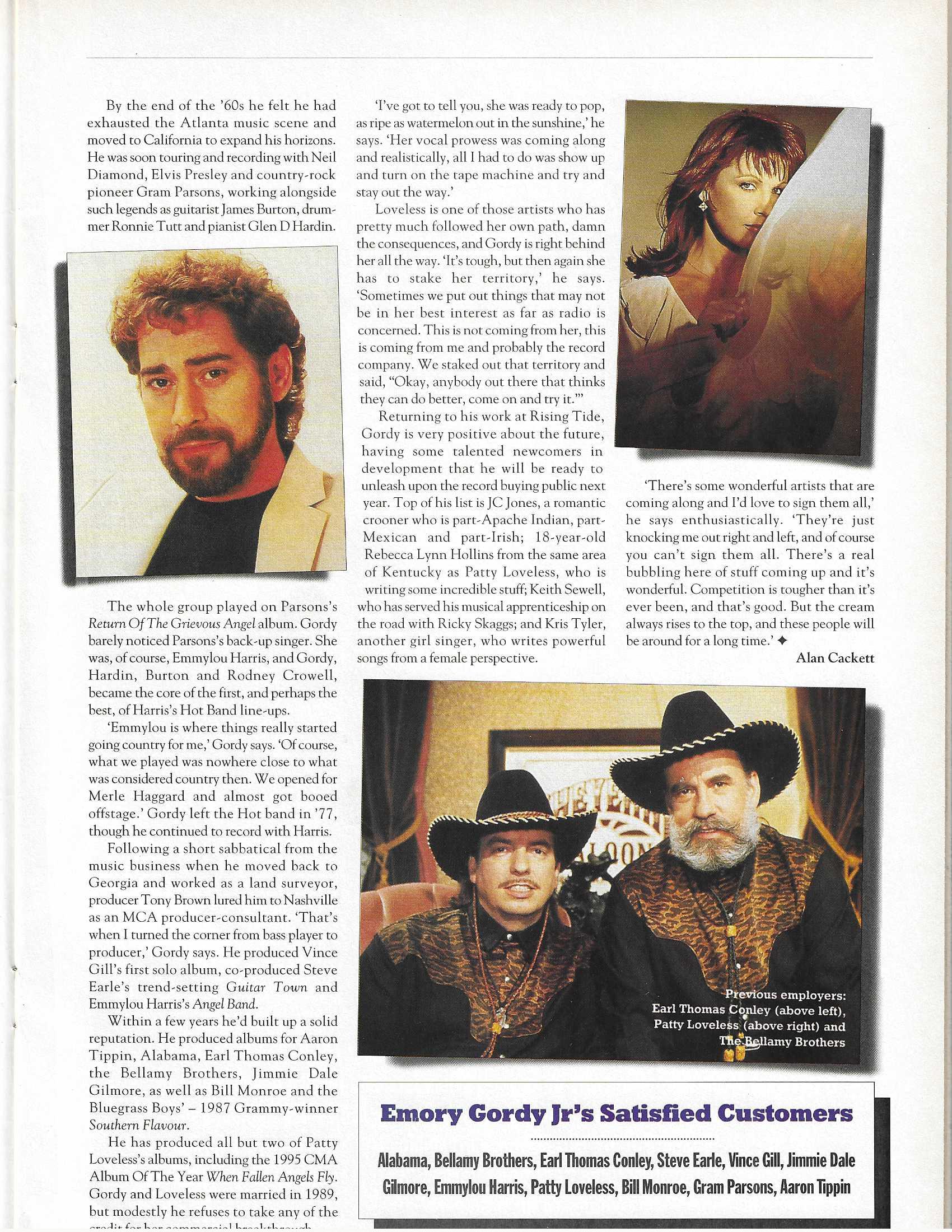 Parsons' back-up singer. She was, of course, Emmylou Harris, and Gordy, Hardin, Burton and Rodney Crowell, became the core of the first, and perhaps the best, of Harris' Hot Band line-ups.
"Emmylou is where things really started going country for me," Gordy says. "Of course, what we played was nowhere close to what was considered country then. We opened for Merle Haggard and almost got booed offstage." Gordy left the Hot band in 1977, though he continued to record with Harris.
Following a short sabbatical from the music business when he moved back to Georgia and worked as a land surveyor, producer Tony Brown lured him to Nashville as an MCA producer-consultant. "That's when I turned the corner from bass player to producer," Gordy says. He produced Vince Gill's first solo album, co-produced Steve Earle's trend-setting Guitar Town and Emmylou Harris's Angel Band.
Within a few years he'd built up a solid reputation. He produced albums for Aaron Tippin, Alabama, Earl Thomas Conley, the Bellamy Brothers, Jimmie Dale Gilmore, as well as Bill Monroe and the Bluegrass Boys'—1987 Grammy-winner SOUTHERN FLAVOUR.
He has produced all but two of Patty Loveless' albums, including the 1995 CMA Album Of The Year WHEN FALLEN ANGELS FLY. Gordy and Loveless were married in 1989, but modestly he refuses to take any of the credit for her commercial breakthrough.
"I've got to tell you, she was ready to pop, as ripe as watermelon out in the sunshine," he says. "Her vocal prowess was coming along and realistically, all I had to do was show up and turn on the tape machine and try and stay out of the way."
Loveless is one of those artists who has pretty much followed her own path, damn the consequences, and Gordy is right behind her all the way. "It's tough, but then again she has to stake her territory," he says. "Sometimes we put out things that may not be in her best interest as far as radio is concerned. This is not coming from her, this is coming from me and probably the record company. We staked out that territory and said: 'Okay, anybody out there that thinks they can do better, come on and try it.'"
Returning to his work at Rising Tide, Gordy is very positive about the future, having some talented newcomers in development that he will be ready to unleash upon the record buying public next year. Top of his list is JC Jones, a romantic crooner who is part-Apache Indian, part-Mexican and part-Irish; 18-year-old Rebecca Lynn Howard from the same area of Kentucky as Patty Loveless, who is writing some incredible stuff; Keith Sewell, who has served his musical apprenticeship on the road with Ricky Skaggs; and Kris Tyler, another girl singer, who writes powerful songs from a female perspective.
"There's some wonderful artists that are coming along and I'd love to sign them all," he says enthusiastically. "They're just knocking me out right and left, and of course you can't sign them all. There's a real bubbling here of stuff coming up and it's wonderful. Competition is tougher than it's ever been, and that's good. But the cream always rises to the top, and these people will be around for a long time."