Emmylou Harris - Spies On The Road
First Published in Country Music International – August 1998
It's almost twenty years since Emmylou Harris got her big break on the music scene. Since then she has rolled back the boundaries of country music with a profusion of eclectic albums recorded with a host of different bands, usually to critical acclaim, but not always to the delight of her fans. Now she's back with a new lineup and her first album for three years. "I've always tried to work with unique musicians," she tells Alan Cackett.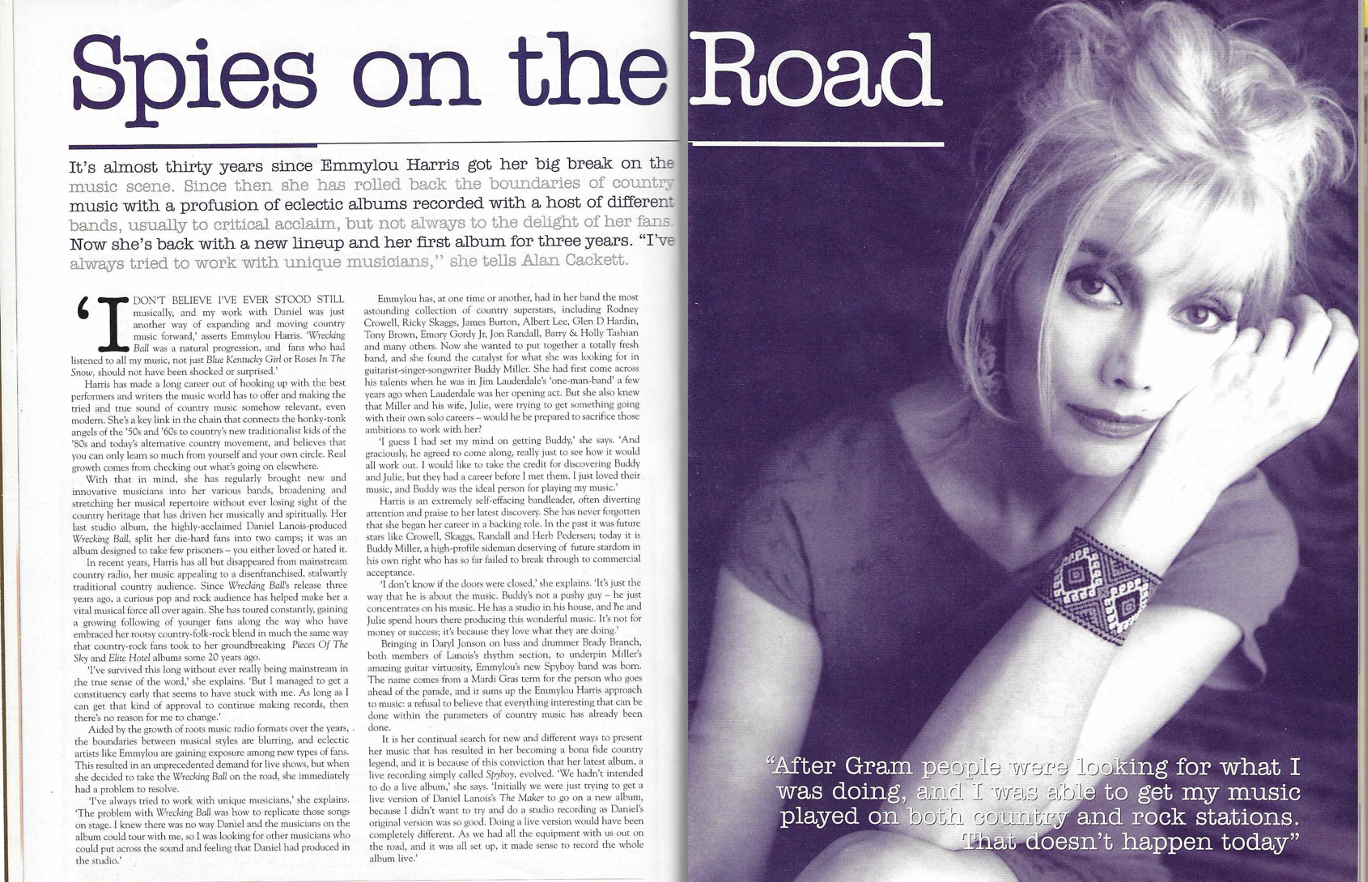 "I don't believe I've ever stood still musically, and my work with Daniel was just another way of expanding and moving country music forward," asserts Emmylou Harris. "WRECKING BALL was a natural progression, and fans who had listened to all my music, not just KENTUCKY GIRL or ROSES IN THE SNOW, should not have been shocked or surprised."
Harris has made a long career out of hooking up with the best performers and writers the music world has to offer and making the tried and true sound of country music somehow relevant, even modern. She's a key link in the chain that connects the honky-tonk angels of the 1950s and 1960s to country's new traditionalist kids of the 1980s and today's alternative country's movement, and believes that you can only learn so much from yourself and your own circle. Real growth comes from checking out what's going on elsewhere.
With that in mind, she has regularly brought new and innovative musicians into her various bands, broadening and stretching her musical repertoire without ever losing sight of the country heritage that has driven her musically and spiritually. Her last studio album, the highly acclaimed Daniel Lanois-produced WRECKING BALL, split her die-hard fans into two camps; it was an album designed to take few prisoners—you either loved or hated it. 
In recent years, Harris has all but disappeared from mainstream country radio, her music appealing to disenfranchised, stalwartly traditional country audience. Since WRECKING BALL's release three years ago, a curious pop and rock audience has helped make her a vital musical force all over again. She has toured constantly, gaining a growing following of younger fans along the way who have embraced her rootsy country-folk-rock blend in much the same way that country-rock fans took to her groundbreaking PIECES OF THE SKY and ELITE HOTEL albums some 20 years ago.
"I've survived this long without ever really being mainstream in the true sense of the word," she explains. "But I managed to get a constituency early that seems to have stuck with me. As long as I can get that kind of approval to continue making records, then there's no reason for me to change."
Aided by the growth of roots music radio formats over the years, the boundaries between musical styles are blurring, and eclectic artists like Emmylou are gaining exposure among new types of fans. This resulted in an unprecedented demand for live shows, but when she decided to take the WRECKING BALL on the road, she immediately had a problem to resolve.
"I've always tried to work with unique musicians," she explains. "The problem with WRECKING BALL was how to replicate those songs on stage. I knew there was no way Daniel and the musicians on the album could tour with me, so I was looking for other musicians who could put across the sound and feeling that Daniel had produced in the studio."
Emmylou has, at one time or another, had in her band the most astounding collection of country superstars, including Rodney Crowell, Ricky Skaggs, James Burton, Albert Lee, Glen D Hardin, Tony Brown, Emory Gordy Jr, Jon Randall, Barry & Holly Tashian and many others. Now she wanted to put together a totally fresh band, and she found the catalyst for what she was looking for in guitarist-singer-songwriter Buddy Miller. She had first come across his talents when he was in Jim Lauderdale's 'one-man-band' a few years ago when Lauderdale was her opening act. But she also knew that Miller and his wife, Julie, were trying to get something going with their own solo careers—would he be prepared to sacrifice those ambitions to work with her?
"I guess I had set my mind on getting Buddy," she says. "And graciously, he agreed to come along, really just to see how it would all work out. I would like to take the credit for discovering Buddy and Julie, but they had a career before I met them. I just loved their music, and Buddy was the ideal person for playing my music."
Harris is an extremely self-effacing bandleader, often diverting attention and praise to her latest discovery. She has never forgotten that she began her career in a backing role. In the past it was future stars like Crowell, Skaggs, Randall and Herb Pedersen; today it is Buddy Miller, a high-profile sideman deserving of future stardom in his own right who had so far failed to break through to commercial acceptance.
"I don't know if the doors were closed," she explains. "It's just the way that he is about the music. Buddy's not a pushy guy—he just concentrates on his music. He has a studio in his house, and he and Julie spend hours there producing wonderful music. It's not for money or success; it's because they love what they are doing."
Bringing in Daryl Johnson on bass and drummer Brady Blade, both members of Lanois's rhythm section, to underpin Miller's amazing guitar virtuosity, Emmylou's new Spyboy band was born. The name comes from a Mardi Gras term for the person who goes ahead of the parade, and it sums up the Emmylou Harris approach to music: a refusal to believe that everything interesting that can be done within the parameters of country music has already been done.
It is her continual search for new and different ways to present her music and has resulted in her becoming a bona fide country legend, and it is because of this conviction that her latest album, a live recording simply called SPYBOY, evolved. "We hadn't intended to do a live album," she says. "Initially we were just trying to get a live version of Daniel Lanois's The Maker to go on a new album, because I didn't want to try and do a studio recording as Daniel's original version would have been completely different. As we had all the equipment with us out on the road, and it was all set up, it made sense to record the whole album live."
Spyboy is a powerhouse bunch , the rocket upon which the soft voice of Emmylou is the warhead. The album is a contemporary resume of her 25-year career, mixing her new versions of old classics like Boulder To Birmingham, Love Hurts and Ain't Living Long Like This with WRECKING BALL tracks such as Where Will I Be, Deeper Well and All My Tears. The strong country-folk flavour that laced earlier recordings is still there, but it's cut through with a hard-rock edge that emphasises the roots-rock equation.
"It was Buddy who suggested that we cut a live album," she says. "I'd never done a live record of my older songs, and with Spyboy I have been able to see how a small group could both anchor and generate a big sound. Buddy suggested that we put songs in that would give the guys a chance to rock during our sets, to give some of my old material a new freedom, a new lease of life."
The shadow of the now-legendary Gram Parsons seems to have loomed over Emmylou's music to such an extent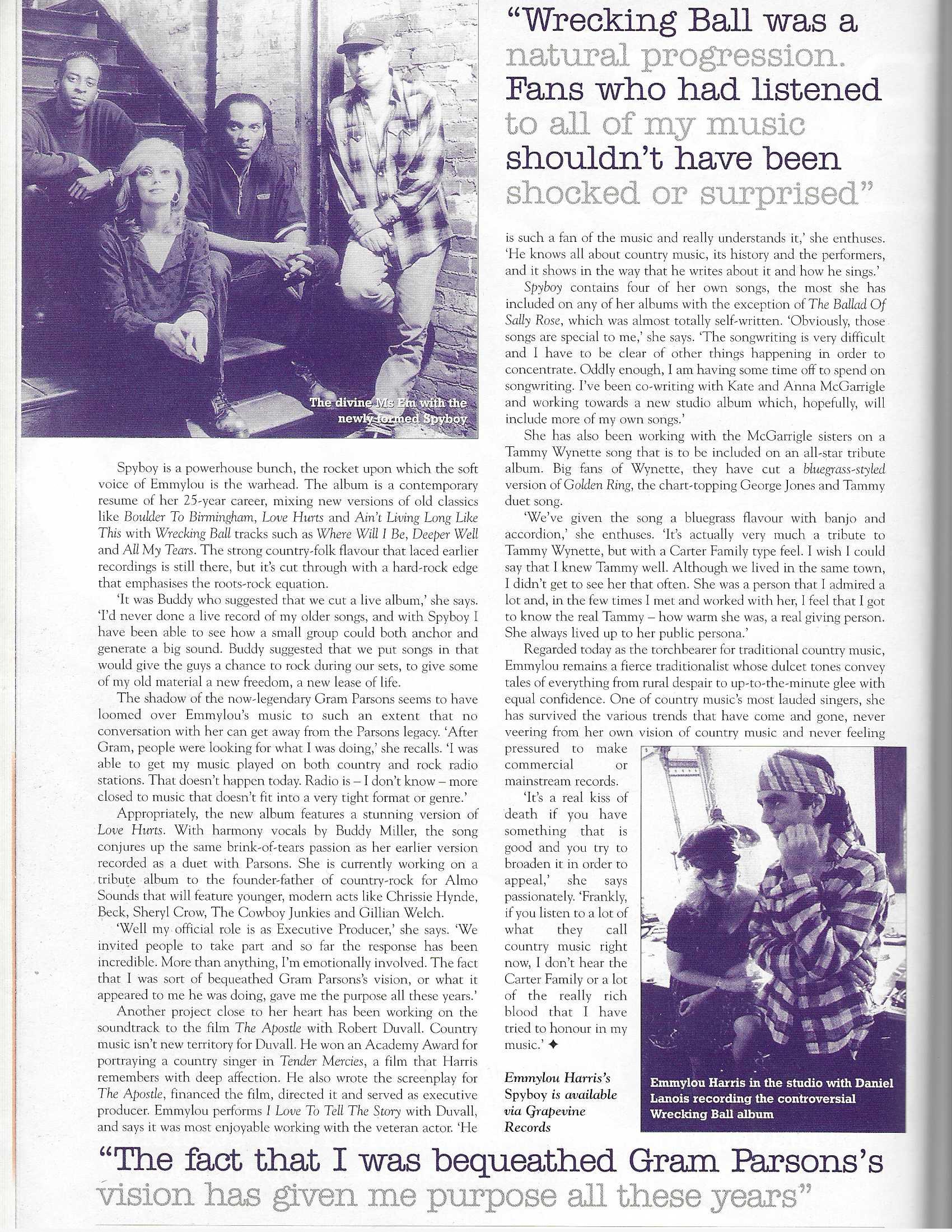 that no conversation with her can get away from the Parsons legacy. "After Gram, people were looking for what I was doing," she recalls. "I was able to get my music played on both country and rock radio stations. That doesn't happen today. Radio is—I don't know—more closed to music that doesn't fit into a very tight format or genre."
Appropriately, the new album features a stunning version of Love Hurts. With harmony vocals by Buddy Miller, the song conjures up the same brink-of-tears passion as her earlier version recorded as a duet with Parsons. She is currently working on a tribute album to the founder-father of country-rock for Almo Sounds that will feature younger, modern acts like Chrissie Hynde, Beck, Sheryl Crow, The Cowboy Junkies and Gillian Welch.
"Well my official role is as Executive Producer," she says. "We invited people to take part and so far the response has been incredible. More than anything, I'm emotionally involved. The fact that I was sort of bequeathed Gram Parsons' vision, or what it appeared to me he was doing, gave me the purpose all these years."
Another project close to her heart has been working on the soundtrack to the film The Apostle with Robert Duvall. Country music isn't new territory for Duvall. He won an Academy Award for portraying a country singer in Tender Mercies, a film that Harris remembers with deep affection. He also wrote the screenplay for The Apostle, financed the film, directed it and served as executive producer. Emmylou performs I Love To Tell The Story with Duvall, and says it was most enjoyable working with the veteran actor. "He is such a fan of the music and really understands it," she enthuses. "He knows all about country music, its history and the performers, and it shows in the way he writes about it and how he sings."
SPYBOY contains four of her own songs, the most she has included on any of her albums with the exception of THE BALLAD OF SALLY ROSE, which was almost totally self-written. "Obviously, those songs are special to me," she says. "The songwriting is difficult and I have to be clear of other things happening in order to concentrate. Oddly enough, I am having some time off to spend on songwriting. I've been co-writing with Kate and Anna McGarrigle and working towards a new studio album which, hopefully, will include more of my own songs."
She has also been working with the McGarrigle sisters on a Tammy Wynette song that is to be included on an all-star tribute album. Big fans of Wynette, they have cut a bluegrass-styled version of Golden Ring, the chart-topping George Jones and Tammy duet song.
"We've given the song a bluegrass flavor with banjo and accordion," she enthuses. "It's actually very much a tribute to Tammy Wynette, but with a Carter Family type feel. I wish I could say that I knew Tammy well. Although we lived in the same town, I didn't get to see her that often. She was a person that I admired a lot and, in the few times I met and worked with her, I feel that I got to know the real Tammy—how warm she was, a real giving person. She always lived up to her public persona.'
Regarded today as the torchbearer for traditional country music, Emmylou remains a fierce traditionalist whose dulcet tones convey tales of everything from rural despair to up-to-the-minute glee with equal confidence. One of country music's most lauded singers, she has survived the various trends that have come and gone, never veering from her own vision of country music and never feeling pressured to make commercial or mainstream records.
"It's a real kiss of death if you have something that is good and you try to broaden it in order to appeal," she says passionately. "Frankly, if you listen to a lot of what they call country music right now, I don't hear the Carter family or a lot of the really rich blood that I have tried to honor in my music."