Emmylou Harris - Atlantic Crossing
First Published in Country Music International, April 1995
Twenty years ago, Gram Parsons' shy and retiring backing singer stepped out on stage in London to play her debut headlining show, Despite those first-night nerves, she's been coming back ever since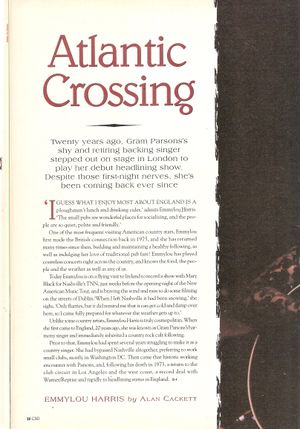 "I guess what I enjoy most about England is a ploughman's lunch and drinking cider," admits Emmylou Harris. "The small pubs are wonderful places for socialising, and the people are so quiet, polite and friendly."
One of the most frequent visiting American country stars, Emmylou Harris first made the British connection back in 1975, and she has returned many times since then, building and maintaining a healthy following as well as including her love of traditional pub fare! Emmylou has played countless concerts right across the country and knows the food, the people and the weather as well as many of us.
Today Emmylou is on a flying visit to Ireland to record a show with Mary Black for Nashville's TNN just weeks before the opening night of the New American Music Tour, and braving the wind and rain to do some filming on the streets of Dublin. "When I left Nashville it had been snowing," she sighs. "Only flurries, but it did remind me that it can get cold and damp over here, so I came fully prepared for whatever the weather gets up to."
Unlike some country artists, Emmylou is truly cosmopolitan. When she first came to England 20 years ago, she was known as Gram Parsons' harmony singer and immediately inherited a country-rock cult following.
Prior to that. Emmylou had spent several years struggling to make it as a country singer. She had bypassed Nashville altogether, preferring to work small clubs, mostly in Washington DC. Then came that historic working encounter with Gram Parsons and following his death in 1973, a return to the club circuit in Los Angeles and the west coast, a record deal with Warner/Reprise and rapidly to headline status in England.
She recalls her first British visit with fond memories. "It was back in 1975, I believe. I came with the Hot Band and we played London's New Victoria Palace. It was the first time I'd ever headlined a show. Back home in the States, we'd only played supporting roles or small clubs, in fact we'd only really done a handful of shows and suddenly here we were playing as stars to this wildly enthusiastic audience."
"It was quite terrifying at first," she remembers. "I'd never really fronted a band like this. I'd sung back-up with Gram and I felt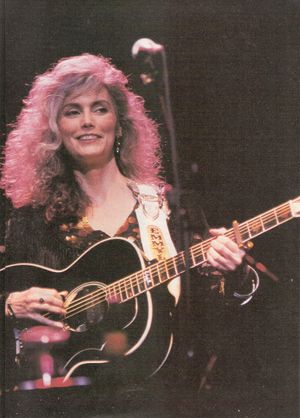 very much a part of that, but there was no pressure on me to be the leader back then, all I had to do was get up there and enjoy myself."
With the original Hot Band line-up, that included James Burton on electric guitar and Dobro, Glen D. Hardin on piano, drummer John Ware and steel player Hank DeVito, Emmylou was accompanied by the best electric country band in existence. The show really cooked from beginning to end. Though the ghost of Gram Parsons hung over many of the songs, the tall, pretty dark-haired novice performer worked so well with this star-studded band—both physically and vocally—that you could tell that she was destined for the big-league.
Since those early days of country-rock, Emmylou has steadfastly made her mark on the American country music scene, becoming one of the most influential  leading lights of the New Traditionalist movement, as she has successfully  dabbled with contemporary country, folk, bluegrass, gospel, traditional country and rock elements, without ever committing to one style.
While that enigmatic quality has endeared Emmylou to fans and critics, it has not landed her much in the way of radio airplay. But she still took her music into the charts, generating gold and platinum discs as well as several Grammys along the way.
Surprisingly, she has never felt the necessity to compromise her music to gain a wider audience or mass acceptance. "I've kept to the same style from the beginning," she acknowledges. "I've survived for this long without having to worry about becoming a mainstream artist. I don't know if I could take my music along a different route. I had a vision from the start. It was something I picked up from Gram, and the whole thing has grown from that."
"I'm not sure that my music is for everyone," she admits. "I guess each artist needs to find his or her own level which they are comfortable with, and I was lucky that I found that out early on in my career. I put my first Warner/Reprise album (PIECES OF THE SKY, 1975) and within a few weeks I was on the charts. I didn't expect to chart anywhere. Then I was in London headlining. So I've been real fortunate that everything from then on just fell into place."
From the very beginning Emmylou has incorporated Gram Parson's conviction and belief for country music into her own work and has remained a tireless champion of the traditional country sound. Initially, she found acceptance for her music more readily in
England than she did in America.
"I've found the fans in England are much more knowledgeable about the music than they are in States,"  she says. "They seem to know all the songs and who played on them and are more receptive to music that's a little different to what might normally be played on radio. That is gratifying to someone like myself, because I don't always fit into radio formats."
Tight radio formats in the US have really begun to have an adverse effect on artists like Emmylou Harris. These days country songs have to be 'radio friendly,' and in recent years she has joined other maverick country performers such as Steve Earle, Nanci Griffith, Lyle Lovett and Iris DeMent, who find it nigh on impossible to get airplay for their music.
It was this gradual change  in radio that led to Emmylou leaving Warner/Reprise after a 20-year association that had seen her clock up an impressive 27 top 10 hits, including seven that went all the way to the top.
"When I joined the label it was very different to how it is today," she explains. "It had this reputation for signing people like Bonnie Raitt and Maria Muldaur who didn't really fit into any set format. I felt at home in that kind of environment. I've always been a left-field artist and when Warners started to get really successful with more mainstream artists, they just didn't know what to do with me."
"There was no big falling out," she adds. "It was a bit like two people who've come to the end of a marriage. It was time to go our separate ways. I decided to go with Asylum because they have that same attitude about music that they used to have at Warners. They do not worry about radio play and the charts, only that their artists are being creative. I've been lucky in that I've always felt that I can do pretty much what I want, because I think that is what my audience would expect from me."
Emmylou remains a big music fan and still enjoys old favourites like Merle Haggard and Dolly Parton, but also favours  such newer names as Iris DeMent, and talks passionately about lesser-known singer-songwriters like Greg Brown, an Iowa folkie who blends pure Appalachian melodies, country blues and rock'n'roll into a unique poetic style all his very own.
She is also a  big fan of Bruce Springsteen and has covered several of his songs including Tougher Than the Rest and Racing In the Street, and counts him alongside Rodney Crowell and Guy Clark, as a songwriter she greatly admires. However, when it comes  to searching for songs to record, Emmylou doesn't look for specific songwriters.
"I don't look to see who the writer is," she says. "It's if the song means something to me that really counts. I've been fortunate to get hold of some really great songs to record down through the years."
Emmylou is a little modest about her own accomplishments, which include writing the whole of the critically-acclaimed THE BALLAD OF SALLY ROSE album in 1985, and such hit songs as Boulder To Birmingham, Amarillo and Prayer in Open D. "I'm not a prolific songwriter," she claims. "Sometimes it take me a year, maybe two to finish one song, but if I feel that I have something specific to say, then maybe I'll get it done."
She is also one of the few Nash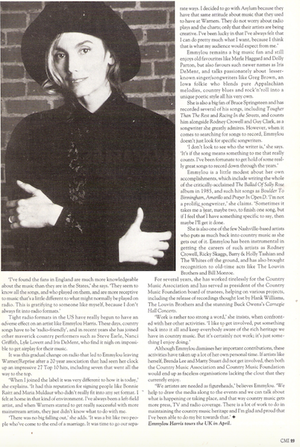 ville-based artists who puts as much back into country music as she gets out of it. Emmylou  has been instrumental in getting the careers of such artists as Rodney Crowell, Ricky Skaggs, Barry & Holly Tashian and the Whites off the ground, and has brought recognition to old-time acts like the Louvin Brothers and Bill Monroe.  
For several years she has worked tirelessly  for the Country Music Association and has served as president  of the Country Music Foundation Board of Trustees helping  on various projects, including the release of recordings thought lost by Hank Williams, the Louvin Brothers and the stunning Buck Owens' Carnegie Hall Concerts.
"Work is rather too strong a word," she insists, when confronted with her activities. "I like to get involved, put something back into it all and keep everybody aware of the rich heritage we have in country music. But it's certainly not work, it's just something I enjoy doing."
Although Emmylou dismisses her important contributions, these activities have taken up a lot of her own personal time. If artists like herself, Brenda Lee, and Marty Stuart did not get involved, then both the Country Music Association and Country Music Foundation would end up as faceless organisations lacking the clout that they currently enjoy.
"We artistes are needed as figureheads," believes Emmylou. "We help to draw the media along to the events and we can talk about what is happening or taking place, and that way country music gets more press, TV and radio coverage. There is a lot of work to do in maintaining the country music heritage and I'm glad and proud that I've been able to do my bit towards that."