First published in Country Music People, April 1977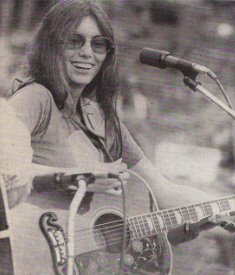 In recent years the female singer has come to the forefront in music, dominating the scene with beauties like Linda Ronstadt, Crystal Gayle, Olivia Newton-John, Dolly Parton and Emmylou Harris emerging as the new stars of contemporary music.
It's a genre which consists more or less of relatively pure voices singing an assortment of songs that are mostly sad; songs that state moods and deal with feelings and emotions. The ladies' material very much reflects the social roles thrust upon women: 'men act, woman feel.' Throughout their respective repertoire these talented ladies pour their little hearts out over love that has gone sour and bitter, feeling sorry for themselves, but unable to do anything constructive about it all.
Emmylou Harris is the perfect example. She was born in Birmingham, Alabama and as a child lived on the numerous army bases around the Southern States. Remarkably, this Southern upbringing didn't bring her into contact with country music. This didn't come until much later when she was working in Washington D.C. as a folk singer and got to know the late Gram Parsons. The music of Parsons is very tightly entwined with that of Emmylou's. The nucleus of her band is the same that played with Parsons, and much of the material she now uses was picked up from his old repertoire.
It was Gram Parsons who first brought the talents of Emmylou Harris to my notice. It was his outstanding album, G.P., which featured Emmylou singing vocal harmony on incredible versions of
Streets Of Baltimore, That's All It Took
and
We'll Sweep Out The Ashes (In The Morning).
The effect was a combination of Carl and Pearl Butler, early George Jones and The Lovin' Brothers 'all wrapped up together.; Parsons had always had a deep belief and conviction for country music. It showed in his work, and he passed this conviction on to Emmylou who has continued along the same trail.
In her fairly swift rise to the top following two albums with Gram Parsons in 1973 and 1974, she has by-passed Nashville completely, prefering to work mainly clubs with her band, firstly in Washington D.C., then Los Angeles and the West Coast, and finally to Britain for a very successful concert tour. Now she commands a vast following in Britain that encompasses country and contemporary music lovers.
As important as the Gram Parsons' influence, is the part that her band has played in her rise to acceptance by music fans, who usually disregard anything vaguely resembling country music. Throughout her recordings and concerts she is backed up by The Hot Band, which achieves an even sound throughout her work. Quite often the sheer brilliance of musicians like Glen D. Hardin, on piano, steel guitarist Hank DeVito and guitarists James Burton, Rodney Crowell and Albert Lee almost steals the limelight from Miss Harris, but here is a lady who has a voice that she uses to perfection to give emotion and feeling to the simple country love ballads she excels at.
She laces her recordings generously with old warhorses—songs from the past remembered only by the die-hard country fans. Old songs like Charlie and Ira Louvin's
When I Stop Dreaming
, Jimmy Work's
Making Believe
, Felice and Boudleaux Bryant's
Sleepless Nights
and Don Gibson's
Sweet Dreams.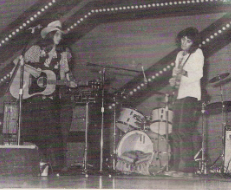 Unlike most contemporary singers, Emmylou's material leans towards hardcore country, and even when she handles newer material like Shel Silverstein's
Queen Of The Silver Dollar
, Rodney Crowell's
Bluebird Wine
or Danny Flowers'
Before Believing
, the whole musical arrangements are firmly rooted in traditional country. There's no doubt that present-day Nashville had little to do with the music of Emmylou Harris, the closest she gets is with
Coat Of Many Colours
by Dolly Parton and a credibly rustic Billy Sherrill ballad,
Too Far Gone
.
Whilst working with Gram Parsons she caught his enthusiasm for the rigidly expressive, high-droning sound of old-fashioned country of people like Lefty Frizzell, Hank Williams, George Jones and the great harmony duos the Louvin Brothers and the Everly Brothers. And it's this enthusiasm and dedication that makes her albums so fresh and vital for anyone who has a passing fancy for 'real' country music.
The one difference between the recordings of Emmylou Harris in the 1970s and those of her idols from the 1950s is in the studio and production techniques. There is no hiding the fact that every note is laid down with precision and care. Though the instrumentation on her recordings features rural sounds from mandolin, fiddle, steel guitar, Dobro and assorted acoustic and electric guitars, the effect is a smooth tapestry of sound that blends perfectly with her sturdy vocals.
Emmylou has a soft, almost fragile turn in her voice as she tends to underplay her lines, giving her vocal sound the drama of vulnerability rather than that of all-out passion. You feel that here is a lady who could easily be bruised in the game of love and romance—and her tendency for lovelorn country ballads only helps to reinforce that theory.
The music that Emmylou Harris produces displays her as a human-being rather than just another interpreter of sad songs. On her albums she demonstrates that she can also pen a fair tune.
Boulder To Birmingham
, written with Bill Danoff, is a sensitive panoramic love song which invokes the classic traveller's theme. Emmylou fills it with a quivering and passionate emotion. Two up-tempo numbers,
Amarillo
and
Tulsa Queen
prove to be good workout numbers for her band whilst showing that Emmylou has a keen interest in her surroundings with descriptive and meaningful lyrics emerging.
Emmylou Harris has grown out of the Gram Parsons cult that followed his untimely and bizarre death and surrounded her debut country album, PIECES OF THE SKY, and emerged as one of the finest female singers on the modern scene. Her tour of Britain last year established her as more than just another outstanding recording artist. She came across as an exciting concert star with the necessary aura to send audiences home happy and fulfilled.
Now she is set to return as the uncrowned Queen of Contemporary Country Music to top the bill on Easter Monday's Wembley Festival. Considering her following and rapport with British audiences, this can only help to further her cause of bringing real country music to as wide an audience as possible. In two short years Emmylou Harris has achieved as much in furthering the cause of country music as Nashville had in the preceding ten. And that's quite an achievement for a modest, unassuming lady who sings more because she loves to, than to make a financial fortune.