Emily Ann Roberts - Can't Hide Country
Starstruck Records
****1/2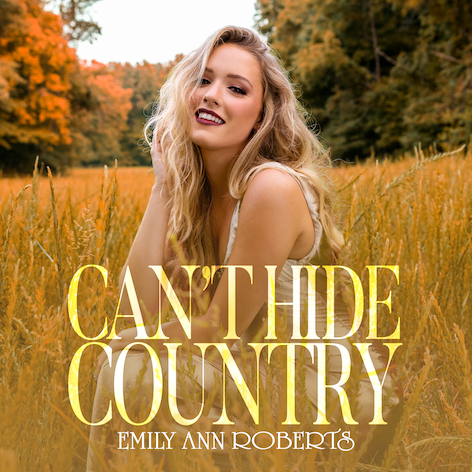 Emily Ann Roberts sings country like it's her life's calling, and over the course of the baker's dozen songs here, she establishes herself as a talent to be reckoned with in the genre. Few contemporary female singing voices are as distinctly American as this young lady's—a mix of twang and lilt, it could only originate from the singer-songwriter's home state of Tennessee. Her music is infused with pride and empowerment. It's a vibrant affirmation of what makes traditional country music so enduring and a triumphant display of her creative vitality. Beyond the quality of the songs themselves—all bar one of which she had a hand in writing—the musicianship is first rate, practically a given considering those that are involved. 
The fact that the melodies and arrangements fit so well in sync makes it clear that even at this point in her career, young Emily Ann Roberts is firing on all cylinders. Producer Trent Willmon deserves kudos for crafting audial contexts that bolster Emily's formidable talents. What ties everything together—the new sounds and the old—are Emily's confidence as a singer and lyrics rooted in melancholy, youthful enthusiasm and emotional vulnerability. Her clarion voice is agile and fluttery in the higher ranges, bright and trumpet-like in the middle and full of shadowy ambiguity when she dips down into the low end. 
Every song on this album sounds like it is right where it is supposed to be. They speak to her greatest strengths, whether the walloping Reba-esque country of Walking Shoes, the hopeful encouragement of Keep On, with its captivating acoustic soundscape or the raucous, celebratory Find Me A Man. Likewise, the resolve of You Can't Hide Country effectively lives up to the promise provided by the title, leaving no doubt as to her penchant and particulars. To the accompaniment of Dobro and fiddle, she lays out her stall with references to her country credentials of a southern drawl, good ol' hound and deep East Tennessee roots. She maintains her rural stance with the frisky Chickens, as she cheekily lays out the bedroom antics of a newlywed young couple with delightfully playful innuendos to a rollicking bluegrass flavoured arrangement.      
The youthful, hopeless romanticism that defines Loves Me For My Heart belies the maturity with which Emily approaches her craft. Reminiscent of Martina McBride's 1993 hit My Baby Loves Me, she sounds sultry and self-assured on this playful romp about a woman who knows her man is head-over-heels in love with her. Though she may be young, Emily displays a soulful wisdom in the steel-driven break-up song Out Of Sight, that harkens back to the days of classic country heartbreakers. Indeed, when she does opt to take a strong stand—as witnessed with the empowering He Set Her Off—she comes across as a spokesperson for all those who've been treated badly in a relationship. Blistering Dobro drives this revenge song with echoes of the Dixie Chicks' Goodbye Earl.
Emily can also handle soft ballads like the dramatic Infinity, which showcases the sheer power and quality of her voice and the plaintive Still Searching, on which she is joined by Vince Gill and Ricky Skaggs. A dignified sound that evokes the gratifying sounds of Dolly Parton and Lee Ann Womack, with a sly inkling for today's roots music ears, there's a consistency throughout this album in both the words and the music, helping to ensure that the blending of the traditional and the modern approaches pay off in full.
September 2023