Elle King - Come Get Your Wife
RCA
****1/2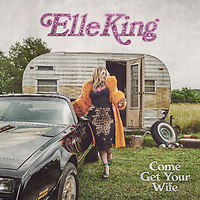 It's not often that an artist comes along and over the course of a dozen songs both plays to the tradition and stands it on its ear. Elle King has taken the challenge of playing with reckless abandon to heart, generating an album that stands on the shoulder of giants while showing no fear. Her music is a mix of storytelling, that high-lonesome sound, and the dangerous chug of Waymore's Outlaws, filtered through her fresh perspective and emotive voice. Along the way, she has the power to transform the sound of a banjo—and country music—into something universally popular and something boundless and new. Teaming with Ross Copperman as co-producer was an inspired choice. Given the elevated expectations, the pair managed to tackle this set of songs with unblemished enthusiasm. They blend elements of honky-tonk, bluegrass, gospel, rock, soul, Americana and country into a dynamic sound with Elle channeling Tanya, Loretta and Miranda vocals over electrifying rhythm and percussion, pure-and-simple country-rock music, make-out music and get-down-and-shake-it music. Tune after tune features hummable melodies and catchy hooks resulting in a bold and boundary-pushing release that demands the listener's attention.     
Ohio the album's opener, featuring children chattering, starts simply with Elle's finely- plucked banjo to which she adds her clear and twangy vocal. The song maintains a sonic simplicity, as she outlines her youthful memories of growing up in rural Southern Ohio. With the banjo theme running under the verses and chorus, it slowly builds, layer by layer, to an overflowing river of sound floating on those crisp banjo licks, swirling organ and electric guitar thrusts. Her banjo is all over the ass-kickery Out Yonder, in which she tackles head-on small-town gossip and bigotry, as if beneath banjo plucks and guitar wails, there's the truth of the matter.  The multi-instrumentalist singer-songwriter is no one-trick pony. The sassy Tulsa proves that she can do swagger. It's a fun kiss-off anthem as she defiantly  dismisses a lover. She puts plenty of conviction into her vocal here—the guy she's singing about better come back, pick up his bags and get long gone!
In similar mood is Crawling Mood, another powerful break-up song. The number has a fun country swing sound to it, with sassy, bold lead vocals, inventive banjo and truly excellent fiddling—definitely one of the album's best overall performances. Fiddle and banjo interplay sets the scene for Bonafide, a catchy song that sums up the real Elle King with a cheeky playfulness and given a rousing old-time, country-style sound that's fueled by acerbic modern-day wit.  Blacked Out charges forward with irrepressible energy, bolstered by ripping guitars and rollicking drums. It hits on all cylinders: the vocal performance, the lyrics, the guitars, the banjo … it's all perfect. A lot of artists do the country-rock thing, but few do it as well as Ms Elle.  
She's already enjoyed much success with the album's previously released singles including the chart-topping Drunk (And I Don't Wanna Go Home), duet with Miranda Lambert; Worth A Shot, this one featuring the distinctive vocal tones of Dierks Bentley; and the tongue-in-cheek, gospel-inflected Try Jesus, that scurries along with an urgency as the singer looks to find a new chapter in her life that will turn her around, give her new perspective when it comes to relationships. This album doesn't just tell us who Elle King is, it gets us tickled for what she'll do next.  In 2023, nothing could be more essential.  
January 2023