Eli Young Band - Love Talking
Valory Music Group
****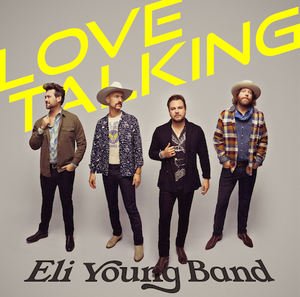 It seems hard to believe that this Texas band has been together 20 years. Initially an acoustic duo, comprising Mike Eli (lead vocals, guitar) and James Young (vocals, electric guitar, mandolin, harmonica), when they were roommates at the University of North Texas. They were later joined by fellow students Jon Jones (bass guitar, vocals) and Chris Thompson (drums, vocals) and self-released their debut album in 2002. In true EYB fashion, their eighth album is full of the kind of atmosphere-filling melodic harmony-laced country earworms that seem to swirl all around you. The quartet belongs to the camp of country musicians that seek to pay homage to classic country sounds while pushing forward the genre through their bold songwriting and gorgeous harmony-laden arrangements. A skilled country band that has built a reputation on playing live, they have their own niche, and they make something great of it. They stand apart from the current crop of male country singers, most of whom seem raised on 1980s rock rather than classic country. This outfit owes more to the likes of Alabama, Sawyer Brown and Restless Heart, without sounding remotely like any of them. The band are so good at putting on a happy face that it takes a while to notice that the lyrics on many of the songs aren't especially joyous. Despite this, smart lyrics coupled with exquisite music makes for an album that is pure brain-tickling ear candy.
The band makes their deft ability evident at the outset with the one-two punch of the smooth put-down title track, which is then followed by the similarly effusive Lucky For Me.  Mike Eli delivers an understated, perfectly drawn performance, propelled by an arrangement that is equally well-crafted for Love Talking, as he backtracks on proclaiming undying love the previous date-night. A sunny production, complete with the catchiest of choruses marks Lucky For Me, a joyful love song that marries a repeating, hypnotic stanza with head-spinning, sumptuous guitar shredding. There is a positive vibe to Break Up In A Bar. Filled with smart, shit-kicking energy, this rocking number feels almost communal, like sing-along fuel for a crowded bar with your good friends.
Mike Eli's smooth lead vocals have a bit of hesitancy in them on Tell Me It Is. With its imaginative melodic turns, and a slight r&b influence, the soaring harmonies elevate the lyrical unease as the track shows a band that's older but no less adept at churning out earnest, cathartic hooks. Chances Are draws attention to Eli's supple voice, lyrics merging a deflective stance. Clever, crisply written, and performed to a high standard, the atmospheric rootsy arrangement feels like a hazy 1970s dream, soft and groovy. A Good Thing is a sneakily lush rocker, with jagged, angular guitars cleverly layered over strummed acoustic chords, a grooving bass line and a sunny, danceable beat swept through like a smooth, cool breeze.  They close this all-too-short nine-track collection with an acoustic rendition of Love Talking, which doesn't sound too dissimilar to the radio hit version. The Eli Young Band's evolution continues to be positive, as this set of songs demonstrates—a visible sign of how much the band has grown.
May 22