Eddy Arnold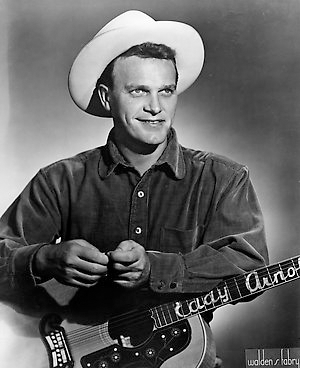 Eddy Arnold, a classic country crooner, possessing a smooth, very commercial voice, has probably sold more records (albums and singles) than any other country artist. A farm boy from Henderson, Tennessee, for many years he was known as the Tennessee Plowboy, but from his very early days he strove to throw off the hillbilly image and take his music to a much wider audience. He succeeded beyond his wildest dreams, crossing over from country to pop in the mid 1950s and then going uptown and international in the 1960s by sweetening his down-home country with lush orchestrations, donning a tuxedo and working the plush casinos and high-class cabaret rooms.

Born Richard Edward Arnold on May 15, 1918 on a farm near Henderson, Tennessee, he first became interested in music while at elementary school. His father, an old-time fiddler, taught him guitar. He left school early to help on the family farm and started playing local barn dances, often travelling to the venues on the back of a mule. He made his radio debut in Jackson, Tennessee in 1936, later gaining a regular spot in Memphis. His big break came as a singer-guitarist with Pee Wee King's Golden West Cowboys in the early 1940s, providing him with exposure on the Grand Ole Opry.

In 1944 he was signed to RCA Records and for the next forty years was hardly off the country charts, accumulating more hits than any other performer. Guided by manager Colonel Tom Parker, later to become notorious as the manager of Elvis Presley, Eddy Arnold's records were bought both by country music fans and by people who were usually pop music lovers. He essentially built RCA's Nashville division. His 1944 recording session for the label inaugurated Nashville as the capital of country record making. His 1945 chart debut with Each Minute Seems a Million Years became the first of his 92 top 10 hits. That is a tally unmatched by any other artist. It was also the first of 67 consecutive top 10 hits, again a figure that is unequalled.

His image was always that of a modest, clean-cut country boy and his early country hits (That's How Much I Love You, It's A Sin, I'll Hold You In My Heart) were very simple affairs, smooth and light spiced by an occasional yodel. He blended intimacy and sincerity with simple accompaniment often with just his own acoustic guitar, or with a small group, that utilised Little Roy Wiggins' chiming steel guitar, with guitar, bass, fiddle and occasional piano. It worked perfectly on such heartfelt ballads as I'm Throwing Rice (At The Girl I Love), Kentucky Waltz and even later mid-1950s hits Just Call Me Lonesome and Trouble In Mind. He first crossed over to the pop charts with Anytime in 1947, and continued to regularly score pop hits right through to the late 1960s.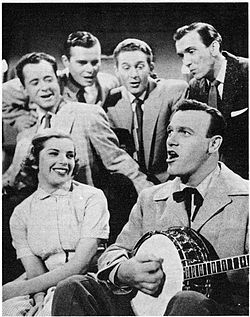 He appeared on Nashville's Grand Ole Opry TV and radio show from the early 1940s, but was the only country performer who also guested on nationwide shows hosted by Perry Como, Milton Berle, Dinah Shore, Bob Hope and other showbiz personalities. He also had his own syndicated TV series, Eddy Arnold Time during the 1950s, plus other shows on the ABC and NBC networks.

Unlike the majority of country performers, Arnold's popularity did not wane with the arrival of rock'n'roll. He scored a chart-topper in 1955 with The Cattle Call, a song that would become his theme song, and also had hits with Tennessee Stud and Casey Jones. His biggest hits though, were with romantic pop-country ballads, including Bouquet Of Roses, Take Me In Your Arms And Hold Me, I Really Don't Want To Know, You Don't Know Me, Make The World Go Away and Then You Can Tell Me Goodbye.

Eddy Arnold continually re-invented himself to change with the prevailing times. There is a notably vast difference between 1947's Bouquet of Roses and 1967's Turn The World Around. Like so many of the legendary country stars of yesteryear, he continued throughout his career to experiment and move with the times, demonstrating versatility and resilience. In the mid-1960s Arnold was struggling to maintain his popularity against the then the new 'Nashville Sound' success of performers like Jim Reeves, Marty Robbins, Don Gibson and Hank Locklin that temporarily forced him off the charts. Arnold was undoubtedly tenacious and he hung in there, met the changes head-on and came up with what at the time was called countrypolitan. Guided by Chet Atkins, he took the same kind of country heart songs he'd always specialised in, and utilising lush orchestration and heavenly choirs, produced a series of massive country-pop crossover hits spearheaded by What's He Doing In My World and Make The World Go Away. Die-hard country fans were aghast, but it brought country music to a vast world-wide audience.

At the peak of his success, in 1966, Eddy Arnold was inducted into the Country Music Hall of Fame. The following year he was named the CMA's Entertainer of the Year, the first person to win such an honour. During the late 1960s, the pop crossovers became fewer and in 1972, he left RCA Records and signed with MGM. The country hits continued, though he rarely made the top 20.
A return to RCA in 1976 led to him reaching the country top 10 with Let's Get While The Getting's Good and That's What I Get For Loving You in 1980. Since then his name has been absent from the charts, though he did revive Cattle Call with fourteen-year-old LeAnn Rimes in 1996, when he had reached the grand old age of seventy-eight and was still performing concerts and making TV appearances. He is a well-respected businessman who wisely invested his money, including real estate, much of it around Nashville's famed Music Row area. He published his autobiography, I'll Hold You In My Heart in 1998 and finally announced in the autumn of 2000 that he was retiring, though he returned to the studios to record his final albums LOOKING BACK (2002) and AFTER ALL THESE YEARS (2005) and regularly attended music-related events in Nashville and was closely associated with the CMA. In a long overdue accolade, he was honoured with a 2005 Grammy Lifetime Achievement Award, his very first Grammy Award.

Eddy Arnold died on May 8, 2008 seven days short of his 90th birthday, in a care facility near Nashville. His wife of 66 years, Sally, had died the previous March, and in the same month, the singer had fallen outside his home, injuring his hip. Eddy Arnold was the first bona fide country music superstar of the modern era. His crossover success paved the way for later singers such as Kenny Rogers. Primarily a romantic balladeer, no one ever walked the line between heartfelt country and sentimental pop better than Eddy Arnold. Throughout all musical genres, he was long regarded as the greatest performer of songs of the heart. 'I sing a little country, I sing a little pop and I sing a little folk, and it all goes together,' he said in 1970.

Recommended Listening

Last Of the Love Song Singers: Then & Now (RCA 1993)
The Essential Eddy Arnold (RCA 1996)
The Tennessee Plowboy & His Guitar (Bear Family Box Set 1998)
Ultimate Eddy Arnold (RCA Nashville/BMG Heritage 2004)
Tears Broke Out On Me (Bear Family 2011)