Eddie Rabbitt - Whatever Happened To......
First Published in Country Music International, December 1997
Over a period of fifteen years, Eddie Rabbitt penned 26 chart-topping songs, during the late 1970s he outsold every other act, and then disappeared. Following a long break and a battle with cancer, he is now back with a new album, BEATIN' THE ODDS.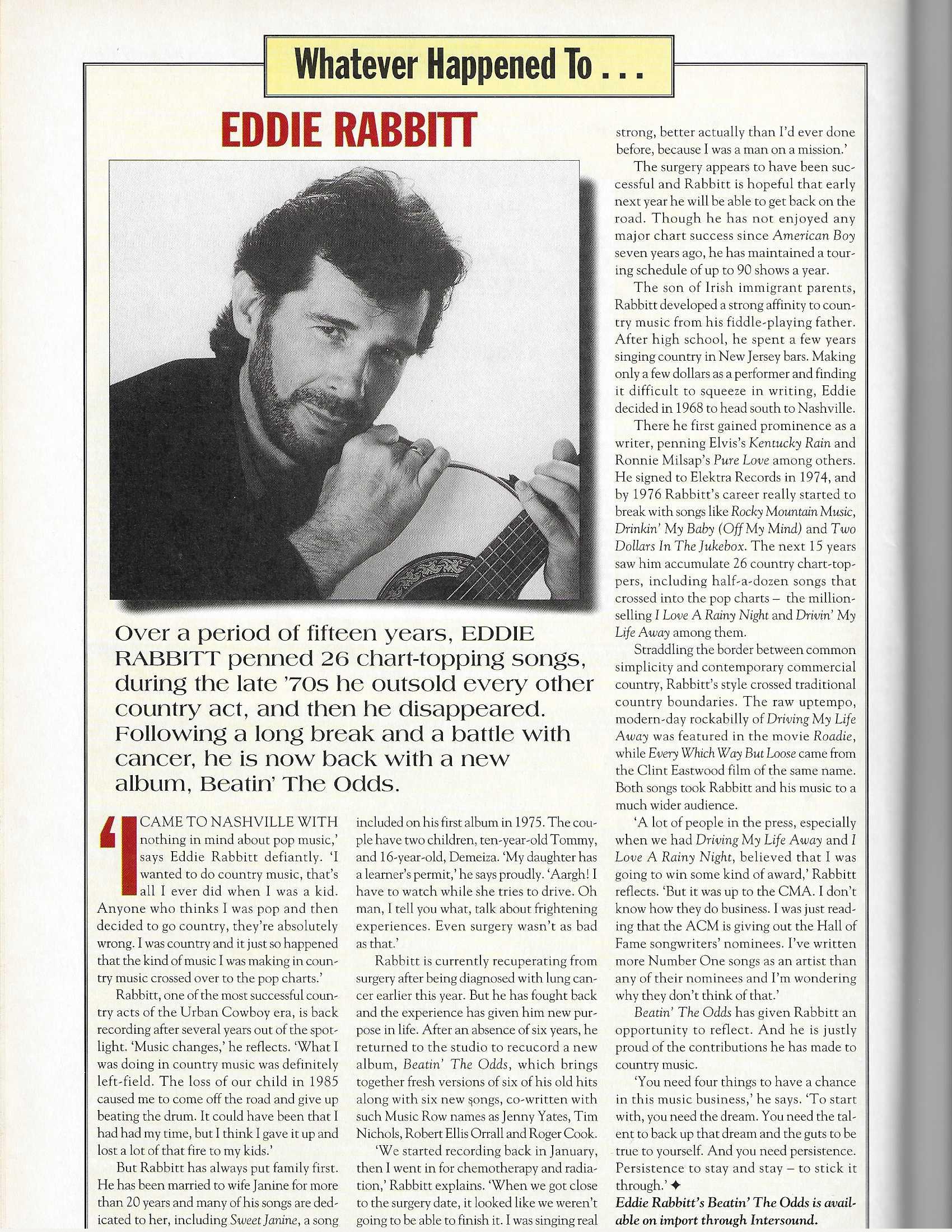 "I came to Nashville with nothing in mind about pop music," says Eddie Rabbitt defiantly. "I wanted to do country music, that's all I ever did when I was a kid. Anyone who thinks I was pop and then decided to go country, they're absolutely wrong. I was country and it just so happened that the kind of music I was making in country music crossed over to the pop charts."
Rabbitt, one of the most successful country acts of the Urban Cowboy era, is back recording after several years out of the spotlight. "Music changes," he reflects. "What I was doing in country music was definitely left-field. The loss of our child in 1985 caused me to come off the road and give up beating the drum. It could have been that I had had my time, but I think I gave it up and lost a lot of that fire to my kids."
But Rabbitt has always put family first. He has been married to wife Janine for more than 20 years and many of his songs are dedicated to her, including Sweet Janine, a song included on his first album in 1975. The couple have two children, ten-year-old Tommy, and 16-year-old Demeiza. "My daughter has a learner's permit," he says proudly. "Aargh! I have to watch while she tries to drive. Oh man, I tell you what, talk about frightening experiences. Even surgery wasn't as bad as that."
Rabbitt is currently recuperating from surgery after being diagnosed with lung cancer earlier this year. But he has fought back and the experience has given him new purpose in life. After an absence of six years, he returned to the studio to record a new album, BEATIN' THE ODDS, which brings together fresh versions of six of his old hits along with six new songs, co-written with such Music Row names as Jenny Yates, Tim Nichols, Robert Ellis Orrall and Roger Cook. 
"We started recording back in January, then I went in for chemotherapy and radiation," Rabbitt explains. "When we got close to the surgery date, it looked like we weren't going to be able to finish it. I was singing real strong, better actually than I'd ever done before, because I was a man on a mission."
The surgery appears to have been successful and Rabbitt is hopeful that early next year he will be able to get back on the road. Though he has not enjoyed any major chart success since American Boy seven years ago, he has maintained a touring schedule of up to 90 shows a year.
The son of Irish immigrant parents, Rabbitt developed a strong affinity to country music from his fiddle-playing father. After high school, he spent a few years singing country in New Jersey bars. Making only a few dollars as a performer and finding it difficult to squeeze in writing, Eddie decided in 1968 to head south to Nashville.
There he first gained prominence as a writer, penning Elvis' Kentucky Rain and Ronnie Milsap's Pure Love among others. He signed to Elektra Records in 1974, and by 1976 Rabbitt's career really started to break with songs like Rocky Mountain Music, Drinkin' My Baby (Off My Mind) and Two Dollars In The Jukebox. The next 15 years saw him accumulate 26 country chart-toppers, including half-a-dozen songs that crossed into the pop charts—the million-selling I Love A Rainy Night and Drivin' My Life Away among them.
Straddling the border between common simplicity and contemporary commercial country, Rabbitt's style crossed traditional country boundaries. The raw up-tempo, modern-day rockabilly of Driving My Life Away was featured in the movie Roadie, while Every Which Way But Loose came from the Clint Eastwood film of the same name. Both songs took Rabbitt and his music to a much wider audience.
"A lot of people in the press, especially when we had Driving My Life Away and I Love A Rainy Night, believed that I was going to win some kind of award," Rabbitt reflects. "But it was up to CMA. I don't know how they do business. I was just reading that the ACM is giving out the Hall of Fame songwriters' nominees. I've written more number one songs as an artist that any of their nominees and I'm wondering why they don't think of that."
BEATIN' THE ODDS has given Rabbitt an opportunity to reflect. And he is justly proud of the contributions he has made to country music.
"You need four things to have a chance in this music business," he says. "To start with, you need the dream. You need the talent to back up that dream and the guts to be true to yourself. And you need persistence. Persistence to stay and stay—to stick it through."