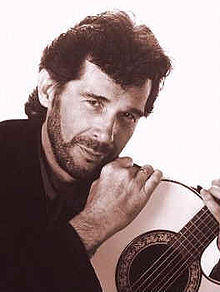 Eddie Rabbitt was one of the unsung pop-hybrid singer-songwriters who moved country music closer to a fusion with the pop and rock genres. The most successful country performer during the Urban Cowboy years, with a string of chart-topping singles, gold and platinum albums and sold-out tours, he shared a rare gift with Neil Diamond: the ability to make middle-of-the-road songs sound exciting. Like Diamond, he first gained prominence as a writer, Elvis' Kentucky Rain and Ronnie Milsap's Pure Love, being just two successful examples. Rabbitt's songs profess love and romance as the common denominator and in the hits Suspicions, On Second Thought and I Love A Rainy Night he displayed a strong melodic sense with plenty of creative ideas to go with it. The classic honky-tonker, Two Dollars In The Jukebox, is one of those commercial jingles that tingles in your mind, a powerful mix of country music roots with a progressive approach. In comparison to Waylon, Willie, Hank Jnr., and his other contemporaries, Eddie's songs were more gentle. He preferred a smooth, image-projecting style to the gut-wrenching bluntness of the Outlaws.

He was born Edward Thomas Rabbitt to Irish immigrant parents, November 27, 1941 in Brooklyn and raised in East Orange, New Jersey. Although Rabbitt's father played accordion and fiddle, it was his scoutmaster—who performed as Texas Bob Randall—who taught him guitar and engendered a love of country music. Rabbitt became a walking encyclopedia of country music as a child. After his parents divorced he dropped out of high school (later earning a diploma at night school) and worked a series of day jobs while pursuing a musical career. He cut an album in 1964 for 20th Century that went nowhere. He decided to give Nashville a try in 1968, reaching there with $1000 and a Cadillac that died on arrival. He signed as a songwriter with Hill & Range for $37.50 a week and his first cut came Working My Way Up To The Bottom, which he wrote in the bath and Roy Drusky turned into a hit in 1968. He clicked big time two years later, co-writing Kentucky Rain for Presley. His stature as a writer was secured by further recordings by Tom Jones, O.C. Smith, Willie Nelson, Mel Street, Sammi Smith, Conway Twitty, Dr. Hook, Billie Jo Spears and many more.

He continued to write for Presley and signed with Elektra Records in 1974 after writing Ronnie Milsap's Pure Love. As a performer he overcame a somewhat thin and reedy voice by overdubbing himself in three-part harmonies, a process he called the 'Eddie Rabbitt Chorale.' After three charted singles, Rabbitt scored his first No. 1 with Drinkin' My Baby (Off My Mind) in 1976. The hits soon came in a torrent: I Love A Rainy Night, Every Which Way But Loose (from the Clint Eastwood movie of the same name), a duet with Crystal Gayle on You And I, and the r&b influenced Suspicions. At the peak of his career, in the early 1980s, he notched five No.1 singles in a row followed by a No.2 and two more No. 1s. That string included his Drivin' My Life Away, which was featured in the 1980 movie Roadie.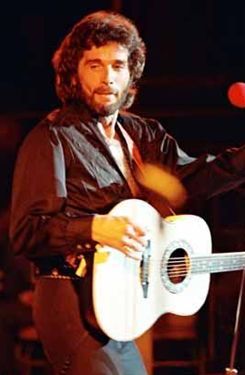 During that same period, Rabbitt had two No.1 albums on the country charts, HORIZON and STEP BY STEP, both on Elektra. He moved to Warner Bros. in 1983, to RCA in 1985, to Universal in 1989 and to Capitol Nashville in 1990. He curtailed his career somewhat after his two-year-old son Timothy died in 1985 of a rare digestive ailment. He became a crusader for organ transplants and cancer research, quit smoking and lost 55 pounds. Throughout his career he remained devoted to his family and confounded his record labels by taking half of each year off to be with his family and to write. His last No.1 came in 1989 with On Second Thoughts. He was diagnosed with lung cancer in 1997 and underwent surgery and chemotherapy. During his illness he recorded a final album, BEATIN' THE ODDS for Intersound Records. It was released in September 1997, but the following May 7, Eddie Rabbitt died of lung cancer, at Baptist Hospital, Nashville.

Rabbitt was a big-city-boy who made it big in Nashville—and that was one heck of an achievement, particularly when Nashville tends to fight shy of such rank outsiders. The Southern roots he sang about in some of his songs may have been invented, but the songs are no less affecting. In fact, as something of an outsider, Eddie Rabbitt was able to seize on attractive elements in the Southern mystique and in Southern music and to use them effectively. Straddling the border between common simplicity and contemporary commercial country, he was an artist who legitimately crossed traditional country boundaries.

With his special brand of music he helped to blur the distinctions between country and pop songs, making the music more accessible. For a four-year period from 1978 through to 1982, he was outselling every other country act, including such heavyweights as Kenny Rogers, Willie Nelson, Waylon Jennings and Dolly Parton. Yet he did not pick up one major CMA award and seems destined to be overlooked in years to come when the history of country music is re-written and re-written by journalists who will decry his commercial success. When it comes to reissues and compilations on CD, again he has been shamefully treated by his various record labels, who were more than happy to rake in the dollars when he was hot.

Recommended Listening

Rocky Mountain Music (Elektra 1977)
Variations (Elektra 1978)
Step By Step (Elektra 1981)
Jersey Boy (Capitol 1990)
Beatin' The Odds (Intersound 1997)
The Platinum Collection (Warner Platinum 2006)
Number One Hits (Rhino 2009)