First published in Country Music Review, May, 1973
The name Eddie Noack first came to my notice on the many George Jones' albums in my collection. Throughout Jones' recording career, Noack kept cropping up as the composer of so many of George's hits and album tracks. The songs always struck me as being of a very high quality, with original story lines, and most suitable to George Jones unusual vocal style. A few years ago I began to dig deeper into the life of Eddie Noack, and with the help of both Eddie and Paul Roberton, I've managed to compile the following facts on Eddie Noack, a talented singer and songwriter.
Eddie Noack was born April 29, 1930 in Houston, Texas and christened Amona A. Noack Jr. He had three sisters, in fact one sister was adopted and the other was a step-sister, as his father died when Eddie was quite young, and his mother re-married. Like many of today's successful country songwriters, Eddie is an ex-graduate of a University, having graduated from the University of Houston in Journalism and English. From his early childhood he wanted to sing, and before he'd finished high school he won an amateur talent contest in Houston. This led to a regular place on a daily show at the Texas Th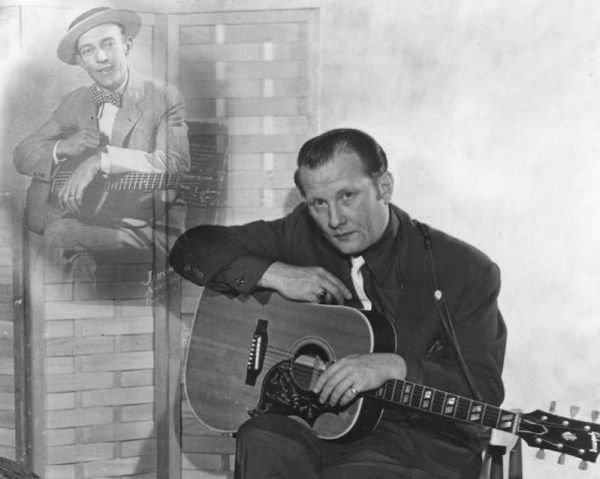 eatre in Houston, which in turn led to his first appearance on the radio at Baytown, Texas in 1947.
From the very beginning Eddie was writing his own material, and hardly ever did he draw on country standards, like so many aspiring country singers. In 1949 his personal appearances and radio shows around Texas brought him to the notice of Gold Star Records, based in Eddie's hometown of Houston. During the next two years he recorded several times for this local label, and became a firm favourite around Houston, especially with his very first record Gentlemen Prefer Blondes.
In 1951, Eddie recorded for Four Star Records, a label renowned for the many unknown country singers it signed, who went on to become big names. Among the stars who began on Four Star were Jimmy Dean, Webb Pierce, Patsy Cline etc. Unfortunately, Eddie's three discs for Four Star were not very successful, and for a couple of years things were very quiet recording-wise for him. But things began to change when he wrote and recorded Too Hot To Handlein 1953. This was released by TNT Records of Texas, and Lattie Moore, who was on Starday, did a cover version which was very successful. This led to Eddie joining Starday and a more successful period in his career.
With his move to Starday he first became acquainted with 'Pappy' Dailly, a man well-respected in country music, who has helped Eddie a lot during his career. His first disc for Starday Don't Trade, was covered by Rudy Grayzell, and although Eddie never really had any big hits for Starday, he stayed with the label for nearly five years. He was fast gaining a reputation for himself as both a performer and songwriter, and in January 1954, when he appeared at the Hank Williams Day show, he met Hank Snow. Hank showed great interest in a song Eddie had written, and a few months later he recorded These Hands, which eventually hit the country charts.
With this success more country artists were after Eddie's songs and big name artists like Ernest Tubb, Hawkshaw Hawkins, Lefty Frizzell and Jimmie Skinner were recording his songs. From 1954 onwards he made regular appearances on The Biff Collie Show on KNUZ-TV in Houston. Biff has since graduated from TV to recordings and is currently a producer for Imperial/United Artists country music roster. In the early days Eddie became acquainted with many artists and behind-the-scenes people who have since achieved great success. He first met George Jones in 1953, and has maintained a close friendship ever since. Several of George's early recordings for Starday and Mercury were composed by Eddie, who often sat in on the recordings. 'Pappy' Dailly, who Eddie also met in the early 50s, was the guiding light behind the George Jones career, and is the one man responsible for getting Jones to the pinnacle of success in country music. Dailly was a great help with Eddie's career also, and when he formed his 'D' Records in 1958, Eddie was one of the first artists signed. Reluctantly, through, Eddie's first record for the 'D' Label was a rock'n'roll song, Can't Play Hookey. At the time country music was going through a difficult period, with rock'n'roll gaining all the success. 'Pappy' Dailly was quick to see this and tried to push his artists into the rock market. He released several records by George Jones as 'Thumper' Jones, and Noack's rock records were released under the pseudonym Tommy Wood. Eddie is very pleased that these rock records didn't catch on. 
His second record for the 'D' label, Have Blues, Will Travel, was Eddie's first steps into the country charts, and is still his biggest-selling record. A few months after this success the 'D' label was purchased by Mercury Records, and Eddie had a few releases on this label. Being a bigger organisation, he wasn't really promoted and eventually, in 1960, he dropped out of the recording scene and went into publishing. He continued working for 'Pappy' Dailly and organised his various publishing interests and continued writing songs. Since his lay-off, more success has come to him as a songwriter, especially when George Jones has recorded the song. Noack's vocal style has basic similarities to Jones', and naturally his songs suit George's style. Among Eddie's songs George Jones has recorded are: Barbara Joy, Flowers For Mama, The Poor Chinee, No Blues Is Good News, For Better Or ForWorse and many others. 
In the mid-60s Eddie returned to recording and made seven singles for the independent K-Ark Records. These were the best recordings that Eddie had made. Cotton Mill(K-Ark 813) is a really touching song about the hard times when working in the cotton mills, and it's a great pity that this great record was completely ignored by country fans. Barbara Joy(K-Ark 964) is one of Eddie's better-known recordings, partly because both George Jones and Bobby Bare have recorded it, and also because it was quite a big seller for K-Ark in 1969. Another well-known Eddie Noack song is Snowbird(not the Anne Murray classic). This was a song Eddie recorded for Ren Records, and is a catchy number which Hank Snow included in his album SNOW IN ALL SEASONS.
Eddie Noack still represents 'Pappy' Dailly's publishing interests in Nashville. He has also been recording for Wide World Records of Houston He recently released a really tremendous tribute album to Jimmie Rodgers. REMEMBERING JIMMIE RODGERS (Wide World WWS-2001) is one of the finest tributes to the Blue Yodeller, and although this album is entirely different, it's on par with the Merlo Haggard, Hank Snow and Lefty Frizzell tributes to Rodgers. Just recently Eddie's third single was released by Wide World. Your Share(WW-1017) is a good slice of modern country music, with steel guitar to the fore, and the song is tailor-made for George Jones. Eddie Noack may not be as well-known as many other performer/songwriters, but he's done his bit towards country music. In Nashville his talent has not gone unnoticed. As well as producing for Musicor Records, Eddie Noack is on the Executive Board of the Nashville Songwriter's Association and has become one of the most respected people in country music. Adrian Cooke