Ed Bruce - Sounds Familiar
First published in Country Music International, May 1996
Tracing the history of those country songs that keep coming back time and time again
Mammas Don't Let Your Babies Grow Up To Be Cowboys by Waylon Jennings & Willie Nelson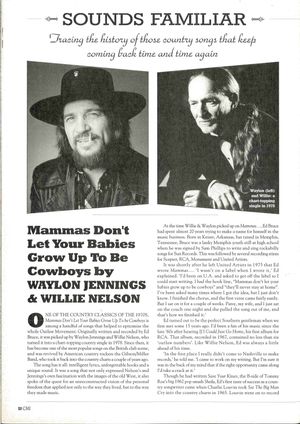 One of the country classics of the 1970s, Mammas Don't Let Your Babies Grow Up To Be Cowboys is among a handful of songs that helped to epitomise the whole Outlaw Movement. Originally written and recorded by Ed Bruce, it was picked up by Waylon Jennings and Willie Nelson, who turned it into a chart-topping country single in 1978. Since then, it has become one of the most popular songs on the British club scene, and was revived by American country rockers the Gibson/Miller Band, who took it back into the country charts a couple of years ago.
The song has it all: intelligent lyrics, unforgettable hooks and a unique sound. It was a song that not only expressed Nelson's and Jennings' own fascination with the images of the old West, it also spoke of the quest for an unreconstructed vision of the personal freedom that applied not only to the way they lived, but to the way they made music.
At the time Willie & Waylon picked up on Mammas ... Ed Bruce had spent almost 20 years trying to make a name for himself in the music business. Born in Keiser, Arkansas, but raised in Memphis, Tennessee, Bruce was a lanky Memphis youth still at high school when he was signed by Sam Phillips to write and sing rockabilly songs for Sun Records. This was followed by several recording stints for Scepter, RCA, Monument and United Artists.
It was shortly after he left United Artists in 1975 that Ed wrote Mammas....  "I wasn't on a label when I wrote it," Ed explained. "I'd been on U.A. and asked to get off the label so I could start writing. I had the hook line, 'Mammas don't let your babies grow up to be cowboys' and 'they'll never stay at home.'  I've been asked many times where I got the idea, but I just don't know. I finished the chorus, and the first verse came fairly easily. But I sat on it for a couple of weeks. Patsy, my wife, and I just sat on the couch one night and she pulled the song out of me, and thaťs how we finished it."
Ed turned out to be the perfect Southern gentleman when we first met some 15 years ago.  I'd been a fan of his music since the late 1960s after hearing If I Could Just Go Home, his first album for RCA. That album, recorded in 1967, contained no less than six 'outlaw numbers.'  Like Willie Nelson, Ed was always a little ahead of his time.
"In the first place I really didn't come to Nashville to make records," he told me. "I came to work on my writing. But I'm sure it was in the back of my mind that if the right opportunity came along I'd take a crack at it."
Though he had written Save Your Kisses, the B-side of Tommy Roe's big 1962 pop smash Sheila, Eďs first taste of success as a country songwriter came when Charlie Louvin took See The Big Man Cry into the country charts in 1965. Louvin went on to record other Bruce-written songs, including Lonesome Is Me and I Forgot To Cry. Bruce went on to pen massive hits for Tanya Tucker (The Man That Turned My Mama On and Texas When I Die), Crystal Gayle (Restless), Tex Ritter (A Working Man's Prayer), plus others for Kitty Wells, Kenny Price and Dave Dudley.
Mammas ..., though, was a little different. It turned out to be an instant classic; the kind of song that every songwriter wishes they had written. It not only described its authors, but its audience as well. The song fitted Ed Bruce and fitted a growing body of people in the States at the time.
"It's just a simple, little three-chord country waltz and that's about it," Bruce said modestly. In reality, the song is much more than that. The lyrics are brilliant. The lines build image upon image, painting a clear portrait of a man whose lifestyle is envied and who is so strong and confident that he won't justify himself to anybody.
"That song is Ed," his wife Patsy explained at the time. "That's the reason it hit me as so special. What lines I contributed I couldn't have if I hadn't lived with him. It's like the last verse is a defence of Ed and the first two are his opinions."
Ed was buoyed by the reception the song received when he played it to some buddies on Music Row. "I was along at Larry Butler's office, and there was a gathering of friends like Paul Richey, Bob Montgomery and Roger Bowling, and I played them the song, and everybody just started coming up on the edge of their seats and the first I knew, they were singing along with the chorus."
Certain that the song had some merit, Ed paid to produce a finished master at a studio in Nashville, and ended up back on the United Artists label. They not only put the song out as a single, but also released an album, simply titled Ed Bruce, which slotted neatly into the stripped-down, laid-back style of the burgeoning Outlaw Movement. The single made it into the Top 20 and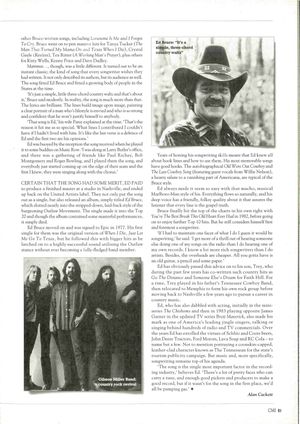 though the album contained some masterful performances, it simply died.
Ed Bruce moved on and was signed to Epic in 1977. His first single for them was the original version of When I Die, Just Let Me Go To Texas, but he followed this with bigger hits as he latched on to a highly successful sound utilising the Outlaw stance without ever becoming a fully-fledged band member.
Years of honing his songwriting skills meant that Ed knew all about hook lines and how to use them. His most memorable songs have good hooks. The autobiographical Old Wore Out Cowboy and The Last Cowboy Song (featuring guest vocals from Willie Nelson), a hearty salute to a vanishing part of Americana, are typical of the Bruce style.
Ed always made it seem so easy with that macho, musical Marlboro-Man style of his. Everything flows so naturally, and his deep voice has a friendly, folksy quality about it that assures the listener that every line is the gospel truth.
Bruce finally hit the top of the charts in his own right with You're The Best Break This Old Heart Ever Had in 1982, before going on to enjoy further Top 10 hits. But he still considers himself first and foremost a songwriter.
"If I had to maintain one facet of what I do I guess it would be songwriting," he said. "I get more of a thrill out of hearing someone else doing one of my songs on the radio than I do hearing one of my own records. I know a lot more rich songwriters than I do artists. Besides, the overheads are cheaper. All you gotta have is an old guitar, a pencil and some paper."
Ed has obviously passed this advice on to his son, Trey, who during the past few years has co-written such country hits as Go The Distance and Someone Else's Dream for Faith Hill. For a time, Trey played in his father's Tennessee Cowboy Band, then relocated to Memphis to form his own rock group before moving back to Nashville a few years ago to pursue a career in country music.
Ed, who has also dabbled with acting, initially in the mini-series The Chisholms and then in 1983 playing opposite James Garner in the updated TV series Brett Maverick, also made his mark as one of America's leading jingle singers, talking or singing behind hundreds of radio and TV commercials. Over the years Ed has extolled the virtues of Schlitz and Coors beers, John Deere Tractors, Ford Motors, Lava Soap and RC Cola—to name but a few. Not to mention portraying a coonskin-capped, leather-clad character known as The Tennessean for the state's tourism publicity campaign. But music and, more specifically, songwriting remains top of his agenda.
"The song is the single most important factor in the recording industry," believes Ed. "There's a lot of pretty faces who can carry a tune, and enough good pickers and producers to make a good record, but if it wasn't for the song in the first place, we'd all be pumping gas."