Echo Valley - Wildest Dreams
Bell Buckle Records
***1/2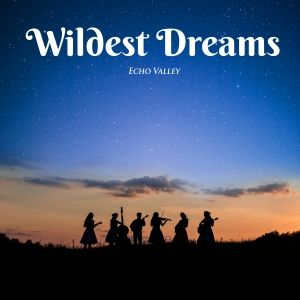 Echo Valley is a family band comprising five sisters and a brother. A throwback to the 1940s and 1950s, their vocal sound is reminiscent of the Andrew Sisters, the Browns and the Chordettes. The sound they make is infectious and impressive, a rich musical mix encompassing bluegrass, country, ballads, harmony, and happenstance, all of it sung with earnest intent. Nowadays, a band as unassuming and unpretentious as this really stands out. It's not that they're reinventing the wheel; to the contrary, they're taking a traditional stance that is as pure and unaffected as the influences from which their music has spawned. A full package of country music goodness, the eagerness and enthusiasm they demonstrate overall becomes both captivating and contagious. They have been delighting audiences across America for the past dozen years having grown up on the Anderson family farm in western Pennsylvania., Lizzy plays guitar, Emily is on fiddle, Olivia on banjo, Emmaline on bass, Dolly on mandolin, and David on banjo. It is always interesting watching young sibling musicians interacting with each other, as they grow and mature into seasoned young adult artists. One thing that rarely happens is to see them stay together and continue performing as a family. There are so many pressures that make that difficult as children get older. New opportunities, new relationships and college plans often interfere with touring opportunities, and parents get older too, and may not enjoy herding a group of young adults around as much as they did young children. This has already happened with Echo Valley, as a sixth sister, mandolinist/vocalist Isabelle, is now married and no longer a member of the group.
While many bluegrass bands make their playing skills their prime focus, this family group put their emphasis on accessible songs and melodies with delightful harmony-filled vocals meant to seduce listeners straight from the get-go. Every one of these songs resonates like a bright, multi-hued 'blue sky' of feelings for all, in these highly troubled times. There's a deeply religious vibe to much of their work, but it never dominates and they mix in a good helping of songs of the heart, moralistic stories and happy and infectious toe-tappers. It's music that feels immediately sprightly, grounded, frankly ruminative, and playful all at once. They approach bluegrass with their own unique perspective, from a swinging, jingle-jangle revival of Singin' The Blues, powered by Emily's fiddle ably supported by a strong rhythm behind Olivia's gutsy lead vocal and high harmonies from Isabelle and Lizzy to the even older Oh Johnny, Oh, giving this squirrelly tune a new perspective with frolicsome and beguiling vocals that ooze innocent sensuality.
Tiny bursts of joy and doubt infiltrate Wildest Dreams, a song every worker can relate to. Emily, who handles lead vocals, escapes the rat race as she closes her eyes at the end of yet another hard day, a refuge for anyone navigating a similar path. Her pure, sweet voice is perfect for this song supported in a driving bluegrass style by Lizzy's driving guitar, Isabelle's mandolin, Olivia's banjo and her own intricate fiddle work, underpinned by Emmaline's solid bass. This catchy number is one of seven songs penned by fellow-bluegrass singer Donna Hughes. In complete contrast is To My Soul I Do, an old-sounding gospel tune, also penned by Donna. Olivia delivers reverent lead vocals with deliberate feeling in each line as she reminds us all that no matter what we are going through, God is always there. This has a feel of a backwoods country church deep in some Appalachian hollow. An inventive and subtly visceral record, WILDEST DREAMS is filled with solid musicianship from players who know their craft well. There's plenty of good stuff here, and fans of both the band and bluegrass in general shouldn't be disappointed.
April 2022