Dylan Scott - Livin' My Best Life
Curb Records
***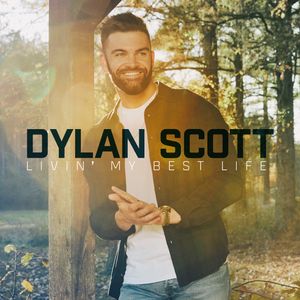 Louisiana-born Dylan Scott's second full-length album is the ideal example of up-and-coming artists who pay heed to homegrown values and the traditional trappings that were once an inherent element in their musical upbringing and remain decidedly so even today. He co-wrote eight of the 16 songs and explores rural small towns, red dirt roads, country churches and barstools. His southern drawl places him smack dab in the middle of what country music should stand for, yet despite releasing a 7-track tribute to Keith Whitley a couple of years ago, his voice just doesn't have that distinctive edge that made the genuine country legends stand out from the pack. You could trawl the Broadway bars any night of the week and come across a dozen or more playing for tips, who sound just like Dylan. Country music is in his blood. His father, Scotty Robinson, was a well-respected Nashville-based guitarist playing in country stars bands including Freddy Fender. When you heard Tex-Mex singer Fender on the radio, you immediately knew who you were listening to. Not only that, as he warbled Before The Next Teardrop Falls, his voice made the hairs on the back of your neck tingle. Though Dylan's drawl is especially syrupy, it's not that one-of-kind voice that makes you sit up and take notice. He could be one of a dozen male singers that we currently hear on country radio, see on Youtube or search through various streaming services. In short, Dylan Scott is typical of how Nashville's famed Music Row is selling the rich heritage of country music short these days by relying on the run-of-the-mill rather than seeking out the exceptional talent that abounds in the Texas dancehalls, the Kentucky hollers and are the backbone of bluegrass bands.
I'm sorry to be so harsh on Dylan Scott as LIVIN' MY BEST LIFE is not a bad album. He locks into a brand of country that feels timeless and eternal, putting riffs and a good time above everything else. Don't misinterpret his level-headed plea for positivity with country sunshine, poptimism, or sticking one's head in the sand. New Truck is a spicy, up-tempo tune that pairs a romantic break-up with a twist of ridding a truck-full of memories. An insistent rhythm punch and a few grunge-y guitars for a 1990s-style approachability that's catchy as hell, vulnerable, and wildly endearing. Equally endearing is Can't Have Mine (Find You A Girl), which became a massive TikTok success when Dylan shared the chorus prior to completing the track. His mellow musings and the casual caress of the supple arrangement reminds me of Tim McGraw's Don't Take The Girl, but failing to match McGraw's emotional delivery.
Static is a nostalgic anthem for small town USA, inspired by Dylan's devotion to his roots and the peace and quiet of an old dirt road with just the static of the local radio station. Lay Down With You is a plodding work song with an assured stride as he declares his passionate love for his other half. The rousing In Our Blood features the equally nondescript voice of Jimmie Allen in a song that's crying out for a more powerful vocal approach to turn this into a life-changing listening experience. He avoids all the bro country clichés and lets the party proceed in the title song. Nonchalant, liberating, and fun. The song has a Zac Brown Band vibe to it, and that ought to be taken as a compliment. That even keel continues through songs like Killin' Some Time, Good Times Go By Too Fast and the jaunty country-styled Nothin' To Do Town. Extolling the benefits of his hometown that is warm and welcoming it serves as the album's anchor, a shining example of Dylan Scott's loose approach to compact compositions.  
July 2022