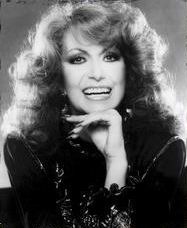 Known as the Country Sunshine girl after writing and recording a song of that title for a Coca Cola commercial, Dottie West had something of a roller-coaster career ride that saw her rise from the depth of poverty to world-wide success, only to plummet back down into a living hell of drugs, booze and bankruptcy. The red-haired beauty, who had helped launch the careers of Larry Gatlin and Steve Wariner, found herself something of a country sex queen in her late forties, with full-colour centre-spreads in several of the leading American magazines. One of the most successful, and controversial, performers to rise to popularity during the Nashville Sound era, like her friend and mentor Patsy Cline, West's battles for identity and respect within the male-dominated country music hierarchy were instrumental in enabling other female artists to gain control over the directions of their careers.

The bright lights and glamour were a long way from her rural upbringing. The oldest of ten children, she was born Dorothy Marie Marsh on October 11, 1932 just outside of McMinnville, Tennessee. After her abusive, alcoholic father abandoned the family, her mother opened a small cafe. Dottie began appearing on local radio just shy of her 13th birthday, and went on to study music at Tennessee Tech, where she also sang in a band and met her future husband, Bill West, a budding steel guitarist who was studying engineering.

After graduation, the Wests and their two children moved to Cleveland, Ohio, where Dottie began appearing on the television programme Landmark Jamboree as one half of a country-pop vocal duo called the Kay-Dots alongside partner Kathy Dee. At the same time, Dottie made numerous trips to Nashville in the hope of landing a recording deal. In 1959, she and Bill auditioned for Starday's Don Pierce, and were immediately offered a contract. Although the resulting singles she recorded for the label proved unsuccessful, she nonetheless moved to Nashville in 1961. There, she and her husband fell in with a group of aspiring songwriters like Willie Nelson, Roger Miller, Hank Cochran and Harlan Howard. They also became close friends with Patsy Cline and her husband Charlie Dick.

Dottie landed a publishing deal and a new record contract with Atlantic. The songwriting initially proved more profitable, when Jim Reeves took her song Is This Me? into the charts in 1963. That led to an RCA contract, and working with Chet Atkins, Dottie's tear in her voice style was soon heard extensively on country radio initially with her first Top 40 country hit in 1963 with Let Me Off At The Corner, followed a year later by the Top Ten Love Is No Excuse, a duet with Jim Reeves.

The self-penned Here Comes My Baby also became a top ten hit as Dottie West became the first female country artist to win a Grammy Award in 1965 leading to an invitation to join the Grand Ole Opry.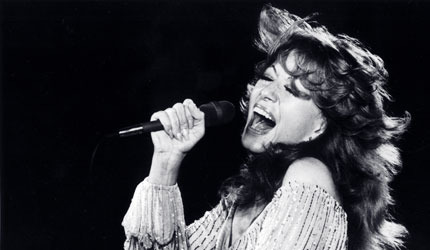 She enjoyed further top ten hits with Would You Still Hold It Against Me and Paper Mansions, while equally impressive singles such as Reno, What's Come Over My Baby, Like A Fool and Country Girl only just scraped into the top twenty. She was paired with both Don Gibson and Jimmy Dean for duet hits, scoring her biggest hit of the 1960s with Rings Of Gold a number two hit with Gibson, but never really became a top ten regular. It was the self-penned Country Sunshine, originally a jingle written for Coca-Cola, that led to pop-crossover success in 1973. It won the prestigious Clio advertising award and was nominated for two Grammy Awards.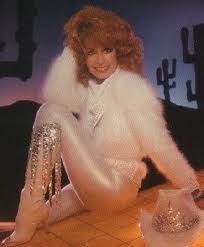 Shortly after that success, she left RCA and signed with United Artists and also changed her image, becoming one very sexy lady with her glorious red hair and provocative outfits. She had parted from Bill West, and in 1972 married drummer Bryan Metcalf, who was a dozen years her junior. Suddenly, her image underwent a huge metamorphosis. The woman who once performed dressed in conservative gingham dresses and refused to record Kris Kristofferson's Help Me Make It Through the Night because it was 'too sexy' began appearing in skin-tight stage attire. As the sexual revolution peaked, so did Dottie West's career. Her material became far more provocative and, much to the chagrin of country purists, more commercially successful as well.

She was paired with Kenny Rogers for a series of chart-topping duet hits (Everytime Two Fools Collide, All I Ever Need Is You, What Are We Doin' In Love, etc) and scored a number one hit in her own right with A Lesson In Leavin' in 1980. This was her most successful period and her daughter Shelly West also became a major country act, both as a solo and in a duet partnership with David Frizzell, while Dottie made the front pages and the centre-spreads of the tabloids in revealing poses.

In 1983 she married her sound engineer, Al Winters, who was 23 years her junior. By this time her career was suddenly on the rocks. She moved across to the small independent Permian Records, but failed to score any more major chart hits after a top 20 duet of Together Again with Kenny Rogers in 1984. She became caught up in a tragic spiral of disasters. Hooked on drugs and booze, she reached an all-time low in 1990 when following her divorce from Winters, her manager sued her and the bank foreclosed on her house. She lost her car, declared bankruptcy and when the IRS held a public auction so they could recover $1 million in back taxes, all her life souvenirs were sold off. For a time she lived in a parking lot on her tour bus, but even that had to be sold.

A Grand Ole Opry member since 1964, she got her 81-year-old neighbour to drive her to a Friday night Opry appearance September 1, 1991. He lost control of the car and they crashed. Dottie died four days later from her injuries. In 1995 a television movie, Big Dreams and Broken Hearts: The Dottie West Story, starring Michelle Lee as Dottie, premiered on CBS-TV. A distinctive stylist, Dottie West and her music has proved to be a major influence still felt in modern-day country music. Jo Dee Messina revived A Lesson In Believing, and several of the newcomers in mainstream country cite Dottie as one of their favourite singers.

Recommended Listening

New Horizons (Liberty 1983)
20 Of the Best (RCA 1986)
Duets - with Kenny Rogers (EMI 1994)
Country Sunshine: The RCA Hit Singles 1963-1974
(T-bird Americana 2011)