Don Williams … the songwriter
First published in Country Music People, September 1977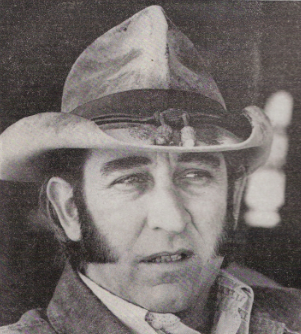 It was June 1973 when it arrived, a package of new albums from Nashville, and there on the top the one I'd been waiting for—DON WILLIAMS VOLUME ONE, released on the small JMI label. I'd been into Williams before, back in the mid-1960s when he was the lead singer of The Pozo-Seco Singers. But this was different. A fresh, vibrant approach to country music, yet laid-back and relaxing.
There was another ingredient that made this special. Don Williams the songwriter. True he had written a few songs which the Pozo-Seco's had recorded, but it was only a few, and most of them were quite forgettable, except perhaps
There's Never Been A Time
, which came from one of the group's very last sessions in 1971.
Of the ten selections on this solo debut, Don had written, or co-written six. Musically his future looked secure. There was a rare class and quality about a song like
The Shelter Of Your Eyes
, which suggested that an unlimited supply of classic songs would be forthcoming.
The last four years have seen that promise fulfilled with around 40 Don Williams songs on record by top artists like Dickey Lee, Charley Pride, Johnny Rodriguez, Jean Shepard, Sony James, Lefty Frizzell, Tompall Glaser, Kenny Rogers and, of course, Williams himself.
Yet all the songs have an alarming sameness about them, testifying to Don's penchant for the plodding country lick. What makes them special is his perceptive insight into a world of sensitivity and romanticism. One of his finest creations is
Lay Down Beside Me
, recorded by both Tompall Glaser and Jeanne Pruett in 1974, and recently updated by Kenny Rogers. A touching and gently moving song, it concerns the feelings that the love of a woman can bring about, with a haunting quality to the Glaser version that possibly captures the mood that Don was after when he wrote the song.
It is this comfortable mood that makes both Don's songs and his recordings so memorable. Simplicity is the key. It all came about in the Spring of 1972 when he started to work with Allen Reynolds on that all-important debut album. Together they created a mood that's refreshingly tranquil without an aimlessness that might have relegated it to background music. It was not an accidental discovery; many hours were spent experimenting in the studios and in fact one of Don's songs,
My Woman's Love
, took six hours of work in the studio before it was deemed right for release.
As is customary with Don, the lyrics are very simple, but quite effective. The arrangement is the most complex he has used with a Mexican-type rhythm, emphasised by Don Sheffield's trumpet and filled out nicely by Lloyd Green's double-tracked Dobro. To me one of the best things that Don has ever cut,
My Woman's Love
, has never been released as a single material, so if Anchor ever run out of suitable single material, just turn back to that beautiful little track.
From the beginning Don Williams always struck me as an artist who could appeal to family audiences without having to immerse himself in too much lush sentimentality. His rise to star status was steady and gradual both here and in the States. Across the water it was because he was breaking new ground in country music sounds, whereas in Britain it was the old, old problem of no record releases.
Now he is established, I had a dread of him becoming a middle-of-the-road artist, a rut that looms dangerously close to anyone consistently writing lyrical love songs with gentle strings and arrangements wafting around. The real problem with Williams' songs is that performed by anyone without his dyed-in-the-wool integrity, so many of them could become the merest MOR pop.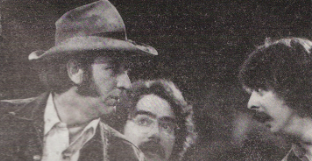 This has always been the weakness as well as the strength of the Nashville composer, that a song taken out of his experience and background, could so easily be taken up by your Ken Dodd's and Tom Jones's, but it can also lose its essential authenticity in the process. This has already occurred with Don Williams with impersonal and heavy-handed versions dished-out by people like Miki & Griff, Ken Dodd and Val Doonican.
Melodically, hear one Don Williams' song and you've heard them all; ain't nothing but your basic three-chord country tune. But he is a talented storyteller/minstrel who writes singalong songs. They consistently hit home as they deal with personal relationships with all the casual sincerity of country music. On a first listening basis songs like
Till The Rivers All Run Dry, Missing You,
Missing Me, Goodbye Isn't Good At All
and
Atta Way To Go
, sound too ordinary to mean anything. But the gently caressing hypnotic arrangements gradually infiltrate the mind and then the lyrics take over.
Like most country writers, it is in the lyrics where Don Williams strength lies. You could hardly term him a poet, but when it comes to human relationships, his simple, understanding approach scores every time. From the light and carefree sound of
In The Mornin'
to the tension of
Fly Away
, Williams builds music around emotions with amazing results.
Whether writing about the end of romance as in
If She Just Helps Me Get Over You
or the problems of making a brand new start in
We're All The Way
, a song recorded by Jean Shepard, Don demonstrates that all too rare vision for understanding the ways of a heart in overcoming the intricacies of love.
He has shown over the last five years that he's a writer of merit; his songs are romantic, but have honest charm. More and more artists in Nashville are finding that his songs are suitable for them. Dickey Lee has scored on the country charts with the bouncy and infections
Baby, Bye , Bye
and taken to recording the slower,
You Make It Look So Easy
twice. Initially he cut it in the way that Williams would have done, with a jogalong rhythm and effective steel guitar to create the atmosphere of loss and despair. That was in 1973 with Allen Reynolds handling the production. Two years later with Roy Dea producing, the song was given a heavier arrangement with Charles Cochran's piano emphasising rhythm.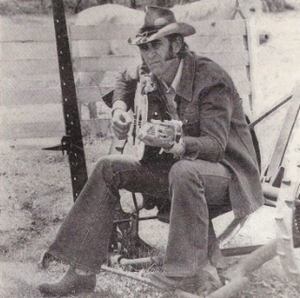 Charley Pride included a passable version of
If She Just Helps Me Get Over You
on his AMAZING LOVE album and has since recorded another Don Williams' song,
Which Way Do We Go
, a mid-paced ballad that Pride throws away without any real feeling for the lyrics becoming apparent. Because Don's songs are short on melody they need strong and distinctive singers to make the most of his creations.
Lefty Frizzell recorded the definitive version of
If She Just Helps Me Get Over You
, on his first ABC album and included another sad Williams' ballad,
I'm Not That Good At Goodbye
on his last album. This is one of those songs that Don has not yet recorded, and as well as the Frizzell version, Johnny Rodriguez also turned in a superb rendition on his SONGS ABOUT LADIES AND LOVE LP.
Although Don Williams cannot be considered a prolific country songwriter in the same league as Bill Anderson, Don Gibson or Harlan Howard, he has emerged as one of the most successful in terms of quality of material and recorded versions in recent years. Like so many writers who are also singers, there are several songs that Williams has written, but never recorded. This is not because they are of dubious quality (
If She Just Helps Me Get Over You
and
Forgettin' 'Bout You
testify to this), just that Don has not felt the time was right to commit them to disc.
He has found throughout his solo career that the blend of his own songs with those from other writers makes for more successful albums. Writing is not easy, and Don will be the first to admit that his songs are hard to come by. Consistency is important, and Don Williams has proved with his own writing that when it comes to consistency, he scores every time.