DON WILLIAMS SHOW Royal Festival Hall, London, September 1979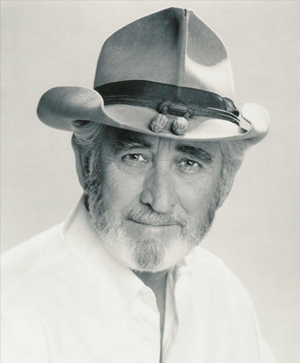 As expected it was a packed house at the Royal Festival Hall for the last night of the latest Don Williams' British tour. Any doubts about the quiet Texan's popularity this side of the Atlantic were dispelled by the enthusiastic reception he received. As far as the audience was concerened, the King was there and they gave him a ferociously warm welcome, and the applause just kept rolling on.
He was oozing with confidence, but is bound to face more critical audiences at some time in his career. But on this night there were few surprises in his choice of material—
Amanda, The Shelter Of Your Eyes, 'Till The Rivers All Run Dry, I Recall A Gypsy Woman
and, of course
You're My
Best Friend
. He glided through the songs with consummate ease, not one note was ever forced.
His band, now increased to a tight four-piece, was a lesson to all in terms of taste, restraint and musical skill. The drummer adds that little extra that had been lacking previously; an unobtrusive base upon which the guitar, bass and keyboards lay delicately.
Earlier it was Warrington's very own Poacher who got the show off to a solid start. A beautiful unaccompanied
After The Gold Rush
and the obligatory
Darlin'
were the highlights of their compact set. There's no doubt that they are maturing into a quite startling good band.
The group stayed on stage to back Terri Hollowell, a young American singer with a great future in front of her. She looked good, sang well, varied her material, was beautifully dressed, and only occasionally did the nerves show through. Wisely she kept mainly to familiar material, and the medley of 'crossover' country hits—
Rose Garden, Stand By Your Man, Don't It Make My Brown Eyes Blue
—was well received by the audience.
Personally I thought the highlight of Terri's act was the fine reading she gave to Randy Goodrun's
You Needed Me
, and her biggest hit so far,
May I
. Two fine ballads that enabled Terri to really show off her vocal abilities.
It was of course Don Williams who the audience came to see and there aren't many artists about who can attract such a motley collection of fans. They range from the very young to the very old, from the very weird to the very straight. But they all have one thing in common—a love of Don Williams' music. 
First published in Country Music People, November 1979