First Published in Country Music People, September 1979 
Poco-Secos Gave Don First Success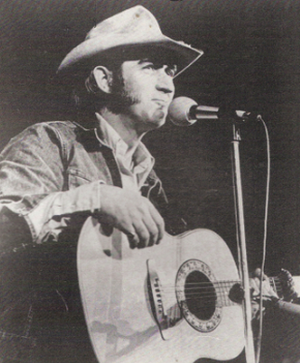 My first introduction to the music of Don Williams was some dozen years ago when he was a member of the Pozo-Seco Singers. At the time I was into the music of the Kingston Trio, Peter, Paul and Mary and Bob Dylan, and I naturally fell under the gentle sounds of this folksy trio.
The Pozo-Seco Singers consisted of Don, Susan Taylor and Lofton Kline, all three native-born Texans. Don was born in Floydada, a small town in North Central Texas, around Corpus Christi. That was also the town where Lofton Kline lived. His background included selling guitars and giving guitar tuition.
Susan Taylor, the youngest of the trio, was born in Jacksonville, though she grew up in Oklahoma, then returned to the Lone Star State, graduated from high school and enrolled in Del Mar College. Like Don and Lofton, Susan was quite a versatile musician, playing guitar, piano, harmonica and bass.
Before the formation of the group, Don had been well-travelled. His father was a mechanic and had found it necessary to move around in an effort to build a better life for his family. For various periods the Williams' family lived in Missouri, Arizona, New Mexico, Nevada and Iowa, settling back in Texas at Corpus Christi. Don was influenced by country music throughout his childhood and can recall hearing singers like Little Jimmy Dickens, Slim Whitman and Webb Pierce.
"My roots are country, that's what I grew up on," Don told me a couple of years ago. "My mother used to play guitar and all the songs and everything I heard growing up were country until I was at High School. I wouldn't have missed the Grand Ole Opry or Louisiana Hayride back then. I guess though that when Elvis, Buddy Holly and Chuck Berry came to the fore there were a lot of us changed without really realising it."
"It wasn't like I just quit listening to country music", he elaborated. "But I really dug this other music too. It was very exciting—different. There were a whole lot of people I loved—The Flamingos, Platters, groups like that. It was a really exciting time in music."
Though he was fascinated by music, he never regarded it as a possible way of making a living. He began getting more serious about music whilst in high school, but it was not until he enlisted with the US Army that anything of substance happened. Whilst serving overseas in Japan he performed with small musical groups, playing all kinds of music, but finding to his delight that audiences seem to prefer country music.
Thoughts of a musical career were furthest from his mind when his military service was completed and he returned to reality, moved back to Texas and undertook a variety of jobs including working in the oil fields, driving a bread van, and amazingly for Don Williams, working as a debt collector for a finance company. He was now a married man, his wife Joy coming from Portland, and the couple had a son to raise.
But the pulling power of music was too great for Donnie Williams (as he was known at the time) to resist. With Lofton Kline as his partner, he began performing at local colleges as The Strangers Two. At one of these informal dates they met Susan Taylor, who was singing traditional folk songs. The three found that they had similar musical ideas and within a short time they all joined forces to become The Pozo-Seco Singers.
"The group worked in a folkish vein because we came into existence at the tail-end of the folk boom," Don explained. "We didn't want to sound like other folk groups, especially The Kingston Trio, who were big at the time, and we tried to steer clear of the type of songs that they were doing."
Don was working for the Pittsburgh Plate Glass Chemical Company when the Pozo-Seco Singers began to gain a sizeable local following. Working in college campuses right across South Texas, they found their musical blend beginning to click. A privately produced album, recorded in Houston in the autumn of 1965, helped to consolidate their local following and eventually led them to signing a contract with Columbia Records.
The trio were summoned to Nashville and put under the wings of staff producer Bob Johnston, a successful pop producer who has also worked with Bob Dylan, Johnny Cash and Marty Robbins. Several of the songs made for the album in Houston were re-recorded, and one of the tracks, Mike Merchant's
Time
, was selected as the initial single release.
It was a typical folksy, easy-listening ballad of the period and by the summer of 1966 it was high on the American pop charts. Lead vocal was handled by Susan with simple percussive beats and Don and Lofton harmonising gently in the background. This was followed by another Mike Merchant song,
I'll Be Gone
, which followed the same formula as their successful debut, and not surprisingly soared high on to the American charts.
By this time Don, Lofton and Susan had given up their jobs and guided by their manager Albert Grossman, had set out to build upon their success with a series of appearances, mainly in college campuses, all across the States. At the time Grossman had quite a reputation, having been involved in the careers of artists like Peter, Paul and Mary and Bob Dylan. A man who knew only success, and there's no doubt that he was the man who 'pushed' the trio to the commercial success that quickly came their way.
I asked Don how a man like Grossman became involved with a group like the Pozo-Seco Singers. "Well, that I'm not too sure about that," came the reply. "He must have heard about us, I guess. He came down to Texas to see us, and it was, I don't know, a little weird. There we were in South Texas, a very conservative area, and there was this man. He had long grey hair. It was shoulder length. I was really surprised with a lot of things then."
He chuckled at the thought, then continued: "I guess, it could have been a better working relationship. We never really got to know him well. But at the time I thought well, maybe I can do it. I was working at the time and there were pressures from all sides. He took care of that and made sure we had a salary to live on until things started happening."
For the next three years The Pozo-Seco Singers were indeed happening. They enjoyed further single successes with
Look What You've Done, I Can Make It With You, Louisiana Man
and
I Believed It All
. Columbia released three albums, though it would appear there were problems, with a fourth album, recorded in Nashville at the end of 1967 never seeing the light of day, though several of the proposed tracks did appear on singles.
The trio's first album, TIME, was released in August 1966. It was a safety-first record, containing the first two hit singles plus standard folk tunes like
Guantanamera
. The backings were simple, making use of acoustic guitars and a few percussive sounds, but relying mainly on the superb vocal harmonies to carry it all. The impression gained was that this album came closest to the way the Pozo-Seco Singers sounded 'live'.
As Don explained: "I envisaged the group as a folk-country group, and though we recorded in Nashville, we found ourselves working closer to a folk sound than I really wanted to."
One of the songs on that first album,
Down The Road I Go
, is familiar to most Don Williams' fans. It was written by the singer, and he re-recorded it some seven years later and included it on his solo album, DON WILLIAMS VOLUME TWO. I suppose in retrospect this was the kind of sound that Don had really wanted for the trio. The original version is not too different from the later recording, and is very indicative of the present laid-back Don Williams' style.
The success of
Time
had led the group more into a pop-folk sound. Susan Taylor, was very much into folk music, and it was her influence that coloured most of that first album. The second album I CAN MAKE IT WITH YOU, released in February 1967, was recorded in New York, the folksy influence being replaced by a more pronounced pop-styling. Of the three albums released by Columbia, this is my favourite. Don Williams is much in evidence vocally, taking the lead on Chip Taylor's
I Can Make It With You
and the other single,
Look What You've Done
.
Once again he demonstrates his writing skills with the throwaway
Diet
. A song treated much differently than Don probably intended, but quite a good nonsense song, which does sound very dated today. The country influence is maintained with a good version of
Almost Persuaded
, the David Houston hit, with Susan Taylor surprisingly taking the lead.
Mike Merchant is the writer of
Johnny
and
Mary Jenkins
, two folksy songs, and also included is Tim Hardin's
If I Were A Carpenter
and Gordon Lightfoot's
Ribbon Of Darkness
. This album was released in Britain in the autumn of 1967 with a different cover and carrying the title, INTRODUCING THE POZO-SECO SINGERS. Don Williams'
Diet
was left out, and replaced with
Time
plus an additional track,
It Ain't Worth The Lonely Road Back
. The song featured Don on lead vocal and had a loping beat with the rich, lazy vocal tones combining beautifully with a firmly struck acoustic guitar.
Though the group continued to enjoy success on the American pop charts throughout 1967 and 1968, it was 18 months after the release of this second album before a third effort, SHADES OF TIME was released. This was recorded in Nashville under the direction of Billy Sherrill and features an interesting selection of songs. Country music is in evidence with a sensitive version of
Green Green Grass Of Home
and
You Better Sit Down Kids
, but it is toward the contemporary folk field that this album leans.
You have Bob Dylan's
Spanish Harlem Incident
, Ian Tyson's
The Renegade
and the Beatles'
You've Got To Hide Your Love Away
. It's interesting to note that Dylan's
You Ain't Going
Nowhere,
recorded around the same time that The Byrds included it on their SWEETHEART OF THE RODEO LP, is given a similar country-rock treatment, and even the old Everlys' hit
, Bye Bye Love
falls into the same styling.
Don Williams was not too sure whether he really liked the way this last album had turned out. "I was still not happy with the way the group was progressing. Lofton was very much into pop music and then Susan was into folk music, and I seemed to be in the middle. We didn't argue over material, it was all a bit of a democratic decision, but what we were doing was not what I had in mind."
There was also another album recorded in Nashville and also produced by Sherrill, and according to Williams ready for release at the beginning of 1968, but for some reason it never saw the light of day. This was probably going to include,
Louisiana Man
and
I Believed It All
, two minor hits during the latter part of 1967, the folksy
Morning D
ew and
Green Green Grass Of Home
, which eventually surfaced on the SHADES OF TIME LP.
Perhaps it was the emergence of the country-rock-folk sound of The Byrds at this time that led to this album being shelved. Whatever the reason, The Pozo-Seco Singers were beginning to find it difficult to gain the kind of work Don had wanted for them. They had been working almost exclusively on the college circuit, but due to political problems in the colleges, it became increasingly more difficult to find enough work to sustain the trio.
In the summer of 1969 their contract with Columbia expired. Don and Susan were both reluctant to give up their work within the music business, but Lofton felt that it was the right time to quit. Continuing as a duo, and becoming Don Williams & The Pozo-Seco Singers, they signed with the small Certron label in Nashville.
The next eighteen months saw the release of several singles including a medley of
Strawberry Fields Forever
and
Something
, Chip Taylor's
Story Book Children
and the slightly country-styled
Follow Me Back To Louisville
. But success still eluded the couple and in the end Don became disillusioned with the whole affair.
"We weren't doing too well really," he remembered. "It got to the point that the only places we could work was hotel lounges, and that wasn't what I wanted. In the end I just packed it in and moved back to Texas. Got out of the music business and tried to settle down to a normal life. A year later though I was itching to get back into music."
Three years after the demise of the Pozo-Seco Singers Don Williams had emerged as an original new talent in Nashville. His success, initially in the American country charts, and then in the British pop charts, led to reissues of some of the material he had recorded earlier with Susan and Lofton.
The first to surface was a selection of tracks laid down for the defunct Certron label, being released in Britain on Decca's Emerald label. Reissued by a company that had not even bothered to find out anything about the group, this carried glaring mistakes, beginning with the mis-spelling of the group's name, giving no credit to Susan Taylor, who takes at least half of the vocal honours, and not noting in the rather brief liner notes that these tracks were not the 'hits' of The Pozo-Seco Singers.
Those criticisms apart, this still turned out to be a worthwhile album of gentle pop/country sounds. Williams wrote one of the best songs included,
There's Never Been A Time
, which is a solo vocal performance, and is very close to the current Don Williams' styling. Johnny Paycheck's
Apartment No. 9
has Miss Taylor taking the lead with some good production touches, but it is the songs on which Williams takes vocal honours that are of most interest.
These include a pleasant reading of Buffy Sainte Marie's
Take My Hand For Awhile
, the countryish
Take Me Back To Louisville
, Chip Taylor's
Storybook Children
, and rather surprisingly a good version of the Rolling Stones'
Ruby Tuesday
, which Don handles with cool assurance.
On Her Way
To Be A Woman
, a song without composer credit, could well be a Don Williams' original, followed by the simplicity of
Where Do We Go From Here
with a lolloping beat, steel guitar and very close to the magical sound of Don Williams that has sold millions of records during the past few years.
It's obvious that several of these tracks were never released until this album came out. When viewing the contents it must be remembered that the Pozo-Seco Singers were rapidly coming to an end. Much of the material was either experimental, as in the case of
Spend Some Time With Me
and
There's Never Been A Time
, or a last desperate attempt to gain former commercial success, apparent by The Beatles' medley and the gentle pop ballad,
Tears
. In no way could it be termed an essential album, but in viewing the full Don Williams' career, this is an album not to be overlooked.
A year later CBS belatedly came out with their collection of THE BEST OF THE POZO-SECO SINGERS. As expected there was little attempt to provide any historical perspective, although there are informative sleeve notes from David Allan. Unfortunately, the tracks are not assembled in chronological order; any one foolish enough to want to hear how this trio developed would have to flip back and forth.
All of the hit tracks are naturally included, padded out by well-known songs like
If I Were A Carpenter, Guantanamera, Green Green Grass Of Home
and
Morning Dew
. What you'll find on this album is purely pop music, but the trio had a hallmark of elegance and style that makes it seem like it might be more.
I often wonder if Don Williams would have become a country superstar if the Pozo-Secon Singers hadn't happened. What if Albert Grossman hadn't picked them out to be groomed for stardom (and to be honest there were hundreds of similar outfits working across the States doing exactly the same kind of material). Would Don Williams be working for a chemical works or delivering bread. It's a thought, and one which all Don Williams' fans should consider before dismissing his work with the Pozo-Seco Singers out of hand.