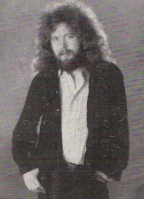 First published in Country Music People, September 1979
One of the more pleasing and original singer-songwriters to have emerged on the Nashville skyline during the past twelve months is Don Schlitz, who may be the most adept at combining pathos, humour and sarcasm, and can be quite serious when he wishes, particularly when handling his sensitive love ballads.
To date Don's reputation is built around just one song,
The Gambler
, one of the most recorded songs of recent months, but having heard several more of the slim, tall songwriter's creations, I have no hesitation in tippig him to be one of the most successful of the new young country writers. His songs are deceptively simple, but every time you listen to them you hear something new. He is a versatile writer, moving effortlessly from the loss and nostalgia of
I've Been Loved
to the stirring statement he makes in
I Believe
, through to a sensuous ballad like
I Can't Imagine Laying Down With Anyone But You.
It was really only by chance that Don Schlitz made it to Nashville at all, but there's no doubt he made the right move. Born and raised in Durham, North Carolina some twenty-six years ago, he started toying around with a guitar in his early teens, and tried his hand at writing songs just to impress his girlfriend. Later a friendship blossomed with Tom House, a poet-songwriter also from Durham, who helped Don a lot in the early days.
Against his parents wishes Don opted for a career in music. He spent just over a year at University, but realised that this was not helping his songwriting aspirations, so he dropped out. Not sure quite where to go from there he decided to head for Nashville. This was not a freely made decision, his choice being made because the Tennessee State Capital was nearer to home than either New York or Los Angeles, and it was the only music centre that he could afford a bus ticket to.
Like all young hopefuls, Don found life in Nashville hard. Living in a variety of places—his car in Centennial Park, a Vanderbilt University dormitory basement and any floor space offered to him, he set about learning the basics of the craft of writing songs.
Soon after moving to Nashville Don had the opportunity of playing some of his material for Bob McDill at the JMI offices. After listening to a few of his songs, McDill played a tape of a song he had recently written. It was
Amanda
, which a few months later became a big hit for Don Williams. Schlitz remembers ruefully that he realised at that point that he had a lot to learn about writing songs.
Luckily he had the dedication to succeed and by becoming friendly with other writers like Jim Rushing, Hugh Moffat, Buzz Rabin and Gil Francis, he gradually learnt his craft and began creating some of the finest songs I've heard in some time. In order to live he took a job as a computer operator for Vanderbilt University, devoting most of his spare time to writing, picking guitar and singing.
For a couple of years his songs became well-known via his stints working in picking parlours and bars around Nashville. Other 'underground' singers and writers started to feature Don's songs in their performances, and this was before the young writer had succeeded in signing with a publishing company. Not that he hadn't tried. It seemed that he had knocked on the doors of every publishing house in Music City. Jimmy Payne, joint owner of Clancy Music, was just one person who turned Don Schlitz down.
Eventually it was Bobby Bare, one of the singers who had been featuring
The Gambler
and included the song on his first album for CBS and it was only a matter of weeks before cover versions began popping up.
Charlie Tango, the son of Conway Twitty, put a single out for Gusto-Starday, then Nashville songwriter Hugh Moffatt recorded the song. With the publicity the song was receiving, the European album was shelved and Audie Ashworth had Don record the song for Crazy Mama's Records. His version was only out a couple of weeks when Capitol decided to buy the master and by the end of last May, Don Schiltz was the first person to put
The Gambler
on the country charts. It climbed steadily, but never made the dizzy heights. It did, however establish Don Schiltz as a new performer and songwriter to watch.
Major stars began recording his songs like Johnny Cash, who recorded
The Gambler
and Kenny Rogers, who towards the end of last year took the song to the top of the country charts. The Kendalls, Zella Lehr, J.J Cale and Mac Wiseman have all recorded Don Schlitz songs during the past few months, and the list seems to be growing longer, almost weekly.
Quite surprisingly, the beginning of 1979 saw Capitol in Britain release Don's original version of
The Gambler
. Having heard some half-a-dozen versions of the simple, but quite effective song, I still consider Don's rendition as the very best. He has recently completed work on his first LP for Capitol, and the signs are all there that this debut album could be as important as both Kristofferson's and Don Williams' first efforts in influencing the whole attitudes of Nashville and country music.
Don Schlitz is a versatile singer as well as a talented writer with the awareness and expertise to capitalise on the cult hero image that has been thrust upon him through the success of
The Gambler
. Though at the time of writing that is his only song to have achieved commercial success, there's no doubt that there are plenty more to follow. You see, Don is the most unique and gentle-souled singer/composer to have come along in the past few years with the ability to come up with a whole series of classic songs.