First published in Country Music People, October 1973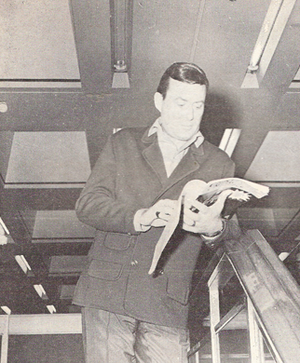 It is very difficult to separate Don Gibson, the songwriter, one of the most successful in country music, from Don Gibson the singer and musician. Ever since his first brush with the country charts back in 1958 he has gained more fans both as a singer and a writer, and though at first he was accepted as the former, it was a writer that he is often best remembered.
Considered to be one the great original talents in country music, Don Gibson began his life in the mountainous solitude of Shelby, North Carolina, the son of a railroading father and a mother busy with daily chores of caring for her family of three boys and two girls. Although Don didn't receive any particular musical inspiration from his parents or surroundings, before he approached his teens he had mastered the guitar and by the time he was 14was appearing regularly on the radio in Knoxville.
He soon organised his own band and made many appearances in local night spots, but right from the beginning it was his songwriting that was getting him recognised as more than just another amateur performer trying to scrape a living from entertaining. His songs came to the notice of Wesley Rose, president of Acuff-Rose Publications, for many years the most successful country music publishing house in the world. After a few wasted years recording firstly with RCA Victor, then Columbia and MGM, Rose finally gained Gibson a new contract with RCA Victor, which was based more on his capabilities as a writer than his stature as a performer.
The year was 1957 and already Gibson's songs were beginning to gain successes for top Nashville performers like Kitty Wells, Faron Young and Ferlin Husky, and Chet Atkins at RCA Victor was willing to take the chance that Gibson may be able to create a vocal career for himself. Atkins took great care in how he recorded Gibson, and within a year of signing contracts Gibson was the hottest act in Nashville with big hits of
Oh Lonesome Me, Blue Blue Day
and
I'd Be A Legend In My Time.
From the beginning though it was Gibson's songs that grabbed my attention. Oh yes, he had a way of putting them over, but it was the way he was ahead of his time with the lyrics.
Legend In My Time
, was one of the greatest lost love lyrics I've heard, even today, and
It's Too Soon To Know
, from the same era is one of the finest country weepers ever written. Gibson traded in heartache, he was a quiet, solitary person, you could tell by the lyrics, and the lyrics were very easily associated with. Whether it be the upbeat
Blue Blue Day
which quickly became a teenage favourite of the 1950sfties, or the country-tinged
Sweet Dreams
, which was his earliest songwriting success.
Many country artists recorded Gibson's songs, but it was the Ray Charles version of
I Can't Stop Loving You
that really established the genius of Gibson's talent outside of the usual country circles. This slow, soulful ballad written by Gibson almost eight years before Charles cut it had already hit big in the country charts, but Charles established it around the world in all of the pop charts—Gibson was rightly being hailed as one of the finest country writers of all time.
Gibson's unobtrusive and amiable personality seems to be in direct contrast to his show-business career, and though he had always been an adequate performer, his shyness has held back his ability to really entertain his audiences. He has a personal way with a slow ballad, soulful, rather intense, and this often gets lost in the confines of a large auditorium—his recordings have always been carefully thought out, during the mid-1960s he reached a peak that was way ahead of his time with his KING OF COUNTRY SOUL albums. Unfortunately many country fans found these recordings hard to take, but even now, the sadness evoked, the intensiveness, the feeling, it sounds fresh and captivating. The unique way he took country standards like
Maiden's Prayer
and
Faded Love
and adapted them to his style was clever, but for many people it was just too much.
Since 1970 Don Gibson has been recording for the Hickory label and began a new lease of life in the country charts with such hits as
Country Green, Guess Away The Blues
and
Woman, Sensuous Woman
. He has worked harder on developing a stage image, even to the point where he has now almost doubled the number of personal appearances he makes. Perhaps it's a sad state of affairs, but the extra performing has naturally curtailed the flow from his pen, now it's down to a trickle, and another really big song seems to be eluding him. True he has the talent to write more big hits. His recordings for Hickory have shown a remarkable freshness, they have moved right away from the sound he had achieved with RCA, and the move proved successful.
Don Gibson has now become more than just a composer, or a well-known Nashville singing star, he has become more of a performer, and it's with this in mind that I am eagerly looking forward to his forthcoming British visit. The last time he was here I was disappointed, but the signs are all there that Don Gibson will make amends.