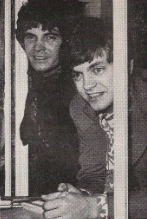 First published in Country Music People, April 1978
The Everly Brothers brought a whiff of Kentucky to the charts back in 1957.
Bye Bye Love, Wake Up Little Susie, All I Have To Do Is Dream
and
Bird Dog
, were pure pop, but Don and Phil's perfect harmonies and an unmistakable bluegrass twang and hoisting their big Gibson jumbos in unison, they were real teenage heroes.
Throughout the late 1950s and early 1960s, The Everlys loomed larger than life on the pop-rock scene, but they had their problems growing up. What a shame they didn't get on, and that in the later years of the partnership they couldn't find material to match things like
Cathy's Clown
. Yet when they did pull out a beauty, like
Bowling Green
, the world was agog with indifference.
Now it is Don Everly and Phil Everly. Two separate personalities, two contrasting careers. Don is becoming the more well-known to the British public due to his successful Wembley debut last year and his return this month for another Wembley appearance and a short tour with Marty Robbins.
Last Easter it was Don's first solo appearance in Britain, and backed up by Frank Jennings Syndicate and the talented Albert Lee, he took Wembley by storm. Yet it all seemed strange to me, after twenty years of seeing and hearing the two together, watching Don go through the old hits, solo.
"Well, it's a bit strange, but I've already worked in the States as a solo artist. Also, of course, I'm in a new sort of thing, more country, if you could call it that, and you know I'm enjoying it", Don stated last Easter, and went on: "I've always been a solo singer. Solo first and foremost. I was the lead singer and that makes a difference. Yeah, I guess I've always thought of myself as a solo."
Don is small, stocky, compact. He has a round face, a ready smile and seems perfectly at ease with life. Now, a little past his fortieth birthday, he seems quite removed from the thin-faced lead singer of the greatest vocal duo in country and pop. He doesn't try and regurgitate the past, but produces music that's bang up-to-date.
His three solo albums, DON EVERLY and SUNSET TOWERS recorded for the Ode Label and BROTHER JUKEBOX recorded in Nashville for Hickory in 1976, are all completely different. Don explained: "I kinda like that. Probably the next one won't sound alike. It will be another adventure in my life. So far they haven't been that successful, but that doesn't have anything to do with it. I'll still do it, as long as I can continue recording. Yeah, the major thing in my life after twenty years is to be able to record."
That first solo album was a strange one. Recorded in 1971 whilst the Everlys were still signed to Warner Brothers as a duo, it blended country standards like
Sweet Dreams, Tumbling
Tumbleweeds
and
When I Stop Dreaming
with a set of Don originals. It did absolutely nothing to enhance his reputation as one of the most distinctive vocalists in country and rock.
On the contrary, it seemed to reveal him to be a singer of considerable limitations. Throughout the mid-1960s he had been a bit of an inconsistent vocalist, though one wouldn't care to argue against the undeniable passion of a performance like
Sweet Dreams.
What was so disappointing about this album was the sheer anonymity of it all. Even with top session players like Ry Cooder (bottleneck guitar), Sneaky Pete Kleinow (steel guitar), Jim Keltner (drums), Chris Ethridge (bass) and Spooner Oldham (keyboards), it failed to come alive.
Taken out of context, some of Don's songs were quite good, but really most of them didn't really make it on any individual level, but I feel the album would have been more tolerable if Don had proven himself a more subtle and inventive singer. Throughout his phrasing is as predictable as his range is inflexible.
Don was much happier with the SUNSET TOWERS album, which was recorded in 1974. "I did it in LA and the group I did it with was Heads, Hands and Feet. It was sort of combined, I guess country singing with the English rock sound. I enjoyed it, I really did."
First thing to do listening to this album is to forget who Don Everly is. Going into it expecting a resuscitation of the Everly Brothers and there's little doubt that disappointment will be the reward. Once you come to terms with any preconceptions that might have existed, it's a successful record.
Most of the songs were composed by Ray Smith and Tony Colton of Heads, Hands and Feet, with Don Everly contributing just two songs. The haunting
Helpless When You're Gone
, with superb blue notes from Buddy Emmons on steel guitar and
Everlyn Swing
, a brief, throwaway track with Don's slightly forced vocal work quite attractive in an unusual way. The Cotton-Smith songs are good, melodic numbers.
Did It Rain
was picked up by Barbara Fairchild who released it on a single in Britain last year. A commercial tune, it's the album's high spot.
Of the others I quite enjoy Don's pained vocal work on
Southern California
, the up-tempo
Brand New Rock & Roll Band
and the commercially sounding
Melody Train
. The backdrop of steel guitar chords on
The Way You Remain
are quite warm, and on something like
Warmin' Up The Band
, the approach is sufficiently pushy to draw the best from Albert Lee, who when it's time for him to do so, takes off with some breathtaking solos made safe by his incredible time, sense and ear for drama in music.
But this was an album that received critical acclaim and public indifference. It was another two years before Don returned to the studios, this time in Nashville with Wesley Rose producing. BROTHER JUKEBOX emerged as an immaculate album from an artist who seemed to have resurfaced to complete credibility in his solo career.
Alongside new songs like the exceptional Paul Craft title track and Sanger Shafer's
Yesterday Just Passed My Way Again
, there are several of the Everlys' old songs like
So Sad (To Watch Good Love Go Bad), Oh, What A Feeling
and
Since You Broke My Heart
.
As Don explained: "Well, I'm not writing that much and one of the reasons for doing the old songs is that after having done them for years, I got away from them for three years, now I'm getting back into them again. For a while it became very difficult to do them, now I'm beginning to like them again."
The musicians on this album were truly sympathetic players: drummer Kenny Malone, bassist Mike Leech and pianist 'Pig' Robbins ooze that much-maligned quality, 'good taste', guitarist Grady Martin adds some lovely deft touches throughout and steelie Buddy Emmons plays with a magnificent cool ease. Perhaps more noticeable though is the assurance of Don's vocal work—a man perfectly at home and at ease with familiar surroundings.
"Yeah, I feel at ease," Don enthuses, "Actually that kind of style I helped establish in recording in Nashville in the early years. I started recording in Nashville twenty-two years ago. I like being in the record business. Yes, I was relaxed."
All in all, BROTHER JUKEBOX was a magnificent album and a logical and enjoyable buy for anyone whomever bought an Everly Brothers album. Don did contribute two new songs,
Oh, I'd Like To Go Away
with its catchy melody and infectious chorus, it could have almost been a part of the Everlys' vintage years and Turn The Memories Loose Again, which closes the album and is an honest reappraisal of his career and if anything closes the chapters on the Everly Brothers' career once and for all.
"We're entirely solo" elaborates Don. "I don't see Phil that much now. We were so close for so long I feel it wasn't healthy, we were almost like Siamese twins for something like twenty-five years".
So whatever memories flood back, Don and Phil, The Everly Brothers, finally laid the legend to rest with the outstanding PASS THE CHICKEN AND LISTEN album. The hits will live on through album compilations, and those of the public who cannot or will not forget what they contributed to the expansion of both pop and country music.
Surprisingly, little has been heard on the recording front from Don Everly in the past two years. Whether he has anything new in the pipeline we will have to wait and see. Now as a mature artist he can only build upon the strong foundation that the Everlys; career has given him. He is a very talented songwriter, and when he wants to be, a moving and sincere singer.
His solo album with Hickory took him back to his country roots and demonstrated quite forcibly that in their long and successful career, The Everly Brothers were always just two country boys who came up with the right sound at the right time to bring musical pleasure to millions of teenagers.
It is these same teenagers, who are now around Don's own age, that his musical directions should be directed. And it is for this reason that the first Hickory album worked so well.