Domenic Cicalla - Come On Over: The Honky-Tonk Duets
Self-released
***1/2
There's a quiet yearning and desire at the heart of this latest release from Dominic Cicala and his company of female duet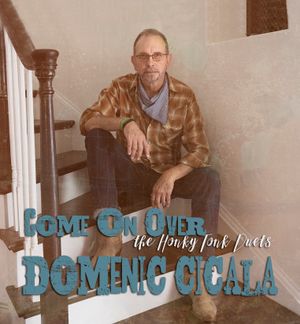 partners. Sonically, this is a gentle and largely acoustic album with the occasional pedal steel swirl bolstering romantic musings via songs drawn from such writers as Townes Van Zandt, Fred Eaglesmith, Troy Seals, Donnie Fritts and the Bee Gees. Care and sentiment are delicately stirred into this richly textured tapestry, allowing this music to make a quick connection and bring all its elements to the fore. Vocally Dominic's smooth croon charts a persuasive course along warm, laconic roads previously travelled by Glen Campbell and Jim Croce. His duet partners, including Rachel Harrington, BettySoo, Mindy Miller, Janine Wilson and Michelle Hannan, help to breathe new life into these mainly well-known songs.
Dominic, who calls Washington DC home, is no newcomer to making music. After five years with the roots-rock band Vincent 52 he struck out on his own as a singer-songwriter in 2012, releasing his debut album WHO'S FOOLING WHO two years later.  Steeped in warm-hearted Americana songcraft, there's an authenticity and assurance that resonates throughout with an aura that exudes a rustic, country-tinged allure. Dominic and Michelle Hannan share sweet memories of a wistful romance that lingers in Loving Arms, a song I first heard almost 50 years ago by the underrated Dobie Gray. This version is like a gentle caress, rather than the full soulful and passionate embrace that Gray offered. Yet, there's this pervasive warmth that runs through the arrangement with sighing pedal steel, softly stroked acoustic guitars and bittersweet vocal interaction. Michelle shows up again on Fred Eaglesmith's Drinking Too Much. With its heartfelt lyrics and a sound reminiscent of country duets from years past this could be an outtake from one of those Loretta and Conway albums from years gone by. We Had It All, another song from the Dobie Gray back catalogue, begins with Mindy Miller's soul-tinged vocals before Domenic joins her to exchange verses with pure emotion. A sparse yet rich texture of pedal steel and electric guitar noodling that transcends pure country bliss. Another song that brings back fond memories for me is Coldest Fire In Town, that I recall from an almost forgotten Pinmonkey album. This has the Domenic-Mindy pairing pouring out their souls like bourbon and mixing it with harmonies as sweet as cola.
Spanish guitar opens Goodbye Again setting the mood for BettySoo's aching vocals, with subtle horns way back in the mix, in this weary and meditative tale about stumbling  across an old flame with its lyrics of nostalgic haze and bittersweet bite. Domenic and Janine Wilson close this romantic album with an earnest rendition of the classic If I Needed You. Etched through with deeply romantic lyrics and unwavering guitar and mandolin, it moves fluidly through a gentle toe-tapping rhythm. This is country-pop from the top drawer. Much has been made over the years about the myth of recording country music in Nashville. I'm as guilty as anyone for perpetuating this white lie in my praise of Nashville musicians and recordings. This album was recorded hundreds of miles from Music City with an incredible group of local musicians including Lynn Kasdorf (steel guitar), Gary Fergusin (guitars, mandolin), Mark Noone (bass), Bill Starks (piano) and Ben Holmes (drums) showing themselves to be as good as the very best that Music Row can provide. Overall, COME ON OVER, is a gem that should find a home in any dedicated country music collection.
March 2021