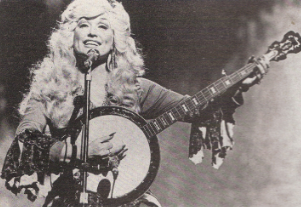 First published in Country Music People, May 1978
During the past eight years Country Music People has seen the emergence and the downfall of many great country music stars, and I feel that it is the career of Dolly Parton that most fully spans the one hundred editions of the magazine. Dolly, a beautiful 32-year-old singer and songwriter, has really emerged in the last three years as an international country music superstar. She is, in every sense of the word, a contemporary Cinderella.
Her early life was spent in the hill country of East Tennessee, one of a dozen children. Many of her songs reflect this early life. Though the times were hard on Dolly and her family, they fought the problems of poverty by hard work combined with love and religion, which held the family close together.
From an early age Dolly knew that she wanted to be a singer. Guided by her uncle, Bill Owens and supported by her family, she was groomed toward stardom at an early age. Apart from recordings made for the Goldband label in Louisiana when she was still a child and a gospel album made as a member of The Parton Family, Dolly's first real attempt at a successful recording career was in Nashville in the mid-1960s.
Like so many successful writers (Larry Gatlin, Roy Orbison and Kristofferon the most notable), she was helped on her way by Fred Foster, the owner of Combine Music and Monument Records. To begin with Foster made the mistake of pushing Dolly towards the pop market. Her initial recordings for Monument were produced by the underrated Ray Stevens, but the chemistry did not blend at all.
Her own songs, like
Old Enough To Know Better
, were over-produced with a heavy bass beat and brass used in abundance with poor Dolly fighting to be heard. When she tackled an old pop hit like the teen ballad,
Happy, Happy Birthday Baby
, the result was little better and Dolly was certainly not happy with these recordings.
Luckily the lady had her songwriting ability to fall back on and by penning country hits like
Put It Off Until Tomorrow
and
The Company You Keep
for Bill Phillips and
I'm In No Condition
for Hank William Jr. she retained her links with the music she loved and grew up with.
The recognition she gained led to Fred Foster having a change of heart and promoting Dolly as  country artist. Surprisingly, Dolly's first notable country hit was not one of her own songs, but the aptly titled,
Dumb Blonde
, which had been written by top Nashville writer Curly Putman. This was followed by more successes like
Something Fishy, As Long As I Love
and
Fuel To The Flame
.
The real change in Dolly's career came about when Porter Wagoner selected her to replace Norma Jean in his highly-rated syndicated TV show. This was the summer of 1967. Dolly had only a couple of minor hits to her credit and one album, HELLO I'M DOLLY. Ten of the dozen tracks were written by either Dolly or her Uncle, Bill Owens. She proved with this album that she was a writer and singer of individuality. She was laying the foundations of stardom and some of the tracks show that her voice has continued to develop since they were made.
Shortly after joining Porter's show, Dolly was signed to RCA and a new chapter unfolded in her career. Monument belatedly released a second album, AS LONG AS I LOVE in 1968 and the twenty-four tracks from the two albums are still available on a double set, THE WORLD OF DOLLY PARTON.
These recordings contain some outstanding examples of the embryonic Dolly Parton composing style. She showed from the beginning a rare knack for writing incredibly melodic songs that flow up and down rather than just coasting along on the crest of a riff.
I'm In No Condition
is a good example; a bouncy little melody and strong compelling lyrics blended into a perfect combination.
The Little Things
is a piece of simple philosophy that also works rather well.
Her songs are not too fiercely concentrated, but are full of invention and subtle twists. Her producer at RCA was the underrated Bob Ferguson, who quickly came to terms with the kind of production and arrangements that would best suit both Dolly's songs and her penetrating, vibrantly beautiful voice.
Initial success was gained by teaming her with Porter Wagoner for some inspired and highly commercial duets. For her solo efforts Dolly's own songs were blended with country hits of the period like
Games People Play, Harper Valley PTA
and
Carroll County Accident
to produce entertaining albums. Dolly herself was also becoming a regular chart name with self-penned songs like
Just Because I'm A Woman, In The Good Old Days
and a strong version of Mac Davis'
In The Ghetto
.
In 1970 Dolly released her fourth RCA album, THE FAIREST OF THEM ALL, an emotion-draining, memorable piece of work from an extravagantly talented singer-writer who was clearly destined to push her opposition to the very limits of their talents to stay near her. Apart from,
Before You Make Up Your Mind
, which was written by Bill Owens, all of the songs were Dolly's originals.
The themes were strong and compelling:
Daddy Come And Get Me
a tale of a woman rejected by a husband who cruelly has the poor girl committed to a mental home;
Chas
places Dolly in the role of sister-in-law to the man she has grown to love; and
I'm Doing This For Your Sake
and
Down From Dover
both give differing insights into the plights of unmarried mothers.
Ferguson gives each song the simple country instrumentation needed with delicate steel guitar touches, sympathetic tinkling piano and affecting fiddle work. The glowing melodies and freshness and subtlety of the lyrics combine to create a masterful album.
As a songwriter Dolly takes actual stories and builds each song around them. Most of them like,
Coat Of Many Colours, The Last One To Touch Me
and
My Tennessee Mountain Home
have become standards; pieces of extreme beauty and wisdom.
Her albums are littered with outstanding songs, but like all artists, Dolly has sometimes faltered both in her choice of material and the way she has chosen to record, this has been most noticeable in the last few years with many of her most dedicated fans becoming her harshest critics.
One of her failings a few years back was an apparent infatuation with the songs of Porter Wagoner. At times Porter has come up with some good songs. His real hang-up is unrequited love. Songs like
Loneliness Found Me
and
Love To Remember
pour on the agony. But they work because they are simple narrative pieces with melodies that sound obvious but which conceal artful twists and turns.
Dolly has recorded some of Porter's best like
If I Lose My Mind, The Mystery Of The Mystery
and
Highway Headin' South
, a superb song in praise of the South, an overworked theme in country music, but which avoids most of the cliches. Dolly's mistake was putting ten of Porter's songs together on one LP. It sounded ordinary because however skilful Porter was with lyrics his limitation with melodies became very apparent after three or four songs.
When it comes down to analysis, it is Dolly's own songs that have contributed most to her breakthrough as a highly respected country artist. Other singers like Linda Ronstadt, Emmylou Harris and Maria Muldaur, by recording her songs, have opened the door for wider recognition of her talents. Increased public interest was aroused by Dolly's own version of
Jolene,
and though since that success four years ago she has produced some great albums, only a few songs have had the necessary pop appeal.
Her albums were 'too country' for the masses and Dolly felt severely restricted. So she tried an easy-listening approach with DOLLY PARTON, an album full of delicate love songs like
Only The Memories Remain
. It was much more than just ten cuts on a piece of vinyl; it was personal feelings. Dolly getting very close to people and very close to herself.
She is one of the talented few who can write about the feelings that are common to us all, yet so hard to express. Just sample the reflective
Most Of All Why
and the beautiful
Because I Love You
, two of the finest love songs that Dolly has written.
It was a beautiful album, but it failed to ignite the pop interest that Dolly was seeking so a different approach was tried with next album, ALL I CAN DO. Some of the songs written by Dolly, especially
Shattered Image
and
Hey Lucky Lady
were obvious attempts at the pop sound, but it was still not the right combination.
Unfortunately to achieve the breakthrough that Dolly was after she would have to sacrifice some of the authenticity of the music in favour of a more commercial mix of words and music. NEW HARVEST—FIRST GATHERING was the album that showed more of just what Dolly was searching for. She wanted to blend country, pop and soul in a similar way that Linda Ronstadt had made so popular.
She produced the album herself, straying from that tight formula that had marked her previous recordings, and tried something a bit more ambitious and soulful, which didn't completely come off. She appeared to be trying to put too much into it, and whereas simplicity had been the main attraction of her previous efforts, this one sounded faintly forced and slightly cluttered.
Eventually the lady gained the wider recognition she had been striving for with the single
Here You Come Again
. It deservedly made the top spot in both the American country and pop charts and though it inexplicably missed the British ratings, it has given her career a tremendous boost this side of the Atlantic.
The album that followed was titled after the single and was recorded in Hollywood. It was most notable for the lack of any truly outstanding Dolly Parton songs. She included nice versions of Kenny Rogers'
Sweet Music Man
, Bobby Goldsboro's
Cowgirl and The Dandy
, finally got round to recording
Me And Little Andy
and updated the Lovin' Spoonful's
Lovin' You
.
Much as I love Dolly and her music—and I've loved both through fashionable and unfashionable times—the more I play this latest album I feel she is more like a cameo screenwriter, good at her job. Is it unreasonable to expect Dolly to be more than just good at her job?