First published in Country Music People February 1978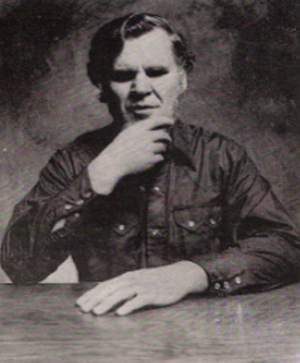 Traditional country music as performed by Doc and Merle Watson is ignored by the majority of country music fans. This is one of the sad by-products of commercialism. Doc and his son Merle could never be termed 'commercial.' They are popular, this is borne out by more than a dozen albums in as many years, but their popularity is more of cult figure proportions than any popularity chart analysis could begin to reveal.
Doc Watson is one of the few untarnished people left in the music business, always giving a genuine representation of his unique talents. He has been around for so long, producing his own traditional music, that it is all too easy to take him for granted. This is an injustice to a man who is probably the finest flat-pick guitarist around.
Now in his early fifties, Doc Watson, blind at birth, lived and grew up in North Carolina. It was an area steeped in mountain music, and he soaked up many influences from the mountain folk and the popular country artists like Jimmie Rodgers, The Carter Family and The Delmore Brothers.
For years he played with local groups, mainly old-time country music, but found that audiences also demanded current material, which meant playing the country hits of the day and also some popular material. Much of the work was for dances and socials, and Doc found it necessary in the early 1950s to take up playing a Les Paul electric guitar.
Throughout the 1950s he was working strictly as a non-professional musician picking up tips from guitarists like Grady Martin, Chet Atkins and Merle Travis. A natural flair for guitar and hours of practice helped him to perfect his clean and technically impeccable flat-pick guitar style that has elevated him to a position of being imitated and idolised by country guitar pickers all over the world. 
It was not until 1962 that Doc Watson made what could be considered his first professional engagement, when he left his Union Gap, North Carolina, home to play with Clarence Ashley, an old-time banjo picker from Tennessee, at the Ash Grove, Los Angeles. From this springboard Doc started playing folk concerts all over the States.
In 1963 his appearance at the Newport Folk Festival led to wider acceptance and his signing a recording contract with Vanguard, the foremost folk music label of the period. Previously to this Doc had recorded with Clarence Ashley for the Folkways label, but this move to Vanguard marked the arrival of Doc Watson as a performer and recording artist in his own right.
The mid-1960s was a boom period for folk music and with Watson being signed to a major folk company, partially explains why he has not readily been accepted in country music. Yet Doc Watson is as much a part of the rich heritage of country music as Jimmie Rodgers, Hank Williams, Merle Haggard, Bill Monroe and Waylon Jennings.
Merle Watson, Doc's 28-year-old son, has played with his father since the Berkeley Folk Festival in 1964. He is quiet on stage, but business-like off. He plays back-up guitar, occasional banjo and in recent years often takes the lead guitar breaks.
It was his mother, rather than his father, who first showed and encouraged him to play guitar when he was 15. Doc was suitably impressed by his son's dedication to the instrument and took him along on a tour in 1964. He virtually learnt to pick the guitar whilst touring with his father, and has now become an outstanding lead picker.
He married when only sixteen and finished high school by correspondence whilst travelling on the road. The father of two children, Merle Watson now runs two businesses—his and Doc's musical partnership and his own construction business. This he built up from scratch after learning various trades in his spare time.
It would be so easy to dismiss Merle Watson as only a shadow of his father, but when you fully appreciate just what he has accomplished in a few short years, you realise that Merle Watson must be a determined young man who will carve out his own future. He travels with his father performing music because he chooses to, not because he has to.
The two of them work in partnership and it shows in the music they produce. This is traditional music, mostly the songs and tunes that Doc Watson heard in his youth. It's all acoustic music, of course, but it's the sort which has made Watson fans listen for years. Often the tunes are the pair's own adaptations, but most are pretty much as they were performed in bygone days.
Traditionalists would probably argue that the Watsons' finest work was on the early albums for Vanguard, like SOUTHBOUND and HOME AGAIN. These same people are likely to dismiss their later efforts on Poppy and United Artists as being too modern, yet it is these Nashville productions that have elevated the Watsons to greater heights and introduced a whole new generation to their traditional music.
If you ever want proof of the Watsons' ability as both musicians and traditional country music exponents look no further than the excellent double album, MEMORIES. Some of the finest musicians in Tennessee were assembled to help Doc and Merle on this one, thus putting a good deal of pressure on the guitarists. But they both responded well enough to give us a relaxed, comfortable album, which, whilst never breaking new ground, does serve as a fine introduction to these two craftsmen.
Throughout, all the devices of acoustic guitar and country instrumentation are employed with creative intelligence and not merely paraded as an end in themselves. MEMORIES covers the full breadth of the Watsons' repertoire, from banjo tunes of the 1920s to country swing of the 1940s and 1950s.
It's a well-known fact that when it comes to acoustic guitar pickers, there aren't many finer than Doc Watson, and this album only reaffirms his skill and versatility. Often, though, we tend to overlook Doc's vocal work. His voice is pure mountain, strong and vibrant, but lacking the polish of the Nashville balladeers. Each song he handles with a detached, unerring conviction. When re-telling a sad, lonesome tale, he never wallows, but does sound genuinely concerned.
Last November Doc and Merle Watson paid a rare visit to Britain to appear at an Irish folk concert at London's Kilburn State Gaumont. You can be excused if you missed the event, it was not too well advertised to country music fans. It was Doc's first British appearance in more than 10 years and it seemed a large section of the audience were quite familiar with his repertoire.
Doc and Merle's latest album, LONESOME ROAD, has been released in Britain and gives readers an opportunity of sampling their talents without having to pay high import rates. It's a musical bag to enjoy again and again ranging from honky-tonk to blues, including traditional country and even the more contemporary side with the inclusion of Bob McDill's
I Recall A Gypsy Woman
.
Doc and Merle Watson are two of those rare breed of modern country musicians who are real people. They impress those who wouldn't normally give country music a second glance, because they are skilful and unpretentious. There's no gloss to their work, just plain and simple country music. In the States they appear regularly at bluegrass festivals and on college campus. Different kinds of audiences, but people who appreciate plain, honest music, played with unerring perfection and feeling.