First published in Country Music People, November 1978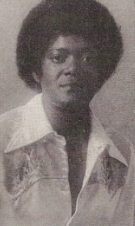 Black singers invading the previously white-dominated American country scene are becoming a common sight in Nashville, and perhaps the most amazing success in country music during recent years belongs to Dobie Gray.
Nearly ten years ago, Dobie Gray's
The In Crowd
established him briefly on the pop scene. It was cool Motown-style pop, recorded in Hollywood on the now defunct Charger label. But Gray was never a soul artist. It was more a case of location and timing combining to bring him that first, important brush with success.
Born Leonard Victor Ainsworth, in Brookshire, Texas in 1942, he was the son of a Protestant minister. As with any black, church family, music was important—though it had to have its proper place. As a boy, Dobie listened to the radio a lot. There were no stations catering for the black people in the area, and apart from the occasional Lightnin' Hopkins and T-Bone Walker songs, his musical appetite was usually satisfied by country and hillbilly singers like Red Foley, Jimmie Rodgers and T. Texas Tyler. 
Around the end of the 1950s, he left his home in Texas and headed for California with the dream of becoming a film star in Hollywood. His acting ambitions were pushed aside, though, when he auditioned for a film that included singing. Dobie received praise for his vocalising, but the thumbs down as far as acting was concerned. This led rather quickly to records, signing with Cordack Records, where, produced by the now famous Sonny Bono, he had a minor hit with
Look At Me
.
Throughout the early 1960s Dobie was striving for fame as a pop singer. Because of his colour he was labelled soul, and it was in this style that he was able to build up a dedicated following. His big hit
The In Crowd
launched him into bigger things, including the lucrative night club circuit of Las Vegas. Several more records followed, eagerly sought after by dedicated soul collectors, but lacking that magic ingredient that made hits.
Though Dobie was still regularly employed in America, he slipped from the attention of record fans over here, another of those many one-hit wonders that hit the pop world with remarkable consistency. He subsidised his earnings as a singer by returning to acting appearing in several films and also taking the lead in a stage production of Hair put on in Los Angeles. Recording-wise he signed with White Whale Records, much of the material cut being unreleased, including the original cuts of
Rose Garden, He Ain't Heavy, He's My Brother
and
The Night They Drove Old
Dixie Down
.
The country influence was at last beginning to show through on Dobie's choice of material, and a meeting with Mentor Williams cemented a return to Dobie's roots. Williams took the reins of Gray's career and fixed up a contract with MCA Records, writing and producing the very first disc,
Drift Away
, which shot up the charts. Coming from New Mexico, where he was raised on country music, Williams had just the right feel for the music that Gray wanted to make.
Drift Away
was cut in Nashville, but there the similarity ends, the whole record is rooted in the Southern pop tradition. Dobie has a slightly husky quality and his clear phrasing makes every word distinguishable, without losing sensitivity and emotion. It's one of those rare 45s that can stand repeated spins on your turntable and still evoke feelings that you are hearing something special.
The album that followed was, in its own minor way, an unusually perfect record. Just why it is so good is a little difficult to explain—simply there were no tricks, both Dobie and producer Mentor Williams knew exactly what they were doing. The emphasis on production was almost certainly Mentor Williams' responsibility. It's easy to understand the use of Nashville session players. Simply, they are the best and most versatile musicians working in the best American studios, being well rehearsed in a popular and distinctive style. That sweet combination of country simplicity and pop complexity fused together by total professionalism. Gray had adapted his singing style to straddle the fence between contemporary pop and country. Lots of singers have gone to Nashville to record, but few have ever succeeded in letting Nashville come to them on a mental plane. Both events take place here as David Briggs, Weldon Myrick and Buddy Spicher join with Gray and Williams in shaping something different and out of context with the usual pop singers-in-Nashville trip.
Shortly after the release of the album came the single that established Dobie Gray in the country charts.
Loving Arms
, a Tom Jans song, was a ballad with swirling strings and in complete contrast to
Drift Away
. The following album, titled after the hit, forged a really distinctive sound with Dobie's sure, honest voice set against very tight arrangements. The songs have a timeless quality, somewhere dead-centre between country and pop. Troy Seals is the writer who seems to understand Dobie's feelings best, and for me,
There's A Honky Tonk Angel
is the best combination of a down-home country song and a black soul voice.
With the presence of Buddy Spicher's fiddle and Charlie McCoy's harmonica, you can expect a good country sound. Mike Leech's string arrangements never intrude and drummer Kenny Malone is especially strong, able to generate a shuffle beat that is quite irresistible. The real pleasure of this album again lies with a careful production—lots of acoustic guitar and a touch of steel and melodious fiddle over fatback bass and drums.
From the haunting
Rose
to the driving
Mississippi Rolling Stone
, with exciting fiddle break, he has a winner. He has already broken through to country audiences in America, but sadly the sound of Dobie Gray will almost certainly be ignored by those narrow-minded English country fans, who just don't know a good thing when it's stuck right in front of them.