Diana Jones - Song To A Refugee
Proper Records
****1/2
For as long as there is political unrest, there will be artistic responses to it. And the countless responses from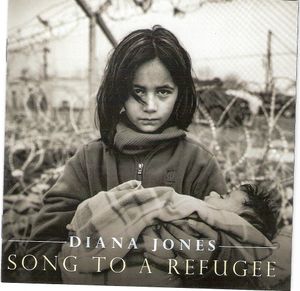 songwriters since the start of the Trump administration has created a particularly rich and deep well of art that empowers and challenges us to be more thoughtful, more compassionate, more sympathetic, more aware and dare I say it, more human. The rise of 'nationalism' especially in America, and to a lesser extent the UK and across Europe, has dark echoes of 1930s Germany. The language that so-called regular people use on social media when it comes to refugees and immigrants searching for the freedom and a better life, that we all take for granted, makes me ashamed to be a member of the same human race as these uncaring bigots. Amid the many tragic casualties of contemporary culture— the poor and war-torn refugees and immigrants who have become political pawns and clickbait for news organisations. with social media invective dominating public discourse, partisan politics shapes perception of nearly everything, and art slips into the background of rancorous argument—music still has the capacity to unify different people with different beliefs. The artist most capable of achieving unification is the one that can imbue personal empathy and expression with universal resonance. American singer-songwriter Diana Jones does just that with this heart-breaking collection of songs about the plight of refugees and asylum seekers from all corners of the World.
Albums feted for suiting troubled times tend to magnify darkness, be it through politicised takes on persistent issues or realistic portrayals of common folks' day-to-day struggles. Diana concentrates on the latter, inhabiting her characters so that they jump out of the speakers into your heart and soul. The stories she tells aren't so much sharp-edged as they are tragically sad. She draws us into the stories with the hypnotic cadence of a storyteller who knows that we're compelled to listen to her tales of struggle, woe, fortitude or hope because she's seen inside our hearts. These songs are populated by characters who often seem drawn straight out of dark folklore, however, to our great shame, these harrowing tales of struggle are very much set in the present day. Rather than dressing these songs in musical styles that are alien to her DNA, Diana utilises traditional Appalachian tones to play songs that capture the rich diversity of old-time music and that tell stories of real people and real struggles.
The scenes she portrays, while harrowing, are real. And in this age, they are much-needed distractions from the mind-numbing patterns of liking and commenting on our friends' sterile virtual curations of life. Diana knows how to tell a compelling story, creating characters that reflect the full range of human nature in settings that reveal the ugliness and beauty of the world that closes in on us sometimes. She's called on an impressive line-up of guests, including producer David Mansfield, as well as Richard Thompson, Glenn Pascha, Jason Sypher, Will Holshouser, Steve Earle, Peggy Seeger and The Chapin Sisters. She opens the album with the El Chaparral, a deeply thoughtful song, about why refugees take to a traveling life and what propels them forward. Told through the eyes of a young man who has lost his home, his parents and his dignity, he reflects on how a war tore his world apart as he waits hopefully on the California border. Simple guitar, mandolin and haunting accordion accompany Diana's plainspoken vocals that cut deep. Even more heart-breaking is Mama Hold Your Baby, the down-to-the-bone words painting a stark portrait of a mother on a cold concrete floor hugging her baby, caged like wild beasts in an American detention centre. Echoing a Depression-era lament musical arrangement of mournful fiddle, mandolin and acoustic guitar, the lyrics explain how the guards come in and heartlessly separate parent and child in the name of God-knows-what!
Ask A Woman offers sage advice; plied by a strolling mandolin and the sparse addition of an accompanying fiddle. Diana opts for an easy glide enhanced by the Chapin Sisters' glistening harmonies that illuminate the more optimistic lyrics. In contrast The Life I Left Behind features heart-wrenching lyrics of what life once was like for a refugee up-ended by a war that no one understands. Perhaps the most powerful, yet equally controversial song on the album is We Believe You. Added to the album at the eleventh hour, the sparse guitar and vocals in the opening notes spiral into a restrained anthem as Steve Earle, Peggy Seeger and Richard Thompson each take a verse and join in on the chorus, proclaiming the power of song in the face of the political fear, denial and malaise that grips so many today, hopefully prompting many to feel uncomfortable.
Diana Jones' lyrics are steeped in strength, integrity, compassion, honesty and perseverance. This is an album that takes time to appreciate because it creeps up on you rather than hits you in the face. Though it is subtle, Diana does not shy away from using terrifying visuals to prove her points. This is an album that everyone really needs to hear. Unfortunately, those in denial and those who have been so vociferous on social media about immigration are the very ones who will either shy away from taking the time to listen or dismiss SONG TO  A REFUGEE as liberal claptrap or leftist propaganda and sadly the plight of these disenfranchised people will continue unabated.
November 2020