Acronym Records
****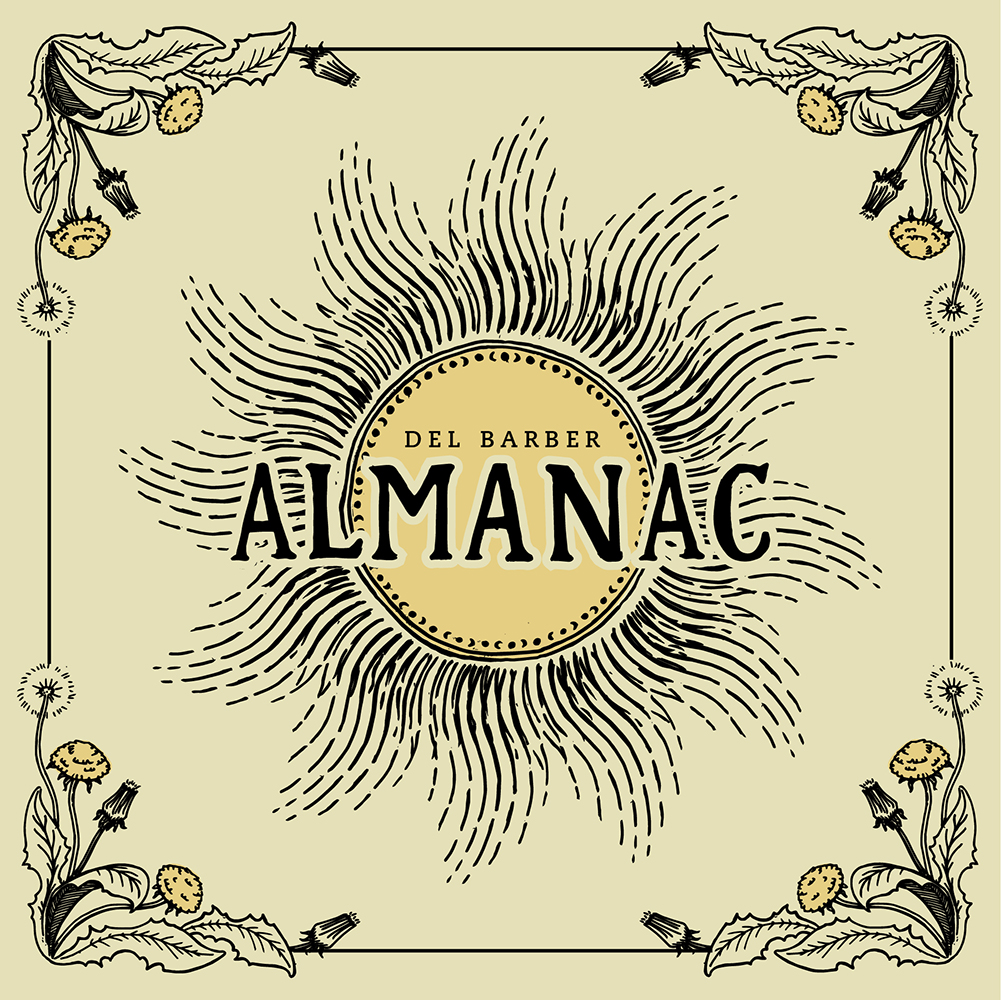 Canadian Del Barber's eighth album is an easy rolling cocktail of country, folk-rock and jangling guitar swagger. If I had to tag Mr. Barber, I'd say he's in that steamy singer-songwriter bathhouse with James Taylor, Jackson Browne, John Prine, Steve Goodman and Guy Clark. But he does possess his own well-crafted style and after a dozen years of honing, it's firmly developed. A consummate songwriter, one capable of conjuring indelible reflective moods and warmly welcoming musical arrangements. In his songs he paints pictures with name-checking lyrics and landscape descriptions of time and place. A mosaic of stories, thoughts and reactions from small town, big ideas Canada; the land of few people and vast, flat, prairie and lake-laden landscape. There's a purity that pours through this latest collection, as he calls upon a dozen sincere and inspiring songs— autobiographical, cinematic, blunt and honest—to explore his definition of the meaning of life and connect it to the world around him.
Del's world is centred around his Manitoba ranch where he lives with his wife and two children. His ability to paint us a picture of his surroundings is astounding. Bulls, which he describes as a 'prairie parable', offers a slow motion, slightly out of focus, all-natural ramble, paying tribute to the tough and fearless ranch women he's encountered. Lit from within with a spectral glow, he explores the full spectrum of human emotion, with a lyrical rawness that is both disarming and life-affirming. This recording's greatest strength is the story-based material, which all touches on relatable themes. Though One Good Year deals with a prairie farmer's life, it could be about any worker struggling to make ends meet. All tight focus rhythmically and melodically, but with just enough dirt and grain left on the surface, you're left with the feeling that even though hard times are being felt and lived through, confronting it all with resilience, determination, and a sense of humour will make it bearable until the better times come.
He writes lyrics that feature colourful anecdotes and vibrant storytelling. I can't think of many singers writing about a Spade and making the song both catchy and compelling. Delivering a series of life lessons, it sounds a little like John Prine and Steve Goodman rolled into one. How'd he do that and do that from so far away in time and distance? His sensitive characterisations of the gentle Jared, the despondent Maria and the gay couple romance of Me And Jim are all well-constructed songs that due to their sculpted melodies and his light touch, entice the listener to hang on to every word. The playful Flash In The Pan proves that he can write lighthearted material as well, reminding me of the kind of tongue-in-cheek country tune of Brad Paisley. On My Way Out the Door finds him in fine voice on a rousing bluegrass tune about making changes in life. On a song that's as celebratory as this, it literally sounds like the players are all gathered in the same room, bouncing ideas off one another and sharing fully in the congenial connection that's so evident there and elsewhere.
ALMANAC is filled with gutsiness, beauty and subtlety culminating in a satisfying listen created by more than able musicians with expressive vocals, lyrics and silky music. Del took his road band to big city Winnipeg to the No Fun Club studio and recorded the whole album in a week, with co-producers Grant Siemens and Scott Franchuk. The players, including Austin Parachoniak (electric, acoustic guitar, mandolin, vocals), Kieran Placatka (keyboards, piano, Hammond organ), Ivan Burke (drums, percussion, vocals), Ryan Funk (bass, pedal steel), Nadine Klowak (vocals) and Grant Siemens (electric, acoustic guitar), all rose to the occasion to contribute to the stunning musical arrangements. 
May 2023