Dean Dillon - The Nashville Cats
First published in Country Music International, March 1996
He's been penning hits for George Strait for the past 15 years, but the rest of Nashville have also enjoyed the benefits of his songwriting talents. Form an orderly queue: Pam Tillis, George Jones, Charley Pride ...
Dean Dillon, one of Nashville's most successful songwriters, looks like a Hollywood version of a time-travelling cowboy on a trip from the 1880s. With his pony-tail, handlebar moustache and quiet drawl there's no way he could be mistaken for one of Music City's modern day pseudo-cowboys.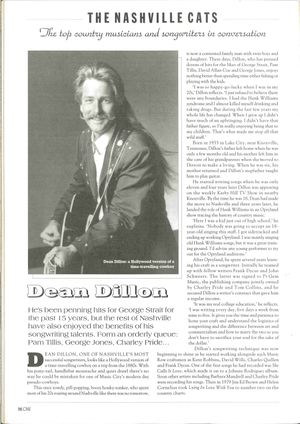 This once rowdy, pill-popping, boozy honky-tonker, who spent most of his 20s roaring around Nashville like there was no tomorrow, is now a contented family man with twin boys and a daughter. These days, Dillon, who has penned dozens of hits for the likes of George Strait, Pam Tillis, David Allan Coe and George Jones, enjoys nothing better than spending time either fishing or playing with the kids.
"I was so happy-go-lucky when I was in my 20s," Dillon reflects. "I just refused to believe there were any boundaries. I had the Hank Williams' syndrome and I almost killed myself drinking and taking drugs. But during the last few years my whole life has changed. When I grew up I didn't have much of an upbringing. I didn't have that father figure, so I'm really enjoying being that to my children. Thaťs what made me stop all that wild stuff."
Born in 1955 in Lake City, near Knoxville, Tennessee, Dillon's father left home when he was only a few months old and his mother left him in the care of his grandparents when she moved to Detroit to make a living. When he was six, his mother returned and Dillon's stepfather taught him to play guitar.
He started writing songs when he was only eleven and four years later Dillon was appearing on the weekly Kathy Hill TV Show in nearby Knoxville. By the time he was 18, Dean had made the move to Nashville and three years later, he landed the role of Hank Williams in an Opryland show tracing the history of country music.
"Here I was a kid just out of high school," he explains. "Nobody was going to accept an 18-year-old singing this stuff. I got sidetracked and ended up working Opryland. I was mainly singing old Hank Williams' songs, but it was a great training ground. I'd advise any young performer to try out for the Opryland auditions."
After Opryland, he spent several years learning his craft as a songwriter. Initially he teamed up with fellow writers Frank Dycus and John Schweers. The latter was signed to Pi Gem Music, the publishing company jointly owned by Charley Pride and Tom Collins, and he secured Dillon a writer's contract that gave him a regular income.
"It was my real college education," he reflects.  "I was writing every day, five days a week from nine to five. It gives you the time and patience to hone your craft and understand the logistics of songwriting and the difference between art and commercialism and how to marry the two so you don't have to sacrifice your soul for the sake of the dollar."
Dillon's songwriting technique was now beginning to shine as he started working alongside such Music Row craftsmen as Kent Robbins, David Wills, Charles Quillen and Frank Dycus. One of the first songs he had recorded was She Calls lt Love, which made it on to a Johnny Rodriguez album. Soon other artists including Barbara MandrelI and Charley Pride were recording his songs. Then in 1979 Jim Ed Brown and Helen Cornelius took Lying In Love With You to number two on the country charts.
Written in partnership with Gary Harrison, Lying ... was a typical country cheating song with a clever play on words showing that Dillon had become an inventive country lyricist. The song's success led to Dean signing a recording contract with RCA and scoring a handful of minor hits, including Nobody In His Right Mind (Woulďve Left Her), which George Strait revived five years later and took right to the top.
Dillon has had a dose working relationship with George Strait from the very first time the Texas singer walked into a Nashville studio, some 15 years ago, right through to his most recent recordings. Strait has recorded more than 35 of Dillon's songs, several of which have topped the charts.
In fact, the then unknown San Marcos cowboy's first hit, Unwound, in 1981 was a Dillon song. That straight-ahead country tune not only launched Straiťs career, but was the starting point of taking country music out of its Urban Cowboy period and back to its traditional honky-tonk roots. George's first album, STRAIT COUNTRY, included six Dean Dillon songs and is still considered one of Straiťs very best albums.
All of Dean Dillon's song have a straight, no-nonsense approach to country music. The lyrics are full of wry humour, satire and lyrical sensitivity, and many of them come from Dillon's rich life experiences.
Dean has certainly been through the mill. In the early 1980s he teamed up with the devil-may-care Gary Stewart, the two not only becoming drinking buddies, but also a short-lived duet partnership that saw them burning up the honky-tonk scene, but failing to ignite the country charts.
The duo cut two albums for RCA and a handful of singles, but the timing was all wrong. The c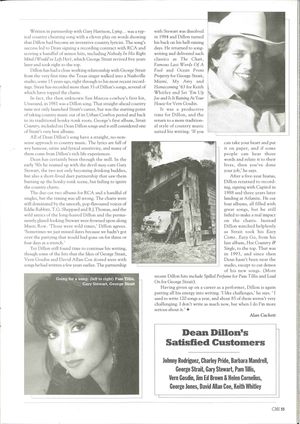 harts were still dominated by the smooth, pop-flavoured voices of Eddie Rabbitt, T. G. Sheppard and B. J. Thomas, and the wild antics of the long-haired Dillon and the permanently glazed-looking Stewart were frowned upon along Music Row. "Those were wild times," Dillon agrees.  "Sometimes we just missed dates because we hadn't got over the partying that would had gone on for three or four days at a stretch."
Yet Dillon still found time to continue his writing, though some of the hits that the likes of George Strait, Vern Gosdin and David Allan Coe scored were with songs he had written a few years earlier. The partnership with Stewart was dissolved in 1984 and Dillon turned his back on his hell-raising days. He returned to songwriting and delivered such classics as The Chair, Famous Last Words Of A Fool and Ocean Front Property for George Strait, Miami, My Amy and Homecoming '63 for Keith Whitley and Set 'Em Up Joe and Is It Raining At Your House for Vern Gosdin.
It was a productive time for Dillon, and the return to a more traditional style of country music suited his writing. "If you can take your heart and put it on paper, and if some people can hear those words and relate it to their lives, then you've done your job," he says.
After a five-year hiatus, Dillon returned to recording, signing with Capitol in 1988 and three years later landing at Atlantic. He cut four albums, all filled with great songs, but he still failed to make a real impact on the charts. Instead Dillon watched helplessly as Strait took his Easy Come, Easy Go, from his last album, HOT COUNTRY & SINGLE, to the top. That was in 1993, and since then Dean hasn't been near the studio, except to cut demos of his new songs. (More recent Dillon hits include Spilled Perfume for Pam Tillis and Lead On for George Strait).
Having given up on a career as a performer, Dillon is again putting all his energy into writing. "I like challenges," he says. "I used to write 120 songs a year, and about 85 of them weren't very challenging. I don't write as much now, but when I do I'm more serious about it."