First published in Country Music People, December 1981
SONGWRITER DILLON IS NOW MAKING IT AS AN ARTIST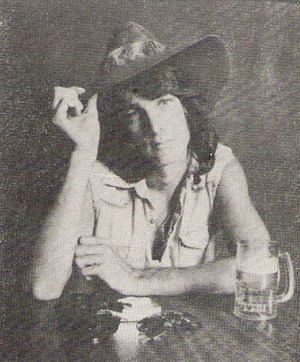 Nashville is full of promising young singer-songwriters. The road to a major hit record is not easy, but young Dean Dillon is determined to make his mark in country music. That's not too surprising, because he grew up listening to country music. He is one of those newcomers to the Nashville scene who has his roots in 'hard' country music.
Born 27 years ago in Lake City, Tennessee, Dean Rutherford, to use his real name, began playing in local pop and rock bands during the late 1960s. It proved to be a good grounding, working in the local clubs, but Dean was not comfortable with the music he was being pulled towards, so he decided to get out of the rock scene and return to his first love, country music.
He began by working in a local club, just accompanying himself on guitar, singing country standards, and when the opportunity arose, including a few of his original songs. He found that songwriting came naturally, and like any hopeful country star, he knew that he needed to make an impression in Nashville. Following several visits to Music City, when he spent his time making the rounds of music publishers and record companies, he landed a songwriter's contract with Pi-Gem Music, the publishing firm partly owned by Charley Pride and Tom Collins.
His songwriting technique was now beginning to shine as he started working alongside people like John Schweers, Kent Robbins, David Wills and Charles Quillen, all successful Nashville tunesmiths. One of the first songs he had recorded was
She Calls It Love
, written in partnership with John Schweers and included on a Johnny Rodriguez album. Soon other artists like Barbara Mandrell and Charley Pride recorded his songs, but like any aspiring songwriter, he needed someone to make one of his songs into a hit single.
That break came about during the early months of 1979 when Jim Ed Brown and Helen Cornelius took
Lying In Love With You
to the top of country charts. Written in partnership with Gary Harrison, this was a typical country cheatin' song with the clever play on words showing that Dillon was becoming an inventive country lyricist.
That song's success led to Dean signing a recording contracts with RCA in the autumn of 1979 and changing his surname from Rutherford to Dillon. With that new name he released his first single,
I'm Into The Bottle (To Get You Out Of My Mind)
which entered the country charts in December 1979, spent three months in the charts, reaching a respectable high of number 30. He continued to write regularly, providing album tracks for many established country acts and coming up with songs like
What's New With You
for Con Hunley,
She's Hangin' In There (I'm Hangin' Out)
for David Wills, and
Tennessee Whiskey
for David Allan Coe.
During the six years that Dean Dillon has been based in Nashville he had proved to be one of the most brilliant new songwriters around. His music is fresh and inventive, and his lyrics frightfully realistic. He has made the charts with singles like
What Good Is A Heart, They'll Never Take Me Alive, Nobody In His Right Mind
, and the superb honky-tonk flavoured
Jesus Let Me Slide
.
But it is as a songwriter that he has made the biggest impression, and during 1981 he scored with two big hits for another newcomer—George Strait. Both
Unwound
and the follow-up
Down And Out
have established Strait as one of the most exciting new names in country music, but credit is due to Dean Dillon for penning those two honky-tonk songs and having a hand in another four of the songs included on Strait's debut album. All his songs have a straight, no-nonsense approach to country music, the lyrics are chock full of wry humour, satire and lyrical sensitivity.