Davis Daniel - Out Of The Lion's Den
First Published in Country Music International, September 1996
Since he arrived in Nashville 10 years ago, DAVIS DANIEL's career has consisted of sporadic chart success, driving beer trucks and working tirelessly for children's charities. But after five years away from the limelight, he's back with a new album and single. "I'm not afraid to take chances," he tells Alan Cackett.
Robert Andrykowski isn't an obvious name for a budding country star, so the third generation Polish immigrant and country music fanatic renamed himself Davis Daniel, taking his father's Christian name and his mother's maiden name. Since arriving in Nashville 10 years ago, Daniel has had only sporadic recording success, but hopes that will change with the release of his latest album, I KNOW A PLACE.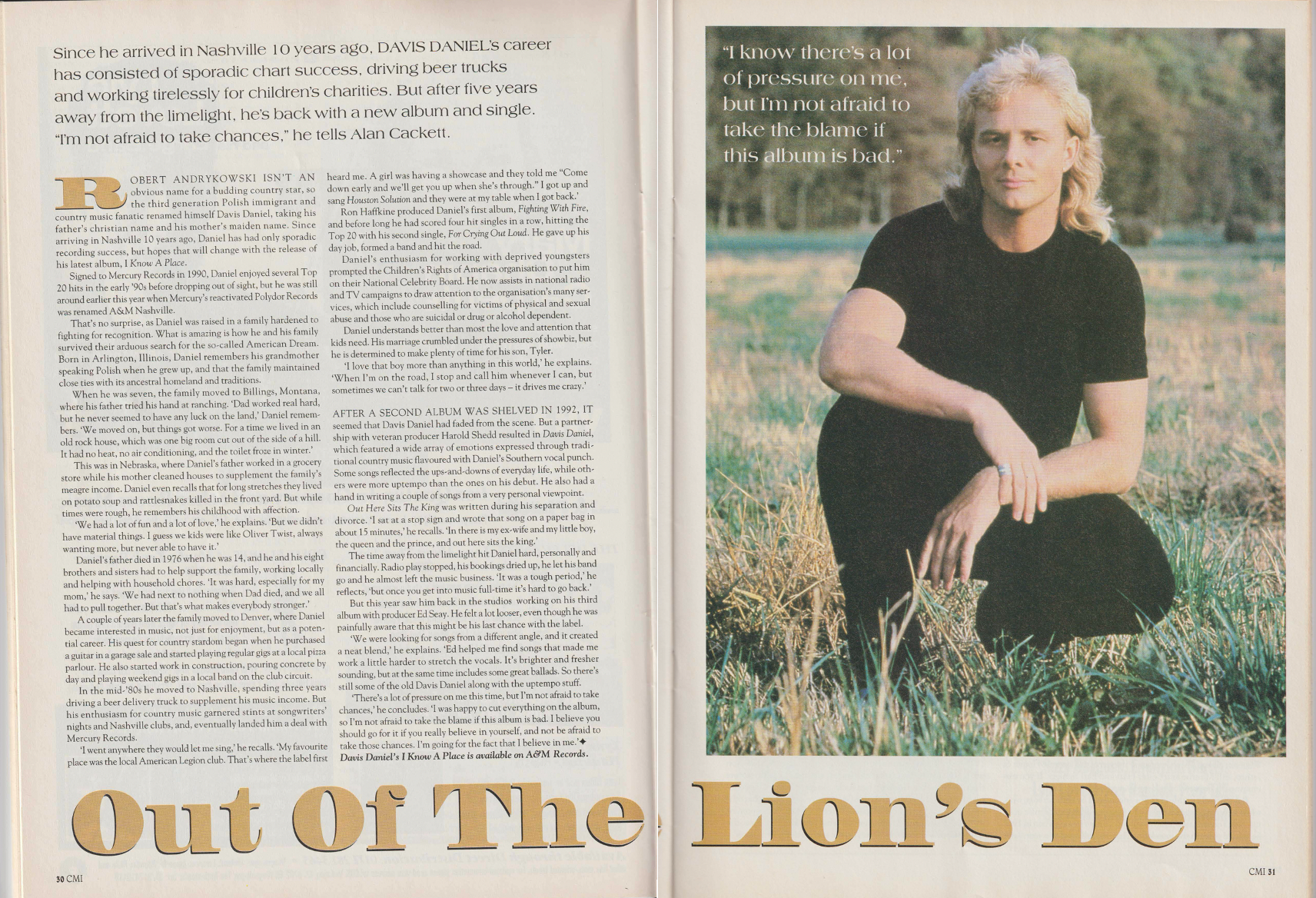 Signed to Mercury Records in 1990, Daniel enjoyed several Top 20 hits in the early 1990s before dropping out of sight, but he was still around earlier this year when Mercury's reactivated Polydor Records was renamed A&M Nashville.
That's no surprise, as Daniel was raised in a family hardened to fighting for recognition. What is amazing is how he and his family survived their arduous search for the so-called American Dream. Born in Arlington, Illinois, Daniel remembers his grandmother speaking Polish when he grew up, and that the family maintained close ties with its ancestral homeland and traditions.
When he was seven, the family moved to Billings, Montana, where his father tried his hand at ranching. "Dad worked real hard, but he never seemed to have any luck on the land," Daniel remembers. "We moved on, but things got worse. For a time we lived in an old rock house, which was one big room cut out of the side of a hill. It had no heat, no air conditioning, and the toilet froze in winter."
This was in Nebraska, where Daniel's father worked in a grocery store while his mother cleaned houses to supplement the family's meagre income. Daniel even recalls that for long stretches they lived on potato soup and rattlesnakes killed in the front yard. But while times were rough, he remembers his childhood with affection.
"We had a lot of fun and a lot of love," he explains. "But we didn't have material things. I guess we kids were like Oliver Twist, always wanting more, but never able to have it."
Daniel's father died in 1976 when he was 14, and he and his eight brothers and sisters had to help support the family, working locally and helping with household chores. "It was hard, especially for my mom," he says. "We had next to nothing when Dad died, and we all had to pull together. But that's what makes everybody stronger."
A couple of years later the family moved to Denver, where Daniel became interested in music, not just for enjoyment, but as a potential career. His quest for country stardom began when he purchased a guitar in a garage sale and started playing regular gigs at a local pizza parlour. He also started work in construction, pouring concrete by day and playing weekend gigs in a local band on the club circuit.
In the mid-1980s he moved to Nashville, spending three years driving a beer delivery truck to supplement his music income. But his enthusiasm for country music garnered stints at songwriters' nights and Nashville clubs, and, eventually landed him a deal with Mercury Records.
"I went anywhere they would let me sing," he recalls. "My favourite place was the local American Legion club. That's where the label first heard me. A girl was having a showcase and they told me: 'Come down early and we'll get you up when she's through.' I got up and sang Houston Solution and they were at my table when I got back."
Ron Haffkine produced Daniel's first album, FIGHTING WITH FIRE, and before long he had scored four hit singles in a row, hitting the Top 20 with his second single, For Crying Out Loud. He gave up his day job, formed a band and hit the road.
Daniel's enthusiasm for working with deprived youngsters prompted the Children's Rights of America organisation to put him on their National Celebrity Board. He now assists in national radio and TV campaigns to draw attention to the organisation's many services, which include counselling for victims of physical and sexual abuse and those who are suicidal or drug or alcohol dependent.
Daniel understands better than most the love and attention that kids need. His marriage crumbled under the pressures of showbiz, but he is determined to make plenty of time for his son, Tyler.
"I love that boy more than anything in this world," he explains. "When I'm on the road, I stop and call him whenever I can, but sometimes we can't talk for two or three days—it drives me crazy."
After a second album was shelved in 1992, it seemed that Davis Daniel had faded from the scene. But a partnership with veteran producer Harold Shedd resulted in DAVIS DANIEL, which featured a wide array of emotions expressed through traditional country music flavoured with Daniel's Southern vocal punch. Some songs reflected the ups-and-downs of everyday life, while others were more up-tempo than the ones on his debut. He also had a hand in writing a couple of songs from a very personal viewpoint.
Out Here Sits The King was written during his separation and divorce. "I sat at a stop sign and wrote that song on a paper bag in about 15 minutes," he recalls. "In there is my ex-wife and my little boy, the queen and the prince, and out here sits the king."
The time away from the limelight hit Daniel hard, personally and financially. Radio play stopped, his bookings dried up, he let his band go and he almost left the music business. "It was a tough period," he reflects, "but once you get into music full-time it's hard to go back."
But this year saw him back in the studios working on his third album with producer Ed Seay. He felt a lot looser, even though he was painfully aware that this might be his last chance with the label.
"We were looking for songs from a different angle, and it created a neat blend," he explains. "Ed helped me find songs that made me work a little harder to stretch the vocals. It's brighter and fresher sounding, but at the same time includes some great ballads. So there's still some of the old Davis Daniel along with the up-tempo stuff."
"There's a lot of pressure on me this time, but I'm not afraid to take chances," he concludes. "I was happy to cut everything on the album, so I'm not afraid to take the blame if this album is bad. I believe you should go for it if you really believe in yourself, and not be afraid to take those chances. I'm going for the fact that I believe in me."