First published in Country Music People, October 1974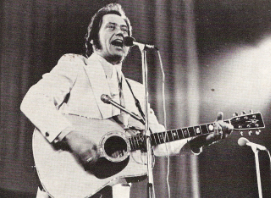 David Rogers is a country singer who has often been very close to the really big time, but has never quite made it. Since his first record in 1967 with
Forbidden Fruit
he has appeared on the country charts regularly, but that extra something that puts him into the top league of country singers has always eluded him.
Country music has always been of major importance in David's life. He was born in Atlanta, Georgia on March 27, 1936 and can recall growing up surrounded by country music sounds and listening to the Grand Old Opry every Saturday evening. Legend has it that Will Rogers, David's father, was not altogether keen on his young son having a guitar, so eventually the youngster traded his new camera for a guitar and began to secretly learn to play. Whether there is a grain of truth in this story, I'm not sure, certainly David Rogers didn't deny it, and besides it makes good publicity!
In September of 1956 David was auditioned by Roger Miller who was with the Third Army Special Services entertaining troops. David was eagerly looking forward to travelling with Miller and entertaining the troops. However, fate stepped in and David found himself inducted into the army and packed off to Fort Gordon, Georgia. He picked and sang while in the army and met a lot of friends who were to help him later.
Upon his return to civilian life in 1958 he took up playing at Post 65 of the American Legion Club in Atlanta. He worked there for about half a year then obtained a more lucrative position at the Longhorn Club. Here he worked right through to 1962 when the club was demolished to make room for a new roadway. At this time his entertaining was strictly part-time and during the day-time he was involved in a variety of jobs ranging from electrician's assistant to structural draughtsman.
After the closure of the Longhorn Club David hung around Atlanta not sure of which way to head next. Although he was well settled in his day-time occupation as a draughtsman, it was country music and entertaining that really interested him the most. A chance meeting with Kathleen Jackson, a former employer, led him to bigger things, with Kathleen becoming his personal manager and opening the Egyptian Ballroom in Atlanta, where David appeared regularly for the next six or seven years, apart from the brief periods when he went on the road with Jimmy Estes, another local performer. They worked the Venice Club in Ishpeming, Michigan, the Torch Club in Minneapolis and right down to the Longhorn Ballroom in Dallas and Panther Hall in Fort Worth.
Every singer hopes eventually to be a recording artist and David was no exception. After ten years of being a part-time entertainer, during which he built up invaluable experience he thought it was time he made attempts to gain a recording contract. In October 1966 Kathleen Jackson hired a small radio station studio in order to cut a demo tape of some songs that David had written.
Armed with only this tape and a lot of ambition they made an appointment with Pete Drake who was an important independent producer in Nashville. Pete was impressed with the demo and decided to undertake a recording within a couple of days. With the help of Larry Butler on piano, Pete Drake on steel, Herschel Wiggins, Sandy Posey and other notable Nashville pickers, David Rogers cut his first session in Music City.
The problem now was to find an interested record company, and Frank Jones, a&r man for Columbia accepted the master on a lease basis with a five-year contract to follow. David's first Columbia release coupled
Forbidden Fruit
with
You Can't Sell Me That Song And Dance
, which just made the charts. The next release
I'd Be Your Fool Again
led David Rogers to the WWVA Jamboree in Wheeling in October 1967 and within a short time, full membership of the Jamboree. This lasted for two years, and his regular appearances on the show, at least once a month, went a long way to establishing him as a recording artist.
His third single release from Columbia,
I'm In Love With My Wife
, sent him high into the country charts and was the main reason why he moved with his family to Nashville in 1968. He has since appeared right across the States in package shows, night clubs and on many syndicated TV shows. The sleepy-eyed baritone has notched up several hits with Columbia including
You Touched My
Heart, She Don't Make Me Cry
and
Ruby You're Warm
. They have all been soft, warm country ballads and David is still a little worried with being labelled 'Country music's finest ballad singer'.
Even when he left the Columbia label and was the first country artist signed to Atlantic in 1972, he was still landed with ballads, notching up his biggest hit with
Just Thank Me
. This disc, like all of his Atlantic recordings. was produced by Pete Drake and David Rogers has nothing but praise for the ace steel guitarist.
His second album for Atlantic, FAREWELL TO THE RYMAN, has been his most successful. Sales have been high because of the associations with the old Ryman Auditorium, the recent one time home of the Grand Ole Opry. Most must surely be impressed with the excellent production and the way that David Rogers, with his distinctive vocal styling manages to breathe new life into songs which are so familiar that I believed I'd got sick of them years ago. The idea was to feature the songs that major artists had first sung on the Grand Ole Opry, and when you are limited to only a dozen, the final choice must have been really difficult.
Rogers attacks the songs with great enthusiasm and Pete Drake, with the help of some of the finest musicians in Nashville, manages to bring new and exciting arrangements to old favourites like
Blue Moon Of Kentucky, Mexican Joe, Release Me
and
Walking The Floor Over You
. If David Rogers could find some really good new and original material and give it as much enthusiasm as the songs on this album, then maybe he could nudge himself into the first league of country singers. Somehow I don't think that Rogers is distinctive enough, nor talented enough to rise to such heights. It's a great pity as he's a man who really believes in country music, perhaps too much for his own good.