David Lee Murphy - Murphy's Law
First Published in Country Music International, August 1996
It was 10 years before DAVID LEE MURPHY hit paydirt. Now he's playing one-nighters around the Midwest and pushing the follow-up to his best-selling debut album. "I used to sit around playing to the walls," he tells Alan Cackett. "This is a lot more fun."
Last year David Lee Murphy emerged as one of the hottest new country acts around. His singalong anthem Party Crowd was the most played song on country
radio, and the follow-up, Dust On The Bottle, was a No.1 smash. While his album, OUT WITH A BANG, was the best-selling debut country album by any male singer of the year, with sales that have now passed the million mark. It also signalled the end of a 10-year stretch in which the singer had scratched out a living, wandering the bumpier backstreets of Nashville's music biz.
Murphy had arrived in Nashville from Herrin, Illinois, in the summer of 1983. He drove his battered pick-up truck down Music Row, looking for instant success, then spent the next dozen years kicking around town. "I used to sit around my kitchen table and play to the walls"' he admits. "Nobody was listening, and nobody really cared."
Murphy was staying in a hotel room in Springfield, Illinois, when I caught up with him. He was on the road in a whirlwind of one-nighters, all set up to help promote his second album, GETTING' OUT THE GOOD STUFF. He was due to play a fair date, then straight back to Nashville to open for Brooks & Dunn, followed by a 12-hour drive to Arkansas. This was quite a change from those infrequent Nashville club dates that hardly kept him above the breadline.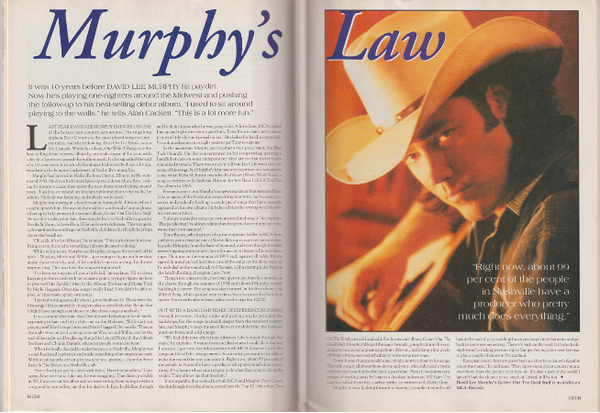 "Oh yeah, it's a lot different," he concurs. "This is a lot more fun now. Being out on the road is something I always dreamed of doing."
While in his teens, Murphy used to play along to the records of his idols—Waylon, Merle and Willie—just trying to figure out how they made those records, and, if he couldn't master a song, he'd start improvising. This was how the songwriting started.
"I've been writing since I was a little kid," he explains. "I'd sit down listening to the records with my acoustic guitar, trying to figure out how to play stuff like Ramblin' Man by the Allman Brothers and Mama Tried by Merle Haggard. Often the songs I really liked, I wouldn't be able to play, so I just made up my own songs."
"I started writing seriously when I got to be about 18. Those were the first songs I felt comfortable enough to play to somebody else. Before that I didn't have enough confidence to play those songs to anybody."
It was around this time that David started playing in local bands, appearing in bars and little clubs out in the Midwest. "We'd start out playing stuff like George Jones and Merle Haggard," he recalls. "Then as the night wore on we'd work up to some Waylon and Willie, and by the end of the night we'd be playing things like Lynyrd Skynyrd, the Allman Brothers and Charlie Daniels, whatever people wanted to hear"'
When he finally decided to make the move to Nashville, Murphy was a road-hardened performer and made something of an auspicious start. Within a few months of being in town he was opening a show for Steve Earle & The Dukes in a Nashville club.
"Steve had just got his deal with Epic," David remembers. "I just opened the one show. Like me, he was struggling. Then later, probably in 1985, I was over at his office and we were sitting there trying to write a song, and he was telling me that his deal with Epic had fallen through and he didn't know what he was going to do. A little later, MCA picked him up and right after they signed him, Tony Brown came out to see us play in a little club and passed on me." He shakes his head, exasperated. "It took another seven or eight years to get Tony to sign me."
In the meantime Murphy put together a four-piece band, the Blue Tick Hounds. He also concentrated on his songwriting, gaining a handful of cuts on some independent label artists that never really amounted to much. There was a rock'n'roll band in California that cut some of his songs, but Murphy's first major recognition as a songwriter came when Reba McEntire recorded Red Roses (Won't Work Now), a song co-written with Jimbeau Hinson, for her HAVE I GOT A DEAL FOR YOU album in 1985.
For some years it was Murphy's songwriting talent that sustained him. Like so many of the Nashville songwriting fraternity, he became a co-writer and gradually built up a catalogue of songs that have recently appeared on his own albums. He believed that the writing would lead to his own record deal.
"I always wanted to write my own material and sing it," he explains. "The people that I've always admired and respected were the people who wrote their own material."
Tony Brown, who had moved up the corporate ladder at MCA from staff producer to become one of Nashville's top executives, never entirely pushed Murphy from the back of his mind, and even though the label weren't signing any new acts, he took time out to listen to his new demo tape. That was in the summer of 1993 and, against all odds, Brown signed him and picked Just Once, one of the songs on the demo tape, to be included in the soundtrack to 8 Seconds, a film starring Luke Perry as the late bull-riding champion Lane Frost.
Though not a massive hit, Just Once spent more than five months on the charts through the summer of 1994 and allowed Murphy to start building his career. The song was also featured on his first album, OUT WITH A BANG, which gained rave reviews but also proved to be a slow mover. Six months after release, sales stood at a paltry 10,000.
OUT WITH A BANG had years of experience running through its songs. Honky-tonks and pick-up trucks provided the backdrops, but the songs ran much deeper than the standard country fare, and Murphy's deep-throated delivery straddled the line between warm embrace and wild energy.
"We had different offers from different labels down through the years," he explains. "I wanted a record deal where I could do it the way I wanted. I got into the relationship with MCA because I pick the songs and do all the arrangements. As an artist you want to be able to make the record the way you want it. Right now, about 99 percent of the people in Nashville have a producer who pretty much does everything. It's a luxury when an artist gets to do what they want to do in the
studio. Tony allows me that freedom."
It was a gamble that worked for both MCA and Murphy. Party Crowd, the third single from the album, soared into the Top 10. After that, Dust On The Bottle
just sold and sold. For his second album, Getting' Out The Good Stuff, Murphy followed the same formula, going back into his catalogue to rescue some great songs from oblivion, and taking a few weeks off from a strenuous road schedule to write some new ones.
Down-home characters add some vivid country colour to his songs. The title song is all about those down-and-outs, who only need a bottle of booze and some hot food to have a good time. Pirates Cove paints eerie images of stealing away by boat to a desolate hideaway. 100 Years Too Late is a ballad about free cowboy spirits, co-written with Dobie Gray.
Murphy is now looking forward to having a couple of months off before the end of the  year, enabling him to recharge those batteries and get back to some serious writing. Then it's back on the road. He's also looking forward to making a return trip to Europe, having come over last year to play a couple of shows in Switzerland.
"European music fans are great because they're so knowledgeable about the music," he enthuses. "They know more about country music over there than the people over here do. It's also a part of the world I haven't had the chance to see much of. I think it'll be fun."