David Gates - Make It Again
First Published in Country Music International, January 1995
He made his name as a soft rock balladeer in Bread, but when the hits dried up David Gates bought a ranch in California and became a cowboy. Now he's gone country. Alan Cackett pleads the case for the defence
David Gates, founder member of Bread, master of the sad ballad, and one of the most successful singer-songwriters of the 1970s, has just released his first album in 13 years, and guess what? He's followed that well-worn path of fading pop stars and travelled down to the Nashville studios, hoping to kick-start a stalled career by going country.
Perhaps Alan Jackson in the lyrics to the Bob McDill song, Gone Country, got it just right: 'He commutes to L.A, but he's got a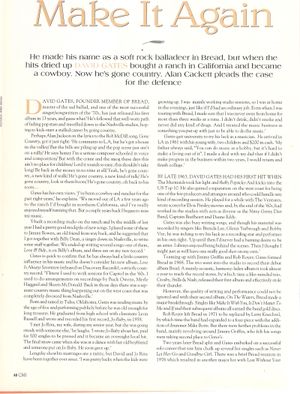 house in the valley/ But the bills are piling up and the pop scene just ain't on a rally/ He says honey I'm a serious composer schooled in voice and composition/ But with the crime and the smog these days this ain't no place for children/ Lord it sounds so easy, this shouldn't take long/ Be back in the money in no time at all/ Yeah, he's gone country, a new kind of walk/ He's gone country, a new kind of talk/ He's gone country, look at them boots. He's gone country, oh back to his roots…
Gates has his own views. "I've been a cowboy and rancher for the past eight years," he explains. "We moved out of LA a few years ago to the ranch I'd bought in northern California, and I've really enjoyed myself running that. But a couple years back I began to miss my music."
"I built a recording studio on the ranch and by the middle of last year I had a pretty good stockpile of new songs. I played some of these to Jimmy Bowen, an old friend from way back, and he suggested that I got together with Billy Dean, a singer down in Nashville, to write some stuff together. We ended up writing several songs: one of them, Love & Bide, is on Billy's album, and three are on my new record."
Gates is quick to confirm that he has always had a little country influence in his music and he doesn't consider his new album, LOVE IS ALWAYS SEVENTEEN (released on Discovery Records), a strictly country record. "Y'know I used to work sessions for Capitol in the '60s. I used to do arrangements on recordings by Buck Owens, Merle Haggard and Skeets McDonald. Back in those days there was a separate country music thing happening out on the west coast that was completely divorced from Nashville."
Born and raised in Tulsa, Oklahoma, Gates was reading music by the age of five and performing publicly before he was old enough for long trousers. He graduated from high school with classmate Leon Russell and wrote and recorded his first record, Jo-Baby, in 1958.
"I met Jo Rita, my wife, during my senior year, but she was going steady with someone else," he laughs. "I wrote Jo-Baby about her, paid for 500 singles to be pressed and it became an overnight local hit. The final straw came when she was at a dance with her old boyfriend and someone put on Jo-Baby. He soon gave up."
Lengthy showbiz marriages are a rarity, but David and Jo Rita have been together ever since. "I was pretty lucky when the kids were growing up, I was mainly working studio session, so I was at home in the evenings, just like if I'd had an ordinary job. Even when I was touring with Bread, I made sure that I was never away from home for more than three weeks at a time. I didn't drink, didn't smoke and never did any kind of drugs. And I treated the music business as something you put up with just to be able to do the music."
Gates quit university to try his luck as a musician. He arrived in LA in 1961 with his young wife, two children and $200 in cash. "My father always said, 'You can do music as a hobby, but it's hard to make a living out of it.' I made a deal with my dad that if I didn't make progress in the business within two years, I would return and finish college."
By late 1963, David Gates had his first hit when The Murmaids took his light and fluffy Popsicles And Icicles into the US Top 10. He also gained reputation on the west coast for being one of the few producers and arrangers around who could handle any kind of recording session. He played for a while with The Ventures, wrote scores for Elvis Presley movies and, by the end of the 1960s, had worked in the studios with acts as diverse as the Nitty Gritty Dirt Band, Captain Beefheart and Duane Eddy.
Gates was also busy writing songs, and though his material was recorded by singers like Brenda Lee, Glenn Yarbrough and Bobby Vee, he was itching to try his luck as a recording star and performer in his own right. "Up until then I'd never had a burning desire to be an artist. I always enjoyed being behind the scenes. Then I thought I might just as well have one really good shot of my own."
Teaming up with Jimmy Griffin and Rob Royer, Gates formed Bread in 1969. The trio went into the studio to record their debut album BREAD. A mainly acoustic, harmony-laden album it took almost a year to reach the record stores, by which time a like-minded trio, Crosby, Stills & Nash, released their first album and effectively stole their thunder.
However, the quality of writing and performance could not be ignored and with their second album, ON THE WATER, Bread made a major breakthrough. Singles like Make It With You, It Don't Matter To Me and If and their subsequent albums all earned the band gold discs.
Rob Royer left Bread in 1971 to be replaced by Larry Knechtel, by which time the band had expanded to a four-piece with the addition of drummer Mike Botts. But there were further problems in the band, mainly revolving around Jimmy Griffin, who felt his songs were talking second place to Gates'.
Two years later Bread split and Gates embarked on a successful solo career that saw him chalk up several hit singles such as Never Let Her Go and Goodbye Girl. There was a brief Bread reunion in 1978 which resulted in another major hit with Lost Without Your Love, but since then David Gates has made his own way, musically, releasing several solo albums through until the 1980s. His last album was TAKE ME NOW in 1981, and although his songs continued to be revived by a artists as different as Boy George and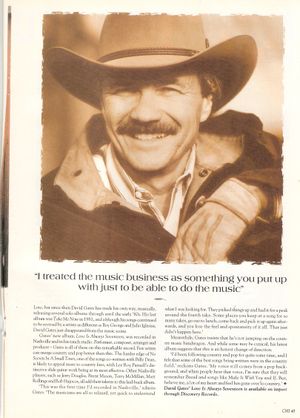 Julio Iglesias, David Gates just disappeared from the music scene.
Gates' new album, LOVE IS ALWAYS SEVENTEEN, was recorded in Nashville and in his ranch studio. Performer, composer, arranger and producer—Gates is all of these on his remarkable record. Few artists can merge country and pop better than this. The harder edge of No Secrets In A Small Town, one of the songs co-written with Billy Dean, is likely to appeal more to country fans, with Lee Roy Parnell's distinctive slide guitar work being at its most effective. Other Nashville players, such as Jerry Douglas, Brent Mason, Terry McMillan, Matt Rollings and Rob Hajocos, all add their talents to this laid-back album.
"This was the first time I'd recorded in Nashville," admits Gates. "The musicians are all so relaxed, yet quick to understand what I was looking for. They picked things up and had it for a peak around the fourth take. Some places you keep at a song for so many takes, go out to lunch, come back and pick it up again afterwards, and you lose the feel "and spontaneity of it all. That just didn't happen here.'
Meanwhile, Gates insists that he's not jumping on the country music bandwagon. And while some may be cynical, his latest album suggests that this is an honest change of direction.
"I'd been following country and pop for quite some time, and I felt that some of the best songs being written were in the country field," reckons Gates. "My voice still comes from a pop background, and when people hear that voice, I'm sure that they will remember Bread and songs like Make It With You and If. But, believe me, a lot of my heart and feel has gone over to country."