David Ferguson - Nashville No More
Fat Possum Records
****1/2
David Ferguson, a Grammy-winning Nashville recording engineer, emerges from more than 40 years behind the scenes working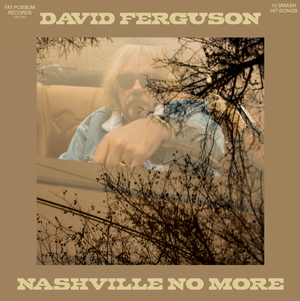 with the likes of Johnny Cash, John Prine and Sturgill Simpson, to carve his own unique furrow with this self-produced debut album in his own inimitable style. A passionate music man, he has chosen songs with lyrics and melodies that he has explored deeply and inhabited fully in performance. It's a warm, beguiling set that tips its hat to roots music interpreters as disparate as Guy Clark, Ian Tyson, Stephen Foster, Gordon Lightfoot and Lee Hazlewood, while also tapping into the Nashville songwriting community. Being of a certain generation, for me he evokes the hazy days of 1960s folk-country and early 1970s singer-songwriters, with powerful melodies, a bit of sugary sweetness, and a thoughtful laid-back vibe that belies the heartache and loss that often provides the lyrical matter. This is going to be the album to put on when you're looking for some cathartic relief. For many weary and heavy-hearted listeners, the nocturnal aura that runs through each track might be exactly what they need.
The tempos are lethargic yet atmospheric. Though most may be on the quiet side, that doesn't take away from the record's intensity.
He opens with Ian Tyson's Four Strong Winds, a song I've heard a myriad of times by diverse vocalists, but one which I never tire of. Somehow David brings a fresh touch to the old chestnut with Mike Rojas' gentle piano interludes and Sierra Hull's mandolin adding a country twang to the smoothly evocative vocal tones. The first thought that came to mind as he started serenading Nights With You, was how much he sounds like the late Roy Drusky. The smooth track moves in steady strokes and is nicely punctuated by an emotive string section in its latter half. That song was written by Roger Cook and Sandy Mason. Cook and session pianist Charles Cochran co-wrote Looking For Rainbows, a lush ballad that David croons in a vocal style that is a mix of the best of Drusky and a hint of Sinatra, which is pretty good in anyone's book. Cook also had a hand in Chardonnay, this time co-writing with Hugh Cornwell. I first heard this resigned alcoholic's lament around a dozen years ago by Cerys Matthews. Bright piano chords open the wistful tune as David plaintively outlines his relationship with the white wine as Margo Price adds ethereal background vocals to the mix.
He digs back into the 1960s for Gordon Lightfoot's Early Morning Rain, which rustles by with the sprightly rhythm of a good old-fashioned front porch bluegrass ramble with Bela Fleck's banjo driving the easy tempo. There's a lackadaisical yet determined feel to Guy Clark's Boats To Build, enhanced with Stuart Duncan's gentle mandolin and Russ Pahl's keening pedal steel. Pat McLaughlin's title song has been around for a number of years and has finally been given an airing. A late-night bluesy vibe with organ swirls in the background, this has a sultry air of defeatism about it, that David's gravelly voice captures perfectly. He closes the album with Hard Times Come Again No More, a song that sounds as appropriate today as it did when Stephen foster wrote it some 170 years ago.
Though Ferguson is not a songwriter, this collection is very much a celebration of songwriters. A melting meld of his voice and gentle deep instrumentation all perfectly captured in perfect sync—the whole sound of this record defines easy listening in the best of possible ways, without in any way falling into cliché or Muzak.
October 2021