David Ball - Lounge Lizard
First Published in Country Music International, September 1996
Weaned on Webb Pierce and Ray Price, DAVID BALL plays the kind of music best sampled in an Austin dancehall. Alan Cackett touches base with the misplaced hillbilly whose latest album, STARLITE LOUNGE, contains more two-stepping, beer-drinking, slipping-around country music.
"Dancehalls, that's my home. Those big places that are all over Texas and out West where people dance and love music. Split rails, big old Quonset sheds, low ceilings—that's what I like." In many ways David Ball is a throw­back to a bygone era. Drawing heavily from traditional sources, Ball's music sounds a world away from what is currently known as mainstream country. He's a misplaced hillbilly singer who thrives on old-fashioned two-stepping, beer-drinking, slipping-around country music.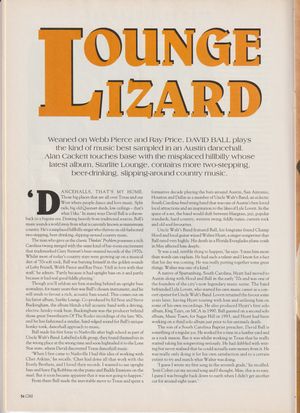 The man who gave us the classic Thinkin' Problem possesses a rich Carolina twang merged with the same kind of bar-room excitement that trademarked Gary Stewart's beer-stained records of the 1970s. Whilst most of today's country stars were growing up on a musical diet of 1970s soft-rock, Ball was burying himself in the golden sounds of Lefty Frizzell, Webb Pierce and Ray Price. "I fell in love with that stuff," he admits. "Partly because it had upright bass on it and partly because it had real good fiddle playing."
Though you'll seldom see him standing behind an upright bass nowadays, for many years that was Ball's chosen instrument, and he still tends to favour a rich, acoustic bass sound. This comes out on his latest album, STARLITE LOUNGE. Co-produced by Ed Seay and Steve Buckingham, the album blends a full acoustic band with a driving, electric honky-tonk beat. Buckingham was the producer behind those great Sweethearts Of The Rodeo recordings of the late 1980s, and he has fashioned a similar, hard-edged sound for Ball's unique honky-tonk, dancehall approach to music.
Ball made his first foray to Nashville after high school as part of Uncle Walt's Band. Labelled a folk group, they found themselves in the wrong place at the wrong time and soon hightailed it to the Lone Star state, where David discovered Texas dancehall music.
"When I first came to Nashville I had this idea of working with Chet Atkins," he recalls. "Chet had done all that work with the Everly Brothers, and I loved their records. I wanted to use upright bass and have Pig Robbins on the piano and Buddy Emmons on the steel. But it soon became apparent that it was not going to happen."
From there Ball made the inevitable move to Texas and spent a formative decade playing the bars around Austin, San Antonio, Houston and Dallas as a member of Uncle Walt's Band, an eclectic South Carolina-bred string band that was one of Austin's best loved local attractions and an inspiration to the likes of Lyle Lovett. In the space of a set, the band would shift between bluegrass, jazz, popular standards, hard country, western swing, fiddle tunes, current rock and old soul favourites.
Uncle Walt's Band featured Ball, his longtime friend Champ Hood and local guitar wizard Walter Hyatt, a singer-songwriter that Ball rated very highly. His death in a Florida Everglades plane crash in May affected him deeply.
"It was a sad, terrible thing to happen," he says. "I miss him more than words can explain. He had such a talent and I know for a fact that his day was coming. He was really putting together some great things. Walter was one of a kind."
A native of Spartanburg, South Carolina, Hyatt had moved to Austin along with Hood and Ball in the early 1970s and was one of the founders of the city's now legendary music scene. The band befriended Lyle Lovett, who started his own music career as a concert opener for Uncle Walt's Band. Lovett returned the favour some years later, having Hyatt touring with him and utilising him on some of his own recordings. He also produced Hyatt's first solo album, KING TEARS, on MCA in 1990. Ball guested on a second solo album, MUSIC TOWN, for Sugar Hill in 1993, and Hyatt had been working on a third solo album just prior to his untimely death.
The son of a South Carolina Baptist preacher, David Ball is something of a regular joe. He worked for a time in a lumber yard and as a rock mason. But it was whilst working in Texas that he really started taking his songwriting seriously. He had dabbled with writing but never realised that he could actually earn money from it. He was really only doing it for his own satisfaction and to a certain extent to try and match what Walter was doing.
"I guess I wrote my first song in the seventh grade," he recalled. "Jessi Colter cut my second song and I thought, Man, this is so easy. I guess I was brought back down to earth when I didn't get another cut for around eight years."
Unlike most songwriters, Ball has never worried about pitching his songs to other acts. Though he has gained a handful of cuts, most of the songs he writes are for himself. Killer couplets are scattered around his albums like confetti, but for Ball there's no happy wedding day; just bad memories of love gone wrong. Ball fully indulges his honky-tonk leanings and has this wonderful way of turning phrases. A typical example of this can be found on I'll Never Make It Through This Fall, a country heartbreaker co-written with Billy Spencer and featured on his latest album it's destined to be a single by the time you read this.
"'The idea for that song just hit me one day"' he explains. "I was sitting there and I was thinking about it, and I had the phrase backwards at first, but just kinda turned it around. Billy Spencer is a great songwriter. He's had a few hits with Diamond Rio."
Since landing on Warner Brothers Records three years ago and scoring major hits with Thinkin' Problem, When The Thought Of You Catches Up With Me and Look What Followed Me Home, David has found his life turned upside down. Nowadays, life is a continuous round of interviews, radio guest spots, local television shows, shopping mall personal appearances and meeting those dedicated fans who make it all so worthwhile. Sometimes it can produce an unexpected bonus, as he explains when talking about The Bottle That Pours The Wine, a song co-written with Allen Shamblin.
"That's one of my favourite tunes," he explains. "Allen and I wrote Thinkin' Problem and we were sitting down having a conversation about what it's like out on the road and meeting different people. One time this guy was talking to me about the music, and he asked where I got the idea for one of the songs he liked, and I just couldn't answer him. I had to go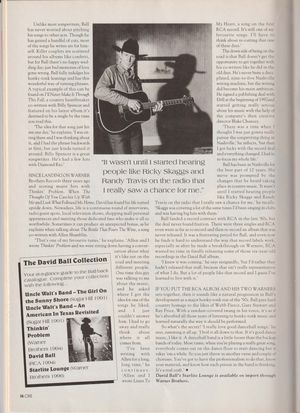 away and really think about where it all comes from."
"I've been writing with Allen for a long, long time," he continues. "Allen and I wrote Listen To My Heart, a song on the first RCA record. It's still one of my favourite songs. I'll have to think about re-cutting that, one of these days."
The down side of being on the road is that Ball doesn't get the opportunity to get together with his co-writers like he did in the old days. He's never been a disciplined, nine-to-five Nashville writing machine, but the writing did become his main ambition, He signed a publishing deal with EMI at the beginning of 1992 and started getting really serious about his music with the help of the company's then creative director Blake Chancey.
"There was a time when I thought I was just gonna really pursue the songwriting thing in Nashville," he reflects, "but then I got lucky with the record deal and everything changed. I had to re-focus my whole life."
Ball has been in Nashville for the best part of 10 years. His move was prompted by the changes that he heard taking place in country music. "It wasn't until I started hearing people like Ricky Skaggs and Randy Travis on the radio that I really saw a chance for me"' he recalls. "Skaggs was covering a lot of the same tunes I'd been singing in clubs and was having big hits with them."
Ball landed a record contract with RCA in the late 1980s, but the deal never found fruition. There were three singles and RCA even went as far as to record and then re-record an album that was never released. It was a frustrating period for Ball, and even now, he finds it hard to understand the way that record labels work, especially as after he made a breakthrough on Warners, RCA wasted no time in finally releasing some of those six-year-old recordings as the DAVID BALL album.
"I knew it was coming"' he says resignedly, "but I'd rather they hadn't released that stuff, because that isn't really representative of what I do. But a lot of people like that record and I guess I've learned to live with it."
If you put the RCA album and his two Warners sets together, then it sounds like a natural progression in Ball's development as a major honky-tonk star of the 1990s. Ball pays hard country homage to the likes of Webb Pierce, Gary Stewart and Ray Price. With a sawdust-covered twang in his voice, it's as if he's absorbed all those years of listening to honky-tonk music and learned naturally the way it should be performed.
So what's the secret? "I really love good dancehall songs," he says, summing it all up. "I boil it all down to that. If it's good dance music, I like it. A dancehall band is a little looser than the backup bands of today. Most times, when you're playing a really great song, everybody comes out on the dance floor to start dancing, but it takes 'em a while. So you just throw in another verse and a couple of choruses. You've got to have the professionalism to do that, know your material, and know how each person in the band is thinking. It's a real craft."