David Allan Coe - Cult Corner
First published in Country Music International, February 1996
Nine wives, 365 tattoos, and a penchant for driving around Nashville in a long white hearse secured his position as Music City's most wayward son
David Allan Coe is the most unlikely country star of all time. When he first made an impact in the early 1970s, he appeared to be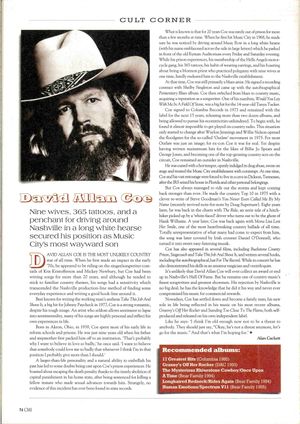 riding on the singer-songwriter coattails of Kris Kristofferson and Mickey Newbury, but Coe had been writing songs for more than 20 years, and although he tended to stick to familiar country themes, his songs had a sensitivity which transcended the Nashville production-line method of finding some everyday experience and writing a good hook-line around it.
Best known for writing the working man's anthem Take This Job And Shove It, a big hit for Johnny Paycheck in 1977, Coe is a strong romantic, despite his tough image. An artist who seldom allows sentiment to lapse into sentimentality, many of his songs are highly personal and reflect his own experiences in life.
Born in Akron, Ohio, in 1939, Coe spent most of his early life in reform schools and prisons. He was just nine years old when his father and stepmother first packed him off to an institution. "That's probably why I want to believe in love so badly," he once said. "I want to believe that somebody could love me so badly that whenever I think I'm in that position I probably give more than I should."
A larger-than-life personality and a natural ability to embellish his past has led to some doubts being cast upon Coe's prison experiences. He boasted about escaping the death penalty thanks to the timely abolition of capital punishment in his home state, after being sentenced for killing a fellow inmate who made sexual advances towards him. Strangely, no evidence of this incident has ever been found in State records.
What is known is that for 20 years Coe was rarely out of prison for more than a few months at a time. When he first hit Music City in 1968, he made sure he was noticed by driving around Music Row in a long white hearse (with his name emblazoned across the side in large letters) which he parked in front of the old Ryman Auditorium every Friday and Saturday evening. While his prison experiences, his membership of the Hells Angels motorcycle gang, his 365 tattoos, his habit of wearing earrings, and his boasting about being a Mormon priest who practised polygamy with nine wives at one time, hardly endeared him to the Nashville establishment.
At that time, Coe was still primarily a blues artist. He signed a recording contract with Shelby Singleton and came up with the autobiographical PENITENTIARY BLUES album. Coe then switched from blues to country music, acquiring a reputation as a songwriter. One of his numbers, Would You Lay With Me In A Field Of Stone, was a big hit for the 14-year-old Tanya Tucker.
Coe signed to Columbia Records in 1973 and remained with the label for the next 15 years, releasing more than two dozen albums, and being allowed to pursue his eccentricities unhindered. To begin with, he found it almost impossible to get played on country radio. This situation only started to change after Waylon Jennings and Willie Nelson opened the floodgates for the so-called 'Outlaw' movement in 1975. For most, Outlaw was just an image; for ex-con Coe it was for real. Yet despite having written mainstream hits for the likes of Billie Jo Spears and George Jones and becoming one of the top-grossing country acts on the circuit, Coe remained an outsider in Nashville.
He was cursed with a hot temper, openly indulged in drug abuse, swore on stage and treated the Music City establishment with contempt. At one time, Coe and his vast entourage were forced to live in a cave in Dickson, Tennessee, after the IRS seized his house in Florida and other personal belongings.
But Coe always managed to ride out the storms and kept coming back stronger than ever. He made the country Top 10 in 1975 with a clever re-write of Steve Goodman's You Never Even Called Me By My Name (recently revived note-for-note by Doug Supernaw). Eight years later, he was back in the charts with The Ride, an eerie tale of a hitchhiker picked up by a 'white-faced' driver who turns out to be the ghost of Hank Williams. A year later, Coe was back again with Mona Lisa Lost Her Smile, one of the most heart-breaking country ballads of all time. Totally unrepresentative of what many had come to expect from him, the song was later covered by Irish crooner Daniel O'Donnell, who turned it into sweet easy-listening muzak.
Coe has also appeared in several films, including Buckstone County Prison, Stagecoach and Take This Job And Shove It, and written several books, including the autobiographical Just For The Record. While in concert he has also demonstrated his skills as an amateur magician and ventriloquist.
It's unlikely that David Allan Coe will ever collect an award or end up in Nashville's Hall Of Fame. But he remains one of country music's finest songwriters and greatest showmen. His rejection by Nashville is no big deal; he has the knowledge that he did it his way and never ever compromised his music for commercial rewards.
Nowadays, Coe has settled down and become a family man; his new role in life being reflected in his music on his most recent albums, GRANNY'S OFF HER ROCKER and STANDING TOO CLOSE TO THE FLAME, both self-produced and released on his own independent label.
Like he says: "I think I'm old enough now not to be a threat to anybody. They should just say, "Okay, he's not a threat anymore, let's go for the music." And that's what I'm hoping for.''
Recommended albums:
17 Greatest Hits (Columbia 1985)
Granny's Off Her Rocker (DAC 1993)
The Mysterious Rhinestone Cowboy/Once Upon A Time (Bear Family 1994)
Longhaired Redneck Rides Again (Bear Family 1994)
Human Emotions/Spectrum VII (Bear Family 1995)