Daryle Singletary - Puttin' On The Style
First Published in Country Music International, May 1997
Daryle Singletary may seem like just another in the endless stream of country newcomers, but both his voice and his outlook are rooted firmly in the traditions of honky-tonk. "I'm as country as a drift road and I want to keep it that way," he tells an urbane Alan Cackett.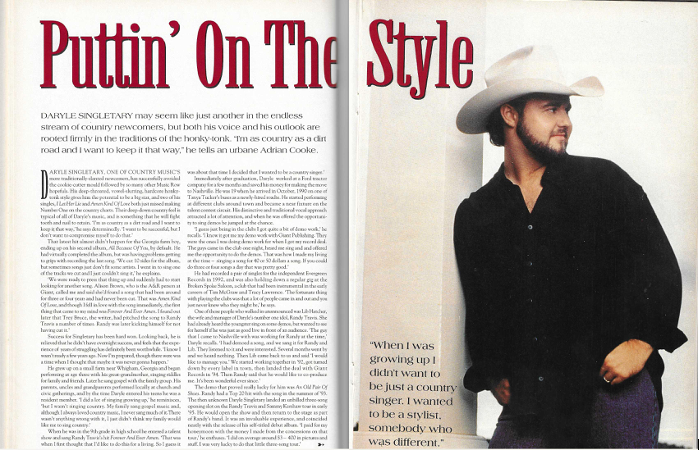 Daryle Singletary, one of country music's more traditionally-slanted newcomers, has successfully avoided the cookie-cutter mould followed by so many other Music Row hopefuls. His deep-throated, vowel-slurring, hardcore honky-tonk style gives him the potential to be a big star, and two of his singles, I Let Her Lie and Amen Kind Of Love both just missed making Number One on the country charts. Their deep-down country feel is typical of all of Daryle's music, and is something that he will fight tooth and nail to retain. "I'm as country as a dirt road and I want to keep it that way," he says determinedly. "I want to be successful, but I don't want to compromise myself to do that."
That latest hit almost didn't happen for the Georgia farm boy, ending up on his second album, ALL BECAUSE OF YOU, by default. He had virtually completed the album, but was having problems getting to drips with recording the last song. "We cut ten sides for the album, but sometimes songs just don't fit with some artists. I went in to sing one of the tracks we cut and I couldn't sing it," he explains. "We were ready to press that thing up and suddenly had to start looking for another song. Alison Brown, who is the A&R person at Giant, called me and said she'd found a song that had been around for three or four years and had never been cut. That was Amen Kind Of Love, and though I fell in love with the song immediately, the first thing that came to mind was Forever And Ever Amen. I found out later that Trey Bruce, the writer, had pitched the song to Randy Travis a number of times. Randy was later kicking himself for not having cut it."
Success for Singletary has been hard won. Looking back, he is relieved that he didn't have overnight success, and feels that the experience of years of struggling has definitely been worthwhile. "I know I wasn't ready a few years ago. Now I'm prepared. Though there was a time when I thought that maybe it was never gonna happen."
He grew up on a small farm near Whigham, Georgia and began performing at age three with his great-grandmother, singing riddles for family and friends. Layer he sang gospel with the family group. His parents, uncles and grandparents performed locally at church and civic gatherings, and by the time Daryle entered his teens he was a resident member. "I did a lot of singing growing up," he reminisces. "But I wasn't singing country. My family sang gospel music and, although I loved country music, I never sang much of it. There wasn't anything wrong with it, I just didn't think my family would like me to sing country."
When he was in the 9th grade in high school he entered a talent show and sang Randy Travis's hit Forever And Ever Amen. "That was when I first thought that I'd like to do this for a living. So I guess it was about that time I decided that I wanted to be a country singer."
Immediately after graduation, Daryle worked at a Ford tractor company for a few months and saved his money for making the move to Nashville. He was 19 when he arrived in October, 1990 on one of Tanya Tucker's buses as newly-hired roadie. He started performing at different clubs around town and became a near fixture on the talent contest circuit. His distinctive and traditional vocal approach attracted a lot of attention, and when he was offered the opportunity to sing demos he jumped at the chance.
"I guess just being in clubs I got quite a bit of demo work," he recalls. "I know it got me my demo work with Giant Publishing. They were the ones I was doing demo work for when I got my record deal. The guy came in the club one night, heard me sing and offered me the opportunity to do the demos. That was how I made my living at the time – singing a song for 40 or 50 dollars a song. If you could do three or four songs a day that was pretty good."
He had recorded a pair of singles for the independent Evergreen Records in 1992, and was also holding down a regular gig at the Broken Spoke Saloon, a club that had been instrumental in the early careers of Tim McGraw and Tracy Lawrence. "The fortunate thing with playing the clubs was that a lot of people came in and out and you just never knew who they might be," he says.
One of those people who walked in unannounced was Lib Hatcher, the wife and manager of Daryle's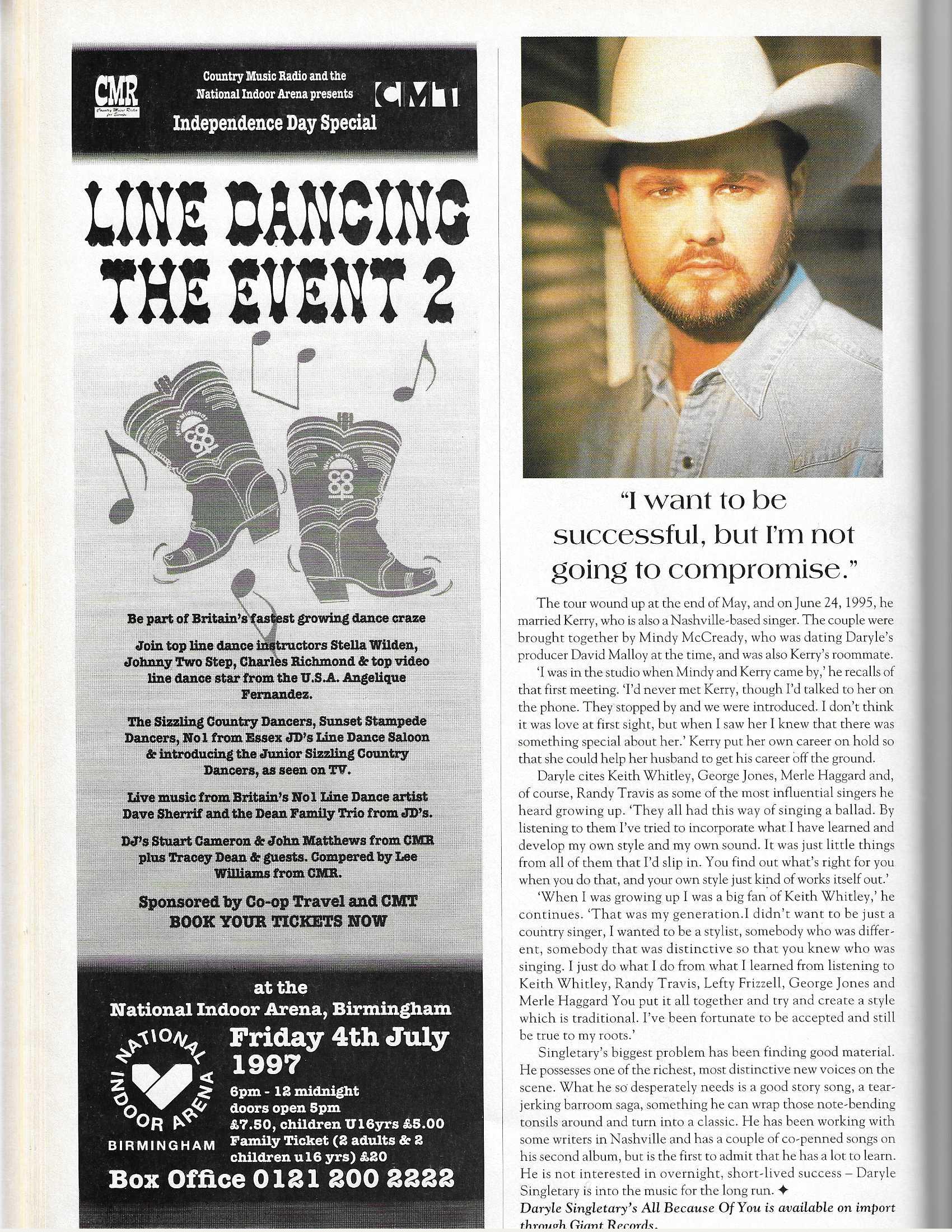 number one idol, Randy Travis. She had already heard the youngster sing on some demos, but wanted to see for herself if he was just as good live in front of an audience. "The guy that I came to Nashville with was working for Randy at the time," Daryle recalls, "I had demoed a song, and we sang it for Randy and Lib. They listened to it and were interested. Several months went by and we heard nothing. Then Lib came back to us and said 'I would like to manage you.' We started working together in 1992, got turned down by every label in town, then landed the deal with Giant Records in 1994. The Randy said that he would like to co-produce me. It's been wonderful ever since,"
The demo that proved really lucky for him was An Old Pair Of Shoes. Randy had a Top 20 hit with the song in the summer of 1993. The then unknown Daryle Singletary landed an unbilled three-song opening slot on the Randy Travis and Sammy Kershaw tour in early 1995. He would open the show and then return to the stage as part of Randy's band. It was an invaluable experience, and coincided neatly with the release of his self-titled debut album. "I paid for my honeymoon with the money I made from the concessions on that tour," he enthuses. "I did on average $3 – 400 pictures and stuff. I was very lucky to that little three-song tour."
The tour wound up at the end of May, and on June 24, 1995, he married Kerry, who is also a Nashville-based singer. The couple were brought together by Mindy McCready, who was dating Daryle's producer David Malloy at the time, and was also Kerry's roommate.
"I was in the studio when Mindy and Kerry came by," he recalls of that first meeting. "I'd never met Kerry, though I'd talked to her on the phone. They stopped by and we were introduced. I don't think it was love at first sight, but when I saw her I knew that there was something special about her." Kerry put her own career on hold so that she could help her husband to get his career of the ground.
Daryle cites Keith Whitley, George Jones, Merle Haggard and, of course, Randy Travis as some of the most influential singers he heard growing up. "They all had this way of singing a ballad. By listening to them I've tried to incorporate what I have learned and develop my own style and my own sound. It was just little things from all of them that I'd slip in. You find out what's right for you when you do that, and your own style just kind of works itself out."
"When I was growing up I was a big fan of Keith Whitley," he continues. "That was my generation. I didn't want to be just a country singer, I wanted to be a stylist, somebody who was different, somebody that was distinctive so that you knew who was singing. I just do what I do from what I learned from listening to Keith Whitley, Randy Travis, Lefty Frizzell, George Jones and Merle Haggard. You put it all together and try and create a style which is traditional. I've been fortunate to be accepted and still be true to my roots."
Singletary's biggest problem has been finding good material. He possesses one of the richest, most distinctive new voice on the scene. What he so desperately needs is a good story song, a tear-jerking barroom saga, something he can wrap those note-bending tonsils around and turn into a classic. He has been working with some writers in Nashville and has a couple of co-penned songs on his second album, but is the first to admit that he has a lot to learn. He is not interested in overnight, short-lived success – Daryle Singletary is into the music for the long run.