Daryl Mosley - The Secret Of Life
Pinecastle PRC1241
****
For more than 30 years Daryl Mosley has been writing, singing and working as an integral member of The New Tradition, The Osborne Brothers band and The Farm Hands as well as penning songs successfully recorded by Lynn Anderson, the Booth Brothers, Ken Holloway, Josh Williams, Sharon Slaughter and others. Surprisingly, THE SECRET OF LIFE is his first solo album. A record shot thr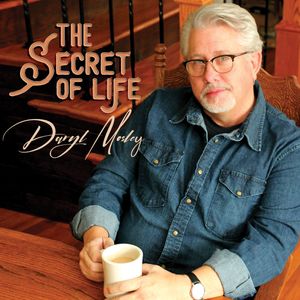 ough with the enduring joy of making music it smoothly blends bluegrass, country and gospel into an entire album that's not only full of positivity and effusive, but also decidedly lacking in cynicism or self-doubt. Indeed, faith and optimism tend to go hand in hand. Daryl's conversational vocal tone and his storytelling chops are reminiscent of the late Harley Allen. Keenly observant songs about living and growing up in rural small-town America and keeping the old values and traditions alive in this ever-changing world.
Every story on this album will paint a picture for you. There are eleven different picture stories, each neatly framed in an immaculate song arrangement. A Few Years Ago is a loping acoustic track built around a simple finger-picked guitar figure, finely played banjo and weaving fiddle that highlights Daryl's appealing voice as he openly regrets the impetuousness of youth and the lessons learned in a life lived to the full. With a fluid melody and a soothing vocal he relates the advice from the town's hairdresser in The Secret Of Life, sharing his simple philosophies of facing life's obstacles with determination and treating others the way you would wish to be treated yourself. In A Country Town emphasises life with regard to traditional southern values, painting colourful images of small-town happenings that are lost to so many of us buried in the mire of big city living. By the fourth song, he sounds like someone you've known a long time; someone who's told you what he believes, and a few secrets, too.
THE SECRET OF LIFE is an album with heart and soul, crafted with care, and highlighting the personal, yet universal, journey of Daryl Mosley through his life while touching our own. It Never Gets Old is a simple little love song recalling memories and characteristics that it is all too easy to take for granted, but in reality are just what binds a loving couple over the years. I'd Write You is another simple love song that sparkles with a melodic grace, mixed with lyrical intensity, that is Daryl's hallmark. There are a couple of his older songs included. A Piece At A Time is the forlorn yarn of a farmer watching helplessly as his farm implements and everything he's built up over the years of hard labour are sold off piecemeal to pay off debts incurred due to the ravages of weather and an unstable market. Heartaches Moving In is a break-up song that he wrote some 20 years ago given a classic bluegrass rendition that is quite irresistible.
Co-produced by Daryl with Danny Roberts these eleven tracks reflect wide-open environs with spacious production that leaves plenty of room for the music to breathe. Mention should be made of the excellent studio band comprising Daryl (bass), Danny (mandolin), Adam Haynes (fiddle), Michael Stockton (Dobro), Tony Wray (guitar) and Aaron McDaris (banjo) with Irene Kelley, Jaelee Roberts and Jeanette Williams providing the harmony vocals. Plaintive storytelling nestled within expert musicianship and spare instrumentation which allows his spirit to shine through and illuminate the musical landscape, Daryl Mosley remains poetically committed to his vision, resulting in an album that lodges in the subconscious.
May 2020