Danni Leigh - Walkin' On A Wire
BFD/Audium Nashville
****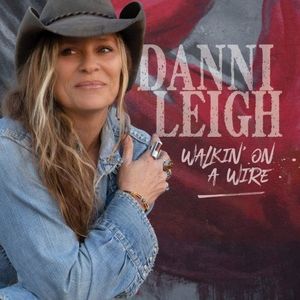 For far too many years, Danni Leigh was the buried gem that should have been glittering at the top of the heap. Unrewarded and largely ignored, she was poorly promoted and left by the side of the road while her contemporaries rode by in limos. The Virginia-born trad-country vocalist hit Nashville in the mid-1990s poised to make a big impact. Between the blonde hair, cowboy boots and hat hung low over the eyes, tight blue jeans, and both a swagger to her voice and how she carried herself in song, many labelled Leigh the female Dwight Yoakam. Oh yeah, and like Dwight, she sang it real country with plenty of verve to boot. Signed to Decca, Monument and then Audium' all in double-quick time, for some perplexing reason her career never really got off the grid. The relentlessly determined Danni has covered a lot of ground since releasing her debut LP, 29 NIGHTS, in 1998, the only constant being a powerhouse voice that never fails to thrill. She can belt out a towering epic or croon a soft serenade with an effortless grace sure to enhance virtually any setting. Her talent for kick-up-yer-heels honky-tonkers and sad-edged country weepers endeared her to European audiences. For several years she lived in Spain as she gained a dedicated following outside of America that included Brazil, Japan and across Asia. More recently, she has moved back to Virginia with her husband and children., and is a successful businesswoman running her own boutique-cum-fitness studios.
After a 15-year break, she has tentatively returned to the recording studios for this, her fifth album. A real country record, full of original tunes, one without a hint of being self-consciously retro or merely nostalgic, WALKIN' ON A WIRE boasts a robust, multi coloured sound that keeps the spotlight squarely on her grand voice. Filled with stories of dissecting the nuances of love and uncertainty, the album was co-produced by Danni and her husband Mike McKenzie in their home studio and came to life in the same space the stories originated. Whether she's singing about a failing relationship or self-sabotaging, you'll be completely smitten.
She evokes the passion of Dusty Springfield in You're Gonna Lose Him, mining a funky piano-guitar-sax combo for a searing, soulful number about the pull of desire for another's man. Anybody's Baby is a great country shuffle in the Ray Price style with fiddles and steel guitar; a glorious testament to her powerful and moving phrasing and delivery. The wrenching piano ballad It Could Happen To You, showcases her poignant delivery with such powerful imagery of any relationship going through a bad patch. It's also a story that describes how many women feel at some point in their life. For women of every age, it's all too relatable. Danni brings a strong vocal presence to thoughtful song craft on Last Of the Wine, an intimate, slightly woozy track in which her pain at failing to get over an old heartbreak is supported by a swirling organ arrangement. Sawdust thick, whiskey smooth, My Arms Stay Open Late, a co-write with Melba Montgomery, is a classic honky-tonk heartbreaker just right for a turn around the barroom dance floor. She adds a Mexican flair to Pain Of Surrender, horns adding to the pathos of the hurt caused by a departing lover. Danni Leigh's music has slowly evolved into her own full of inventive emotional toe-tappers to more dark and gritty dream-like ballads. If you are a fan of great music, real country stuff, check out Danni Leigh, she is still the real deal.
June 2022