Dan Seals - Keep The Faith
First Published in Country Music International. April 1995
His family have been involved with country music for years and DAN SEALS enjoyed a career in pop before moving to Nashville. Alan Cackett discovers a man at peace with himself, his music and his beliefs
Dan Seals has been based in Nashville and working within country music for the past 10 years. Although he has scored more than a dozen US Top 10 country hits with songs like Bop, You Still Move Me, Addicted and Love On Arrival hitting the coveted number one spot, he has never been regarded or accepted as a country star in the same way as say Vince Gill or Marty Stuart.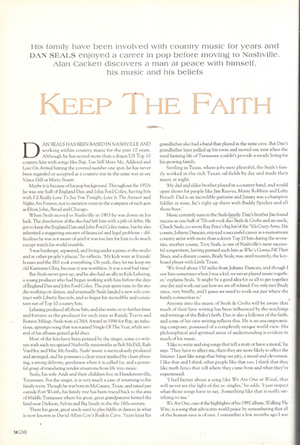 Maybe it is because of his pop background. Throughout the 1970s he was one half of England Dan and John Ford Coley, having hits with I'd Really Love To See You Tonight, Love Is The Answer and Nights Are Forever, not to mention tours in the company of such acts as Elton John, Bread and Chicago.
When Seals moved to Nashville in 1983 he was down on his luck. The dissolution of the duo had left him with a pile of debts. He got to keep the England Dan and John Ford Coley name, but he also inherited a staggering amount of financial and legal problems—difficulties he was not aware of until it was too late for him to do much except watch his world crumble.
 "I was bankrupt, separated, and living under a piano at the studio and at other people's places," he reflects. "My kids were at friends' houses and the IRS took everything. Oh yeah, they let me keep my old Karmann Ghia, because it was worthless. It was a real bad time."
But Seals never gave up, and he also had an ally in Kyle Lehning, a young producer who had begun working with him before in the days of England Dan and John Ford Coley. The pair spent time in the studio working on demos, and eventually Seals landed a new solo contract with Liberty Records, and so began his incredible and consistent run of Top 10 country hits.
Lehning produced all those hits, and also went on to further fame and fortune as the producer for such stars as Randy Travis and Ronnie Milsap. Seals won a CMA Award in 1986 for Bop, an infectious, up-tempo song that was named Single Of The Year, while several of his albums gained gold discs.
Most of the hits have been penned by the singer, some co-written with such recognised Nashville tunesmiths as Bob McDill, Rafe VanHoy and Mac McAnally. Seals' music is meticulously produced and arranged, and he possesses a clear tenor marked by clean phrasing, a strong delivery, gentleness when it is called for, and a powerful grasp of translating tender situations from life into music.
Seals, his wife Andi and their children live in Hendersonville, Tennessee. For the singer, it is very much a case of returning to his family roots. Though he was born in McCamey ,Texas, and raised just outside Fort Worth, his family tree has been traced back to the area of Middle Tennessee where his great, great grandparents farmed the land near Dickson, Sylvia and Big Sandy in the 18th century.
There his great, great uncle used to play fiddle at dances in what is now known as David Allan Coe's Ruskin Cave. Years later his grandfather also had a band that played in the same cave. But Dan's grandfather later pulled up his roots and moved out west when the rural farming life of Tennessee couldn't provide a steady living for his growing family.
Settling in Texas, where jobs were plentiful, the Seals' family worked in the rich Texan oil fields by day and made their music at night.
"My dad and elder brother played in a country band, and would open shows for people like Jim Reeves, Marty Robbins and Lefty Frizzell. Dad is an incredible guitarist and Jimmy was a champion fiddler at nine, he's right up there with Buddy Spicher and all those boys."
Music certainly runs in the Seals' family. Dan's brother Jim found success as one half of1970s soft rock duo Seals & Crofts and an uncle, Chuck Seals, co-wrote Ray Price's big hit of the 1950s Crazy Arms. His cousin, Johnny Duncan, enjoyed a successful career as a mainstream country artist with more than a dozen Top 10 hits during the 1970s, another cousin, Troy Seals, is one of Nashville's most successful songwriters, having penned such hits as Who's Gonna Fill Their Shoes, and a distant cousin, Brady Seals, was, until recently, the keyboard player with Little Texas.
"We lived about 150 miles from Johnny Duncan, and though I saw him sometimes when I was a kid, we never played music together," explains Seals. "It might be a good idea for us all to get together one day and work out just how we are all related. I've only met Brady once, very briefly, and I guess we need to work out just where the family connection is."
Anyone into the music of Seals & Crofts will be aware that much of their lyric writing has been influenced by the teachings and writings of the Baha'i faith. Dan is also a follower of the faith, and some of his own writing reflects this. He is an uncompromising composer, possessed of a completely unique world view. His philosophical and spiritual sense of understanding is evident in much of his music.
'I like to write and sing songs that tell a story or have a moral,' he says. 'They have to affect me, then they are more likely to affect the listener. 1just like songs that bring out pity, a moral and cleverne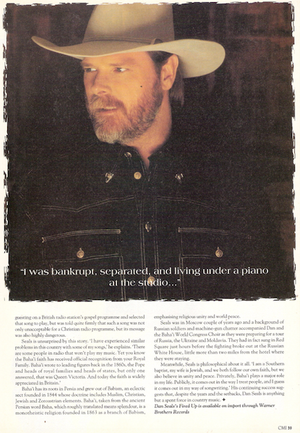 s . 1like that and I think other people like that too. 1think that they like truth lyrics that tell where they came from and what they've experienced.
'I feel better about a song like We Are One or Wood, that will never see the light of day as singles,' he adds. 'I just respect what those songs have to say. Something like that is really satisfying to me.'
We Are One, one of the highlights of his 1992 album, Walking The Wire, is a song that advocates world peace by remembering that all of the human race is of one. 1 remember a few months ago I was guesting on a British radio station's gospel programme and selected that song to play, but was told quite firmly that such a song was not only unacceptable for a Christian radio programme, but its message was also highly dangerous.
Seals is unsurprised by this story. 'I have experienced similar problems in this country with some of my songs,' he explains. 'There are some people in radio that won't play my music. Yet you know the Baha'i faith has received official recognition from your Royal Family. Baha'i wrote to leading figures back in the 1860s, the Pope and heads of royal families and heads of states, but only one answered, that was Queen Victoria. And today the faith is widely appreciated in Britain.'
Baha'i has its roots in Persia and grew out of Babism, an eclectic sect founded in 1844 whose doctrine includes Muslim, Christian, Jewish and Zoroastrian elements. Baha'i, taken from the ancient Persian word Baha, which roughly translated means splendour, is a monotheistic religion founded in 1863 as a branch of Babism, emphasising religious unity and world peace.
Seals was in Moscow couple of y~ars ago and a background of Russian soldiers and machine-gun chatter accompanied Dan and the Baha'i World Congress Choir as they were preparing for a tour of Russia, the Ukraine and Moldavia. They had in fact sung in Red Square just hours before the fighting broke out at the Russian White House, little more than two miles from the hotel where they were staying.
Meanwhile, Seals is philosophical about it all. 'I am a Southern baptist, my wife isJewish, and we both follow our own faith, but we also believe in unity and peace. Privately, Baha'i plays a major role in my life. Publicly, it comes out in the way I treat people, and I guess it comes out in my way of songwriting.' His continuing success suggests that, despite the years and the setbacks, Dan Seals is anything but a spent force in country music .• Dan Seals's Fired Up is available on import through Warner Brothers Records.