Dallas Harms; Gordie West - Greenways, West Malling – March 1980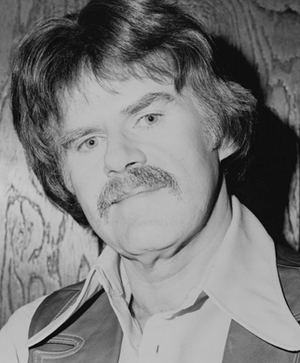 A double bill of two relatively unknown Canadian country singers is taking quite a risk, but Gordon Davies came up trumps yet again, and any club that booked this package should have been more than happy with the outcome.
I caught the show on opening night and was pleasantly surprised at how things fell neatly into place. Much credit for this due to The White Rose Band, an amalgamation of White Line Fever and the old J.D. Band. Though this new line-up had only been together for a few weeks, they blended nicely into a tight country band and in time they will emerge as one of the most talked about bands on the scene.
Jeannie Denver is a lucky lady indeed to have such a fine bunch of lads to work with. After the band got the show off to a good start with some popular tunes from the repertoire of Don Williams, Kenny Rogers and Merle Haggard, Gordie West took to the stage and immediately impressed the audience with his yodelling.
He clung to the music he knows best, venturing only a tentative few steps into the vast sea of contemporary material with
Coward Of The County
and
When I Dream
. On the strength of that Crystal Gayle hit, perhaps it was as well he did stick to the old traditional country and western songs.
There was nothing particularly original to Gordie's music, it is rooted very much in the past, and what he does goes down well with the British country audiences. He is an artist best advised to stay in this country, because the clubs will give him a good living for years to come.
After a short break, Dallas Harms took to the stage. He doesn't have much stage presence and relies totally on his songs to create the bond between audience and performer. He rose to the challenge with a few anecdotes, jokes and honest, revealing songs of self-expression.
He began with
Cowboys Don't Get Lucky All The Time
and impressed with his self-written songs. Each one had an explanation of how he came to write it. He has a wide, emotional range and his style demands that attention be paid to what he is singing. There was a marvellously unhurried feel about the set, but each item slipped naturally in mood and tempo into place.
An overgrown cowboy spoiled the mood in the midst of the superb tale of
The Fastest Gun
(The sooner six-shooters are banned from country music venues the better), but Dallas rode the intrusion well and performed more well-written stories like
Master Old The Classical Guitar, I Picked A Daisy
and
The Old Man And His Horn
. He was equally effective in such identifiable country standards as
Working Man Blues
and
Six Days On The Road
.
The set formally closed with
Paper Rosie
, and Dallas made the gesture of bidding goodnight. But he doesn't leave the stage so easily, and in 15 seconds was back where the crowd wanted him to be. He then performed another self-written song,
The Duke
, a touching tribute to John Wayne, before leaving the stage a happy man who had made his British debut quite a success.