First published in Country Music People magazine, July, 1972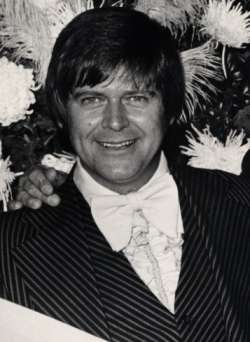 When it comes to country songwriters there are some that country fans tend to take for granted. We all talk about the beauty and poetry of Kris Kristofferson, the patriotic style of Merle Haggard and the simplicity of Bill Anderson, but one songwriter makes the success of these diminish when you begin to listen to his multitude of compositions. Dallas Frazier, although only in his early 30s, has written such classics as Son Of Hickory Holler's Tramp, There Goes My Everything, I Can't Believe That You've Stopped Loving Me, If My Heart Had Windows and at least another 40 that have reached the country top ten—a songwriting feat no other composer can match.
Dallas began his musical career very young, winning a talent contest sponsored by Ferlin Husky in 1952 when he was only 12 years old. Ferlin was greatly impressed by young Dallas and persuaded him to join his road show. Two years later through Husky's insistence young Frazier cut his first disc for Capitol Records. These first recordings were mainly juvenile ditties like Jingle-O The Brownie, Love Life At 14 and Space Command, with Dallas 'singing' in a squeaky voice that would even put young Millie of Lollipop fame to shame. Listening to these antique recordings it's difficult to believe that he grew up on a diet of blues and country music.
Dallas was born on October 27, 1939 near a small town in rural Oklahoma, and his early years were spent mainly in outdoor life pursuits, but in 1946 the family joined the great migration to California—the land of plenty. But the riches of California were a great myth, and Dallas was brought up in labour camps in the cotton-field areas. Most of the people in these labour camps had migrated from the Southern States, and naturally they brought with them their own way of life, which included a lot of country music interspersed with southern blues, and this was the music that Dallas knew and loved.
He made his TV debut on Cliffie Stone's Hometown Jamboree on KXLA-TV in Pasadena, California, and soon became a regular on the show. This experience enabled him to become more involved with country music, but for some reason Dallas spurned the music he'd grown up with, and instead turned towards the black performers for his inspiration. All of his earlier recordings for Capitol had been self-penned, and none could be termed country songs, but more simple novelty-type pop songs, drawn from his experiences as a child. It was this formula that provided him with his first taste of big success. In 1958 he composed Alley-Oop, a teenage talking blues, which topped the charts by the Hollywood Argyles on the Lute label. This seven-piece group all came from California, and only Gary Paxton has achieved success since as a solo pop singer. Frazier provided the group with their follow-up, but both Bug-eye and Gun Totin' Crittur Called Jack failed.
For the next three years Dallas just hung about around California recording odd titles for Jamie, Musikon and Mercury none of which helped him or his reputation. With the emergence of Nashville as an important recording centre in the early 1960s, especially following the success of many country artists and their songs in the pop charts, Dallas felt that he maybe he could do better if he was to move to Nashville. In early 1963 he rejoined Captol Records and based himself in Nashville, although his recordings were done in Hollywood under the direction of Marvin Hughes.
These sides cut for Capitol had more guts about them than any of his previous recordings, and although they were basically country, they were greatly influenced by other musical forms, especially blues and gospel, with a rock'n'roll back-drop. His first album for Capitol ELVIRA (ST-2552) when issued in late 1963 was clearly marked 'file under Male Vocal R & B.' And in a way that was right—with Dallas sounding more black than white, with a sound that proved he'd been listening to The Coasters, The Rivingtons and many other black groups of the early 1960s. It was all laid down with funky piano, harmonica and bass with a heavy dose of echo. Done Made Up My Mind was as pure gospel as any white man could achieve Elvira and She's A Yum Yum, were taken right out of the Coasters' book and Mohair Sam and Son Of Hickory Holler's Tramp were basically rockabilly, but with the latter containing the kind of pleading lyrics that black blues artists had specialised in for years.
Unfortunately for Frazier, and the musical world as a whole, Elvira was his only real hit, and it was lucky for him and us that he could write. Anything from country love ballads to humorous rockabilly and he always gave his best classics away. Although Dallas based himself in Nashville, his songs were not accepted at first by the traditional country artists—and it was fringe artists like Charlie Rick who recorded Mohair Sam and Sanford Clark who recorded Son Of Hickory Holler's Tramp. But it wasn't too long before Nashville's stars realised that perhaps they were overlooking the talent of this quiet, unassuming composer… It's difficult to determine who was the first established country star to score with a Dallas Frazier song, but early contenders were Charlie Walker and The Man In The Little White Suit, George Jones and I'm A People and Connie Smith with Ain't Had No Loving, that Frazier had included on his second Capitol album TELL IT LIKE IT IS" (ST-2764).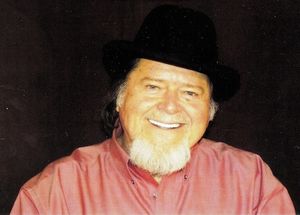 It was 1967 that Frazier really hit the high spots when Ernest Tubb's drummer Jack Greene revived There Goes My Everything that Ferlin Husky had previously included on an album. The rest is history—Greene stormed up the charts and established himself as a top-ranking country singer, and one year later British pop star Englebert Humperdinck established the song around the world and made lots of money for Frazier. Previous to this song, most of Frazier's tunes had been up-tempo, with humour playing the major part—Possum Holler, Hanging Onto One, My Baby Left Her Jinglin' John and Don't Let That Woman Get Me, all recorded by George Jones. In fact most of Frazier's songs seem tailor-made for Jones' unique vocal style and following the hit success of If My Heart Had Windows and Say It's Not You in late 1967 both Frazier compositions, George paid Dallas the highest compliment with his album GEORGE JONES SINGS DALLAS FRAZIER (Musicor 3159).
Yes Dallas Frazier had been accepted by Nashville, and during the next four years, with beautiful ballads like Run Away Little Tears, All I Have To Offer You Is Me, I'm So Afraid Of Losing You Again, I Can't Believe That You've Stopped Loving Me, The Green Grass Grows All Around, Johnny One Time, Back In The Arms Of Love, Will You Visit Me On Sundays?, Darling Days, and probably Dallas' best creation Lord Is That Me, his songs were always in the charts. For a while he concentrated on his songwriting and although he still recorded for Capitol, he was not really putting everything into it. Although his last single release for Capitol, The Conspiracy Of Homer Jones (Capitol 2402) is one of his better recordings, and in a style that would appeal to country fans. In July 1969 Dallas left Capitol Records and signed with RCA Victor, and his fortunes as a singer began to take a turn for the better.
His debut single for RCA Victor, California Cottonfields (74-0259) recalled memories of life around Bakersfield—with the sad tale of his daddy's move from Oklahoma to the hardship of the so-called promised land back in 1946. This for me was a new Dallas Frazier—he sounded more determined than before, his vocals were stronger, in fact following this recording, he could easily record his own compositions and not give them all away, but still the output continued. Sometimes he was assisted by Al 'Doodle' Owens an ex-rock'n'roller who had greatly influenced Frazier in the early 1960s and also by a new name to me Sanger D. Shafer. His first album for RCA Victor was the brilliant SINGING MY SONGS (LSP –4338) with great versions of many of his classic songs of the past five or six years, Appropriately the sleeve notes to this album were written by that other ultra-successful composer Harlan Howard, who admits in the notes that Nashville were slow to accept Frazier but that now they had him in their clutches, they needed him—and there's no doubt, country music has gained from the return of Dallas Fraizer—anyone who can write such varied material as Alley Oop for the young audience, then write material like Son Of Hickory Holler's Tramp and Lord Is That Me is very talented, and we in country music can now call Dallas Frazier one of us—he is country, knows and understands the feelings of people and has the talent to put these feelings to music, and very successfully too.
Frazier's second album for Victor has recently been released, and this continues where SINGING MY SONGS left off. MY BABY PACKED UP HER MIND AND LEFT ME (LSP-4569), again contains all Frazier songs, but only three of the ten are well-known, the other seven being recent creations that Dallas hasn't given away to fellow country performers. The production of this album by Chet Atkins and Ronny Light is much more exciting than his first, with the arrangements centred more around Frazier's distinctive piano playing, which is very honky-tonkin' on Big Mable Murphy, a recent single success. If this album is an example of where Frazier is heading, then it means that his lyrics are really improving, just listen to Ode To A Child Of The Wind and Where Did They Go Lord?—much more thought-provoking than his simpler country ballads like There Goes My Everything. It seems that perhaps Frazier is trying to prove that he is capable of more than being able to write just country love ballads. After all he'd proved he's one of the best country songwriters with quite simple songs, although his lyrics have always been a cut above the average—now he seems to be getting more involved. It began with the brilliant Lord Is That Me, and this album continues where that left off—perhaps now Frazier won't need to give so many songs away, maybe he can be accepted as a singer in his own right—after twenty years of trying he deserves to make it.
- Alan Cackett